The 24 winners along with their family and Unilever Sri Lanka Brand Manager – Vaseline Vidhushi Rambukwella at the awards ceremony
Living in a tropical country our skin is constantly exposed to varying weather conditions. It is important that we apply a body lotion to protect our skin from UV rays and keep the skin moisturised. It is also common that one may experience uneven skin tone which leads to loss of body confidence.

Recognising their consumer needs, Vaseline launched an improved body lotion variant in June last year.With its promise of an even-toned body skin, 'Vaseline Healthy White' has been designed to restore darkened skin and give visibly fairer and even-toned skin with regular use.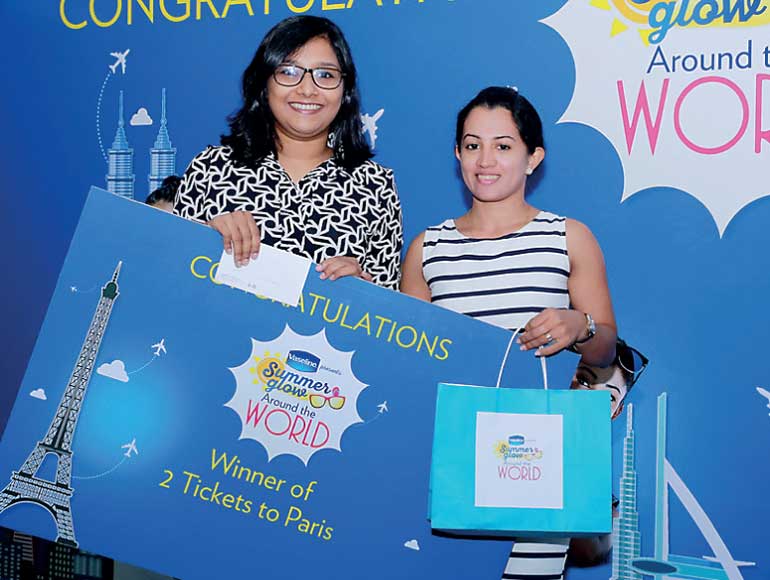 "Our Summer Glow launch event was a resounding success which assisted us to spread the importance of having even toned body skin. Since the re-launch, we learned that body lotions are becoming a hot pick among women across the island," Unilever Sri Lanka Brand Manager – Vaseline Vidhushi Rambukwella stated.

Parallel to the re-launch, Unilever Sri Lanka commenced the 'Vaseline Summer Glow – Around the World' scratch card competition. The winners had the chance to win a pair of tickets each to four exciting destinations; Dubai, Paris, Bangkok or Kuala Lumpur. At a recent ceremony held at Unilever Sri Lanka corporate office 24 lucky winners selected from various cities of Sri Lanka were presented with the winning air tickets.

"I follow a skin care routine to moisturise and protect my skin from the sun rays when I am out and about. I have been using Vaseline Healthy White to keep my skin moisturised throughout the day. I am excited to have won a ticket to Paris and am so glad that Unilever Sri Lanka's Personal Care products are compatible with our skin requirements," P.N. Balasuriya, the winner of the Paris air ticket commented.