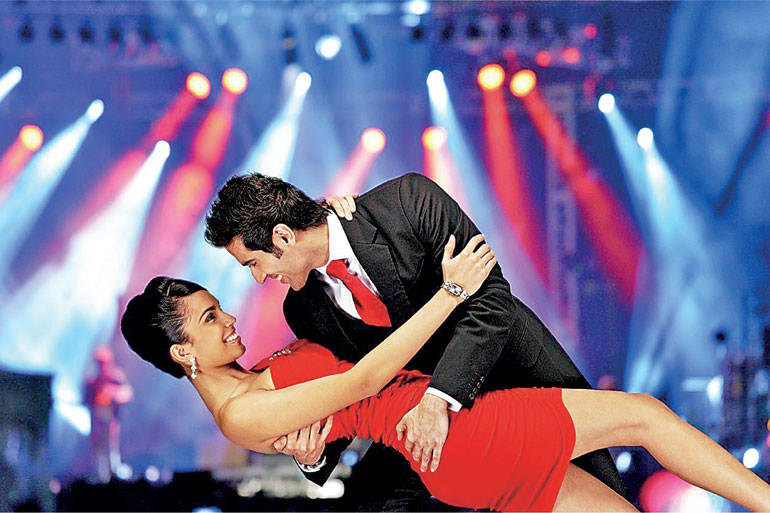 Think romantic, elegant, grand, vibrant, exciting and you will be able to sum up the plans The Kingsbury has for you on Valentine's Day! Whether it's that perfect candle lit dinner or dancing the night away to your favorite love songs, the 'celebration central' offers you a lineup of the most romantic Valentine's celebrations ever.
Go wild with Wildfire!
For those who appreciate the best of Sri Lankan musicianship, the legendary band 'Wildfire' is a name that needs no introduction. With a career spanning close to two decades and vast music repertoire comprising of Ballads, Rhythm and Blues, Country, Pop, Soft Rock, Rock 'n Roll, Funk, Soul, Classic Rock and Dance music the long awaited reunion of Wildfire is poised to set the dance floor on fire!

The music and ambiance will set the mood for the night, yet two components still remain. Adding some spectacular culinary theatricals to spice up the evening, The Kingsbury culinary team will showcase their skills with a mouthwatering selection of exotic action stations for you and your loved one to indulge. And last but not least, a great selection of beverages will also be available at special prices all night long!
Sky Lounge
The ambiance at Sky Lounge will be sublime, with its stunning views of the Colombo city sky line. Wine and dine under the stars for that perfect romantic Valentine's evening. Two welcome cocktails and a scrumptious sharing platter will be the ideal combination to make it an unforgettable evening.


Harbour Court
When it comes to sheer variety of flavours there is no better place in town than Harbour Court. Be sure to expect something spectacular this Valentine's Day with special international cuisine buffets for Lunch and Dinner! Reserve your table at one of the two seating's for dinner, and get two complimentary glasses of bubbly and a rose for the lady!
The Ocean
If you love seafood, then this is the perfect place to enjoy a delicious all you can eat seafood buffet. So whether you want it grilled, boiled, baked or basted, no one does seafood like The Ocean. Two complementary glasses of bubbly and a rose for the lady will add a touch of valentines sparkle!
Gourmet Station
The well renowned High Tea at The Gourmet station will take on a special Valentine's theme with some extra special goodies. The 'Real Red High Tea' is that ideal treat to spoil your partner!

Be sure to purchase your wild card at The Kingsbury banquet office or visit thekingsburyhotel.com/events. For restaurant reservations visit thekingsburyhotel.com/dining or call 077 108 7720.