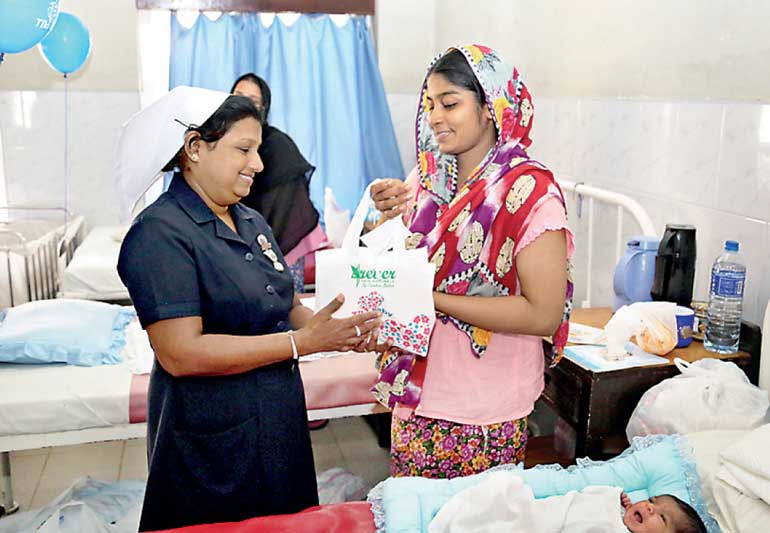 Expectant mothers, who gave birth to their little bundles of joy on 1 October, were in for a very pleasant surprise, courtesy of 'Tiki Baby', the latest offering for babies from 4rever Skin Naturals.

In celebration of World Children's Day, 4rever Skin Naturals congratulated the new moms by paying them a surprise visit at the Castle Street Hospital, Borella. The newborns were photographed and the delighted moms were given a Babies' Day Card containing a photograph and details of the baby. The mothers were further surprised with special Tiki Baby Babies' Day gift packs from the newly launched Tiki Baby product line by 4rever Skin Naturals.



The very next day, mothers at the DeSoysa hospital received a surprise visit, along with a special Tiki Baby Babies' Day gift pack. Mothers of the newborns were overjoyed with the caring gesture by 4rever Skin Naturals. Complimentary gift packs have also been delivered to mothers who won the special Tiki Baby Kid's Memory Album competition by sharing their memories on the 4rever Skin Naturals Facebook page.

Tiki Baby is a 100% Sri Lankan baby care product range, formulated from herbal compounds such as 'Lunuwila', Aloe Vera, Turmeric and Virgin Coconut Oil. Formulated without Parabens, the Aloe Vera content of the Tiki Baby Lotion is as high as 30%, bringing immense benefits for babies' tender skin.

Tiki Baby products have been formulated using natural and herbal ingredients sourced entirely in Sri Lanka. Research was conducted by the R&D team at the 4rever factory, located at the BOI industrial zone in Pallekele. 4rever Skin Naturals Chairperson Chandhani Bandara, a key member of the R&D Team is a Chemist and Cosmetologist by profession with a wealth of experience vis-a-vis Sri Lankan and international cosmetic markets. This has enabled 4rever to introduce a product that could be trusted by mothers across the island.

Tiki Baby products have also undergone rigorous testing and have adhered to the regulations set forth by the CDDA (Cosmetics, Devices & Drugs Regulatory Authority of Sri Lanka), which affirms the quality of the product. All 4rever Skin Naturals products carry ISO 9001:2008 and GMP certification.

Reaching out, connecting with mothers and showing genuine care, is one of the many ways in which Tiki Baby is making its mark in the hearts of mothers and their babies in Sri Lanka. Tiki Baby, from 4rever Skin Naturals, is expected to expand to a wider range of products in the years ahead.