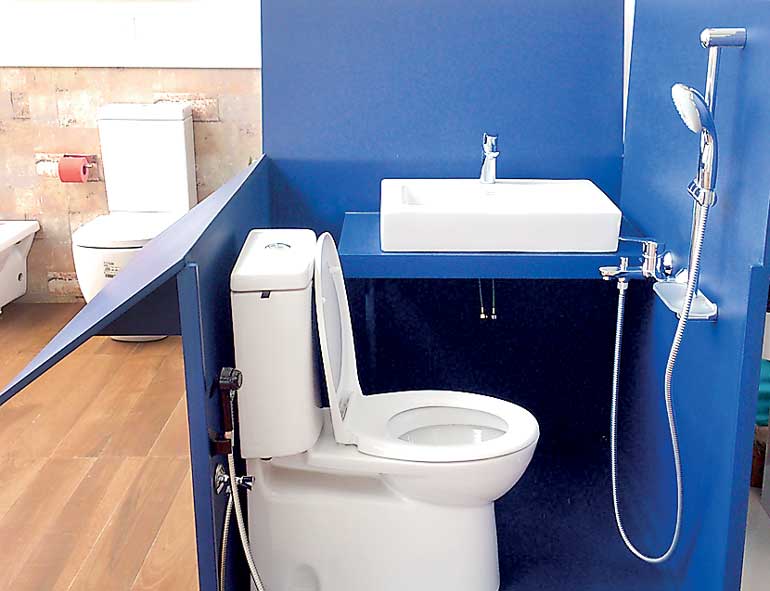 The Bath Store, the one stop location for designer bath ware and bathroom accessories recently announced the launch of its Bathroom in a Box promotion. Combining two leading brands including Grohe fittings from The Bath Store portfolio – the offer provides luxury bathrooms for a fraction of the cost.

The Bathroom in a Box offer includes Grohe taps and showers, a premium quality toilet and a sink for Rs. 100,000. An extension of the offer includes a rainshower for an additional Rs. 15,000. The deal offers exceptional value for money with savings up to Rs. 56,000. The Grohe fittings come with a 10 year warrantee and the offer is valid until stocks last.

Speaking on the campaign and the industry trends that led to its conception, Ranil Samarawickrema, Director, The Bath Store, explained, "The Bath Store is a first of its kind in Sri Lanka, bringing together elegance, convenience and luxury with an unwavering emphasis on quality. By combining top tier brands in this offer, not only are we providing a client with a designer bathroom to suit the aesthetics of a home or living space, but we are offering unbeatable value for money from Rs. 100,000 to Rs. 115,000.

"Trends in the design and utility of a bathroom have changed. Bathrooms are now living spaces, with more focus on lighting and design and are steering toward minimalism. With the increasingly limited space allocated for a bathroom, design elements such as rustic tiling and smart storage ideas are also being utilised to maximise the visual appeal as well and the functionality of a bathroom. Shower enclosures are replacing bath tubs which are now seen as a luxury in terms of maintenance and time – with busier schedules shaping lifestyles."

While providing the highest quality standards, The Bath Store also addresses safety requirements, illustrated in the launch of the company's latest product, Grip Anti Slip coatings for bathrooms. The product is applied on the ground similar to a coat of paint, but is transparent and provides a rough anti-slip surface ensuring a higher degree of safety.

Stocking everything from spa soaps, premium toilet tissue, towels and bathrobes to taps and sanitary ware – The Bath Store contains something to rejuvenate and re-design every bathroom. In addition to its variety of products, the store also has a team of highly trained staff at hand to advise and guide customers in choosing the best products and solutions for their specific needs.

With bathrooms constructed utilising substandard products needing frequent repairs and replacements, homeowners soon find the hidden cost of repair such as labour and replacement of tiles unjustifiably high. Possibly more problematic is the inconvenience of sourcing a plumber, locating matching replacement tiles and supervision time. The Bath Store eliminates these problems by offering durable, mid to high end products and most importantly, trained staff to advise customers on which areas to pay particular attention to when working within a budget.

Information on The Bath Store is available on its Facebook page www.facebook.com/thebathstore.