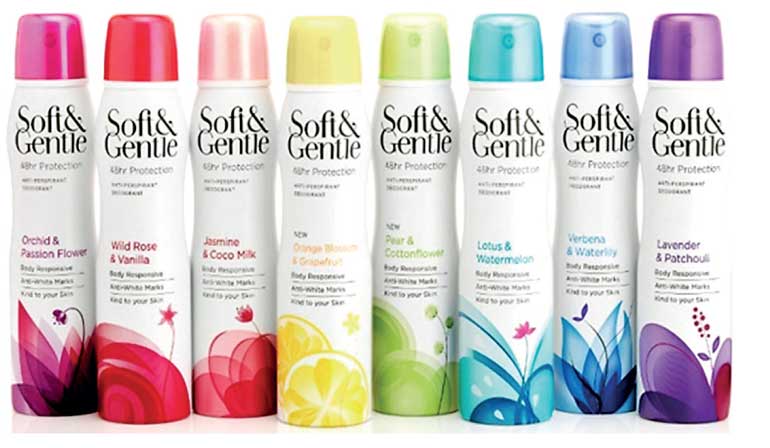 Godrej unveils Soft & Gentle, the reliable antiperspirant deodorant with an exciting, revitalising range for the confident and deserving women of Sri Lanka. With 35 years of expert knowledge in skin science, the leading skin friendly product from UK offers a 48 hour long lasting protection without any patches or stains, and a body responsive formula that senses moisture on the skin. Soft & Gentle offers a wide range of products in six beautiful fragrances such as Verbena & Waterlily, Jasmine & Coco Milk, Orchid & Passion flower, Wild rose & Vanilla and Lavender & Patchouli so that women can discover their perfect match.

Personal care can be the least of concerns as women hustle between their careers, household matters and social life and yet they seek ways to stay fresh and revived throughout the day. Amongst other issues such as dandruff, smelly feet and bad breath, sweating is ranked as the most embarrassing problem faced by women. Excessive sweating affects most women's self-confidence, personality, choice of dressing etc. Fully understanding how a woman's skin works and what women want, Soft & Gentle focuses on delivering long lasting freshness with improved technology. Alcohol free Soft & Gentle is carefully devised to balance a bundle of benefits such as protection, skin friendliness and fragrance to women of all ages.

Godrej Consumer Products Ltd. Country Manager Anurag Jain commenting on the launch of Soft & Gentle in Sri Lanka said, "We are proud to introduce Soft & Gentle, the trusted antiperspirant deodorant from UK for the progressive and self-assured women of Sri Lanka. Soft & Gentle has dedicated itself to improving each woman's life in small yet positively nice ways and is designed to provide composed freshness, comfort and complete re-assurance to one's skin. The product is certified by the Cosmetic Devices and Drugs Regulatory Authority which comes under the purview of the Ministry of Health. We believe that feeling fresh is just as important as looking good, which is why Soft & Gentle is carefully crafted to deliver the right level of protection to Sri Lankan women."

Designed exclusively for women, the range contains a blend of active ingredients, carefully balanced to ensure that your clothes are not left with any embarrassing white or yellow patches. Supporting this with the skin-friendly ingredient soybean, Soft & Gentle's moisturising formula is suitable for any type of skin, including sensitive skin, providing a quick drying protection that works in harmony with your body. All deodorants in the range are dermatologically tested and clinically proven to be suitable, even on sensitive skin. With a range of best quality nature-inspired fragrances to choose from, Sri Lankan woman can now be confident of staying fresh, dry and protected, however their day turns out to be.

Godrej Household Products (Lanka) Ltd. is a subsidiary of India-based FMCG multinational Godrej Consumer Products Ltd., with a variety of leading household and personal care products. Its brands include Godrej Expert, Aer, Abha, GoodKnight, Cinthol, HIT and many more which are household names all over the country. Godrej is also a leader in hair colours and household insecticides in this sub-continent. The company is driven by its mission to continuously enhance the quality of life for consumers in high-growth markets with affordable home care, personal care and hygiene products of superior quality.