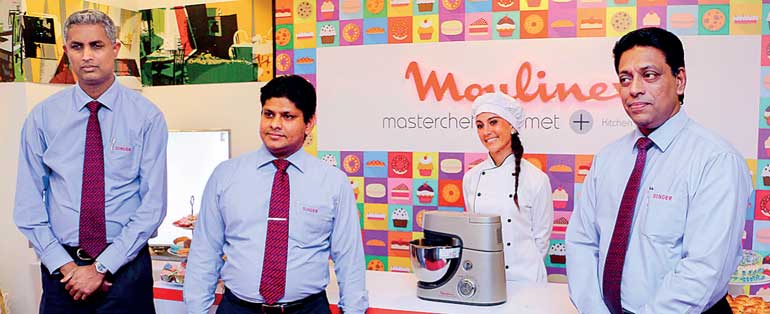 From left: Marketing Manager Piyum Jayathilake, Brand Manager – Small Household Appliances Gayan Perera and Director Operations Chandana Samarasinghe from Singer Sri Lanka PLC officially unveiling the Moulinex MasterChef Gourmet Plus in Sri Lanka
Singer Sri Lanka PLC, the leading retailer of household and electrical appliances in the country, launched the 'MasterChef Gourmet Plus Kitchen Machine, latest state-of-the-art version to complement the kitchen machine range under renowned French brand Moulinex. The launch took place amidst a special gathering of home bakers and Singer management at the Singer Mega Store located at Duplication Road, Colombo 04. The launch coincided a live demonstration segment conducted by veteran hotelier and Manager – Culinary Education for Singer, Sujiva Withana.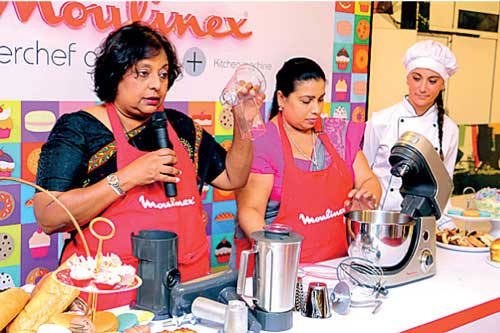 An exceptional feature of this kitchen appliance in particular is its die cast aluminium exterior, which is a cutting-edge shift from the previous setting of plastic casing, giving the appliance durability, robustness and increased steadiness. The MasterChef Gourmet Plus is most suitable for home based baking and pastry enthusiasts.

The all new MasterChef Gourmet Plus from Moulinex features a 900 watt powerful motor that will enhance the performance. The appliance also comes with a high quality metal pastry tools such as a whisk, cake mixer and dough hook. It's 4.6 litre stainless steel mixing bowl is sufficient enough to mix ingredients for a 1.8KG cake or 30 cupcakes at once and able to produce enough dough to make an 800g of bread or pizza at once. Its anti-spillage cover gives an added advantage. It also comes with other accessories such as 1.5 litre stainless steel blender, meat mincer and vegetable shredder.

Commenting on this new addition to their kitchen appliance portfolio, Singer Sri Lanka PLC Director Marketing Kumar Samarasinghe said, "Singer is constantly on a journey of embracing innovative products that would contribute in terms of quality, value for money and convenience for our customers. Singer currently offers the widest kitchen related product range to Sri Lankan households with more than 20 product segments, over 120 different models from 14 reputed brands. Speaking in terms of baking, we have recognised that this form of cookery has really picked up among food enthusiasts and we believe that the MasterChef Gourmet Plus from Moulinex will not only add a touch of convenience but will also bring a touch of efficiency to your kitchen setting."

Moulinex as a brand offers an assortment of premium kitchen appliances such as blenders, juicers, toasters, food processors, kitchen machines, choppers, mixers, fryers, rice and multi cookers. Moulinex prides its offerings based on convenience and versatility and the products undergo extensive design mechanisms intermingled with the latest technology to deliver better cooking results and cut down unnecessary time spent in the kitchen.

Singer has been the sole distribution agent for Moulinex for over 15 years and the company's wide retail and dealership network allows the Moulinex brand to reach Sri Lankan households islandwide. Singer has always attempted to elevate the living standards of the Sri Lankan households keeping abreast the lifestyle trends in the developed world, and Moulinex brand has played a pivotal role in accomplishing this task.

The trusted Singer warranty and the unmatched after-sales service network have allowed customers to fulfill their culinary needs without worry. Singer also offers hire purchase facility, where customers are able to take a product home by paying a nominal down payment, and rest to be paid in equal monthly installments up to 60 months.

The all new Moulinex MasterChef Gourmet Plus will be available at an introductory retail price of Rs. 54,999 with a free recipe book on every purchase. The product will be available at Singer Mega, selected Singer Plus, SISIL World showrooms and dealers around the country backed by Singer Sri Lanka's unmatched service and after sales support.