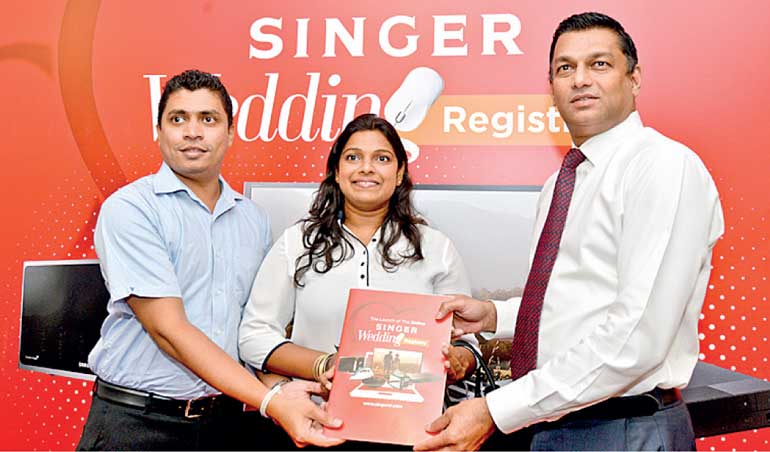 Singer Sri Lanka Director Commercial & Marketing Mahesh Wijewardene with the first couple to register on the Singer Online Wedding Registry Pemindee Gamage and Kasun Andramanage – Pix by Daminda Harsha Perera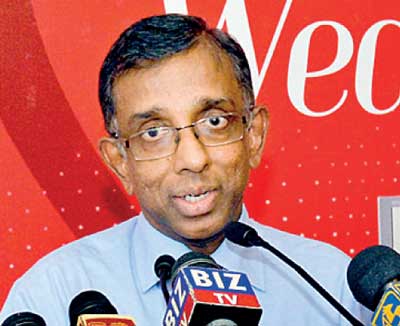 By Shannine Daniel

Sri Lanka's biggest retailer in durable consumer goods, Singer PLC, recently launched its online wedding registry, the first in the country.

The Singer Online Wedding registry gives couples who are getting married the opportunity of creating and handling their own wedding registry from anywhere around the world via a safe and secure web portal.

Singer Wedding Registry will include a complete range of the various brands and goods marketed by Singer, with over 30 product categories covered. It gives the couple a chance to choose what they need from a multitude of products such as electric kitchen appliances, gas burners and cookers, televisions, computers, home theatre systems, furniture and other items.

Commenting on the launch Singer IT Director Ajith Paranavitane stated they took a lot of time in developing this unique user experience and made sure that everything will be handled by this web portal.

"With this modern take on gift-giving, couples will be able to create and edit their registries while on the go, and will have the flexibility to add any products on their registry from the Singer Website," commented Paranavitane.

By logging on to the Singer website and clicking on the wedding registry tab on the home page selecting the 'Register for the Gift List' option couples can then go ahead and fill in their wedding details to register. Once that is done they will receive a confirmation email to activate the gift list and then they can create their wedding registry by adding the products of their choice from the website.

After the selection of products, they will also receive a Gift List number which they can print along with the Singer website URL on their wedding invitations, to make the decision of buying wedding gifts much more practical and cost efficient for their family and friends. They can even email the wedding registry link or share their gift list online which will be a benefit to the invitees living overseas.

One problem that couples face when it comes to receiving wedding gifts is duplication, receiving the same gift from several people and one purpose of the Singer Wedding Registry is to avoid that issue and make sure that they get what they need said Paranavitane.

The other issue is that they sometimes receive gifts that may never use and the Wedding Registry is a practical solution since couples can specify the items of their choice in the Gift List added Paranvitane.

In order to truly bring this online wedding registry into the limelight, Singer also intends to offer special gif hampers and gift vouchers for the first five lucky couples who will register online with the Singer Wedding Registry. They have the option of selecting goods from the 'Hot deals' section where offers with up to 50% discounts and special discounts are available only for web based purchases.

Singer also offers a delivery options for all purchased gifts to the recipients' residence or any venue convenient for them.