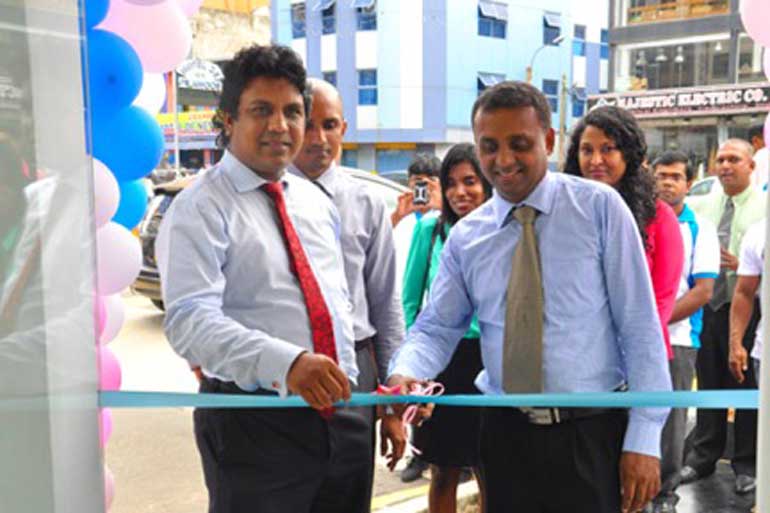 CEO Chandima Udabage, Sales Manager Thushara Kumarasinghe, Senior Brand Executive Achala Marambage, Director Suren Peter andConfidential Secretary Piyumi Kaushalya
Quantum Fitness, the leader in fitness equipment in Sri Lanka, opened its new branch at No.82/1, Galle Road, Colombo 4 recently. The opening ceremony took place under the auspices of Chandima Udabage, CEO – Quantum Fitness, together with members of its senior management, members of the business community and customers.

The company opened its new branch to enable customers in the Colombo region to have access to the most up-to-date products and services including international brands such as Adidas, NordicTrack, Proform and Freemotion. Discounts and gifts were given away to customers who purchased fitness equipment on the day of the opening.

Quantum, a reputed name for fitness products has been playing a pivotal role in promoting fitness among Sri Lankans for almost two decades, winning the trust and confidence of customers with a range of innovative and state-of-the-art fitness equipment. The new and modern showroom is expected to deliver a convenient and exciting environment for customers in Colombo. The company envisages launching several new brands and products at its stores in the following year allowing customers to choose from a range of best products from international and local brands.

Quantum Fitness started operations in 1998 as Quantum Teleshopping, at a time when the concept of teleshopping was at its infancy in Sri Lanka. The company sponsors half hour television infomercials on fitness equipment, through which it has introduced a range of popular equipment such as exercise bikes, body trainers and a series of matchless modern treadmills to Sri Lanka.

Quantum Fitness is the only company to offer its customers a 30-day money back guarantee, giving them the unique opportunity to try out the product and return it during an allotted time period irrespective of the reason. The company reiterates its commitment to constantly strive to find innovative approaches to serve its clientele better, while it acknowledges the confidence the people have placed upon it based on its business ethos and perceptive business sense.