20 loyalty members and partners were taken to the skies in Dambulla!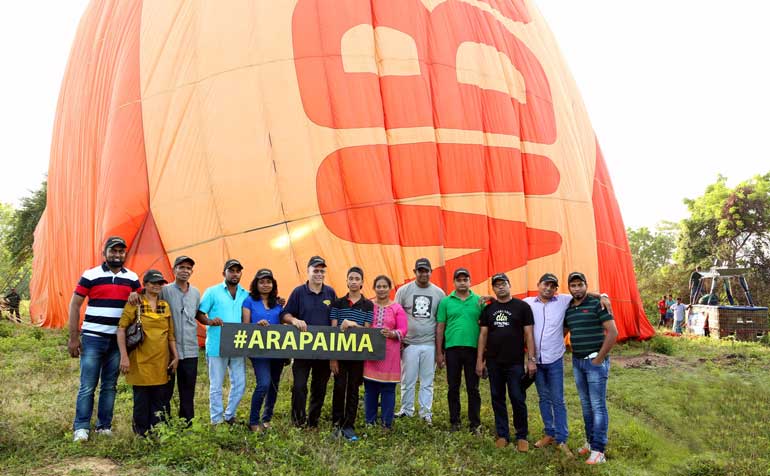 Sri Lanka's biggest fashion chain, NOLIMIT's Annual Grand Promotion 2015 for its Arapaima Loyalty Members, titled 'Win with Arapaima Hot air Balloon tour with your Partner' concluded successfully, with 20 Lucky loyalty members winning seats on this tour with their partners. The response was overwhelming and a high number of Arapaima Loyalty Members participated in the promotion.

The Grand Raffle Draw was held on 8 October at the NOLIMIT Head Office, where 20 lucky winners were selected. The winners with their partners were taken from Colombo to Dambulla from 20 to 23 October to enjoy the one-hour Hot Air Balloon Tour. The first organisation in the industry to offer a hot air balloon tour promotion to its customers, NOLIMIT offers innovative and exciting promotions for its customers every year.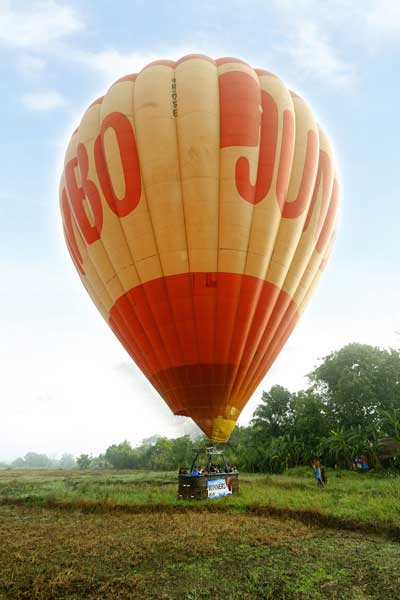 The promotion was conducted from 1 to 30 September and loyalty members had to merely make purchases above Rs. 3,000 to be entitled to enter the grand raffle draw. In order not to disappoint any loyalty members, on every purchase made using the Arapaima Loyalty card at the cashier point, they received a Scratch and Win Coupon which had different types of points to be won instantly. In this manner, all the loyalty members who visited NOLIMIT, Glitz, Pallu or Y Pay more showrooms received a scratch card and a raffle coupon. This Arapaima promotion ensured that all loyalty card holders were winners!

This 'Win with Arapaima Hot air Balloon tour with your Partner' promotion generated tremendous enthusiasm amongst loyalty members. Ann, who is an Arapaima loyalty member, shopped at Glitz Negombo, and had this to say, "First of all I would like to thank Arapaima for holding such a fantastic promotion for their loyalty members and giving such a gift that makes for an unforgettable memory for us. Flying in a hot air balloon was a completely new experience for my husband and me! We thank Arapaima for this great initiative!"

Another loyalty card holder, Lukshman, who shopped at NOLIMIT Nugegoda added, "I was so lucky to be selected as a winner in this promotion! It was very exciting to hear that I had won. Arapaima loyalty members have been given lots of benefits in the past and this is another exceptional reward. I am a loyal customer of NOLIMIT for years and this tour is one of the best experiences in my lifetime. My wife and me had a wonderful time flying in the Hot Air Balloon and enjoyed the marvellous view from the sky. We could see the Dambulla town and the temple from the air and also spotted the Sigiriya Mountain. I thank NOLIMIT for giving me such a great opportunity!"

Arapaima loyalty card members have been treated to some fabulous rewards over the years. In the previous year, 60 lucky winners along with their families walked away with a weekend fully sponsored by Arapaima at a top luxury hotel in Sri Lanka. In addition holiday tours were arranged to Malaysia and Bangkok to felicitate their loyal customers in previous years. Many more surprises are in store for members in the future. Arapaima loyalty cards are available at all NOLIMIT, GLITZ and PALLU showrooms island-wide.