Nail Spa Ltd. won the award for Best Sales Increase in Asia for Cuccio Naturale at the Cuccio Asia Summit, held in Malaysia in April.

Nail Spa is the sole distributor for Cuccio Naturale (USA) and Star Nail International for Sri Lanka and the Maldives.

Cuccio Naturale is a world-renowned name in the beauty industry based in Los Angeles in the US. Founder, President and CEO Anthony Cuccio and Senior Vice President and COO of Star Nail International Roberta Cuccio are true visionaries and trendsetters in today's beauty industry.

The entrepreneurial couple built their business out of a suitcase of cosmetics in 1981 in Venice Beach, California. The business has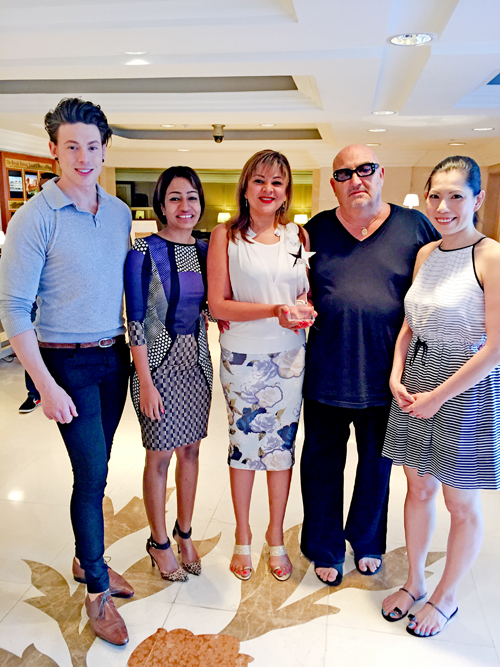 grown into a multimillion dollar global corporation making the firm the largest nail and beauty product manufacturer in the world.

In 1986, Star Nail achieved the ultimate recognition, earning INC. 500 and being named 'Entrepreneur of the Year'. In 1999 they founded Cuccio Naturalé, the first natural nail, hand and foot care treatment product line. Cuccio's products are created from his personal experience, Italian background and visits to Italy. He developed products that enhance and beautify clients worldwide. Together they are always looking to improve the beauty industry and set trends with their vast knowledge and expertise.

Their mission is to make innovative high quality products with great value so nail technicians are able to make a better living and enjoy their profession.

Today, Cuccio Naturalé is used in reputed spas and salons across the world.

Cuccio Naturalé products are never tested on animals and maintain a commitment to end animal testing.

Cuccio Naturale has a wide range of products and the range is unique in that it offers body scrubs, sea salts, body butters, lacquer and everything for hands and feet. Among their most well-known products is the Milk and Honey Body Butter Blend -the only patented 24-hour moisturiser which assures full skin moisturising protection and is available in many different flavours.

This full range of the highest grade products is available to all leading salons, spas and beauty supply stores. Support and help is offered to all salons and stores that purchase the Cuccio product range.

The ultimate aim of the company is to help more women have easy access to a high standard of beauty treatment which truly helps make a sizeable difference in each person's life.

Health checks conducted by the health ministry and constant monitoring of the treatments on offer, guarantee that each and every customer is fully satisfied with the results.