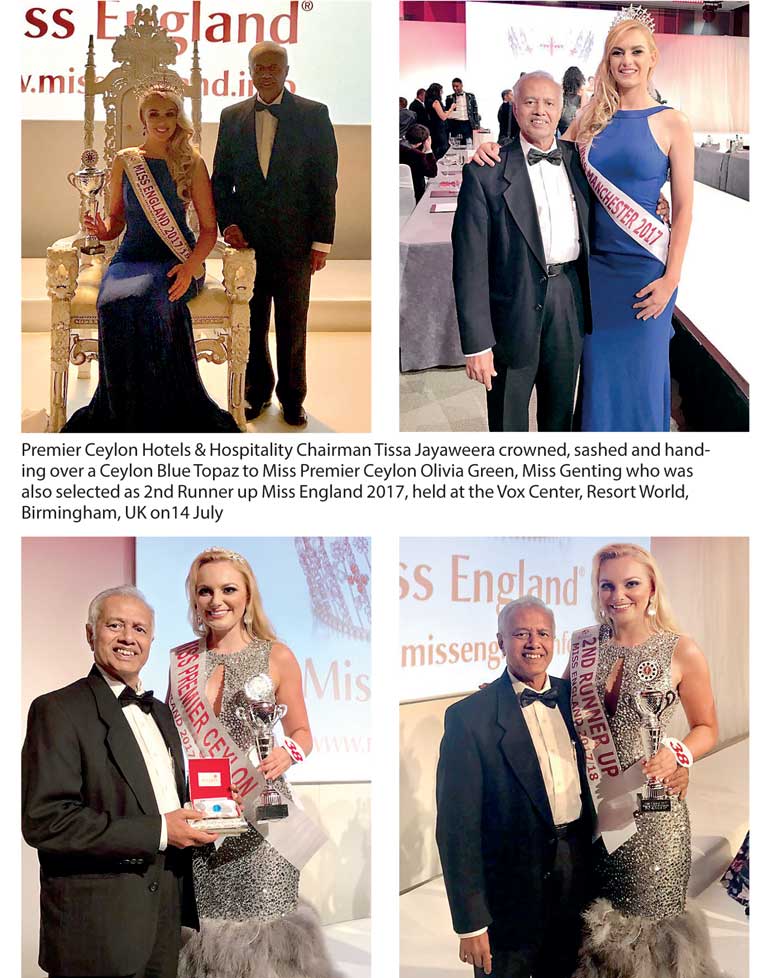 The venture is endorsed and approved by the Ceylon Tourist Board, Sri Lanka Tourism Development Authority and reflects the national interest in promoting and flagging Sri Lanka to international markets.

The event comprises two phases, Miss Premier Ceylon – United Kingdom and Miss Premier Ceylon – Sri Lanka. Miss Premier Ceylon – United Kingdom was held along with Miss England Finals at Vox Center, Resorts World, Birmingham, United Kingdom on 14 July. Miss Premier Ceylon was chosen from among Miss England County Queens. Olivia Green, Miss Genting was crowned Miss Premier Ceylon – United Kingdom 2017, drawing global attention and focus to Sri Lanka when the winner spoke of her fantastic experience in Sri Lanka with a video playing in the background showing highlights of the visit. Photos of visit were published in UK print media which included Daily Mail, Sun, etc.

Premier Ceylon, ventured into high end hospitality in Sri Lanka, is in the process of setting up in Middle East and Europe. Conceptualising Miss Premier Ceylon with Miss England Pageant in Sri Lanka and UK, Premier Ceylon is also involved in Hotel Project Development, Heavenly Spas, Dream Weddings & Events, Exclusive Caravans, Luxury Yachts, Exotic Holidays, Hotel Supplies and Inbound/Outbound Travel services. The company is chaired by Tissa Jayaweera, a respected entrepreneur backed by Servarajah Krishnakumar Managing Director and Jagath Wijesekara, Director/Chief Executive Officer of the company.

Events management division of Premier Ceylon partnered with Miss England Organization, United Kingdom to stage and manage exclusive beauty contests and pageants to the best of international standards in Colombo, Sri Lanka and in United Kingdom, with the prime vision of flagging Sri Lanka into international arenas as an economic, social and tourism hub.

Premier Ceylon Hotels & Hospitality Ltd. sponsored Miss England 2016 and Seven County Queens to visit Sri Lanka in the run up to Miss England 2017 finals in Birmingham to produce an exclusive Tourism Promotional Film/Photo Shoots which was screened during the Miss England Finals in United Kingdom focusing global attention to Sri Lanka Tourism. Partners are Aitken Spence Hotels, ONYX Hotels, Lucky J Cars, Camera Hub, Social Media Partners PMN, SoftWave.

Miss England 2017 and Miss Premier Ceylon United Kingdom 2017 together with runners up, Mini Title winners Sashed in the United Kingdom will visit Sri Lanka to stage Miss Premier Ceylon – Sri Lanka in October 2017 which once again will be covered by Miss England Media Team.

Miss England Pageant was covered by UK as well as Global Electronic/Print Media which will provide wide coverage to Sri Lanka a big boost for tourism and provide much needed visibility on what Sri Lanka has to offer as a destination.

Miss Premier Ceylon with Miss England scheduled for October 2017 will be the best international show Sri Lanka will see with a host of top tier musical groups, dance groups and a gala black tie dinner to be held at a suitable location

Premier Ceylon is proud to have conceptualised and strategised Miss Premier Ceylon with Miss England with the prime objective of flagging Sri Lanka to the European platform as a promising social, economic and tourism hub.

Angie Beasley, Executive Director, Miss England Organization, one of the most prestigious beauty principals in the world has signed agreements with Premier Ceylon Hotels & Hospitality Ltd. to partner Miss England with Miss Premier Ceylon as a UK/Sri Lanka Joint Venture. Angie is an experienced contest administrator of the world herself being winner of a host of titles in the United Kingdom. Miss England leads the ramp in Europe with the professional experience and calibrated charisma of Beasley.

Miss Premier Ceylon pageants and contests will be staged in Sri Lanka and United Kingdom on an annual basis with the official partnership of Miss England Organization to hold hands with Premier Ceylon in its efforts to promote and flag Sri Lanka in UK/Europe as a destination offering much beyond expectations.

The contests and pageants are open for all from Sri Lanka and expatriates of Sri Lanka, directly encouraging tourism and promoting a host of branded product and service a platform/forum to meet within the pageant and contests to develop integrations and bridge into new markets.

Miss England Queens will join hands with Miss Premier Ceylon contestants in training and chirography on ramp in Sri Lanka for our contestants to experience cross cultural and professional exposure for them to develop integration, to build personalities and careers in United Kingdom and Europe.

Management of Premier Ceylon Hotels & Hospitality offers their heartiest gratitude and gratefulness to the partners who have held hands with this national effort to promote Sri Lanka into the international arena and last but not least to all the other partners who were cornerstones in bringing the exclusive venture into a reality.