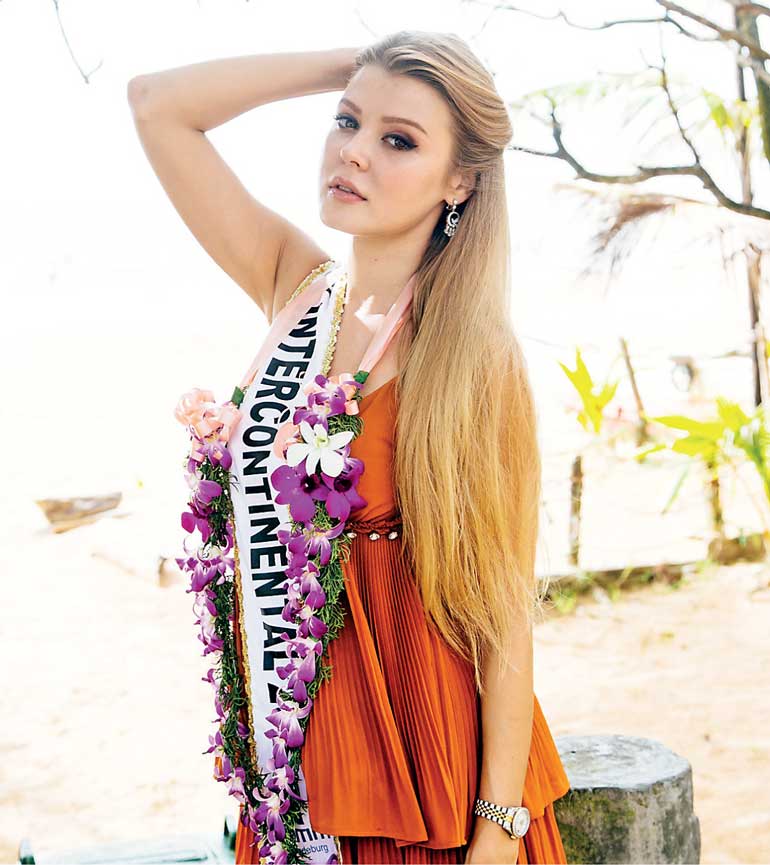 Q: What has winning Miss Intercontinental meant to you?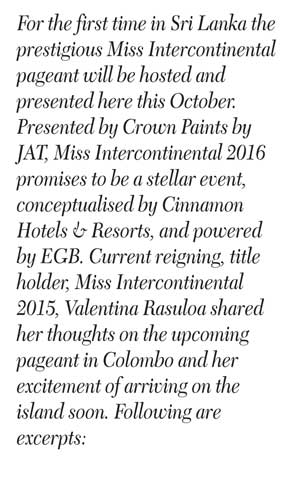 A: I've met so many wonderful people, been to many new places, gained a lot of experience while also improving my English. However, the most important being that fact that my family who supported me during the competition last year was present in Germany when I was crowned Miss Intercontinental 2015. Their happiness meant the world to me.

Q: Being a make-up artist, do you insist on doing your own make-up? What does it feel like to have someone else do up your face?

A: If she's as qualified as myself, I have no objection. I'm just kidding. Honestly, I'm absolutely fine with someone doing the make up for me. You can't object when you're getting spoilt!

Q: We hear you're into photography. What are you most excited about capturing in Sri Lanka?

A: I love the beach. I've heard a lot about the wildlife too, especially with regards to whale watching. There will be so many other opportunities for good photography during the tour with Cinnamon Hotels & Resorts as well, so I look forward to all.

Q: What do you think it takes to win an international beauty pageant?

A: You need to live and love what you do. A beauty pageant is far more than just being pretty as all contestants are pretty and have something special. The unique thing about the Miss Intercontinental pageant that stands out for me is that they do not care about race or colour and structure supports the fact that each continent is represented in the Top 5 at the finale. It makes it very exciting and the question Round is not the easiest. You need to be quick witted and smart with your answers too.

Q: What has the last year been like for you?

A: It's been like a dream. I've visited countries like Egypt, Dominican Republic, Spain, Germany, China and ofcourse Sri Lanka! I managed to do plenty of sightseeing too while engaging in many commercial shoots, fashion shows and events that were extremely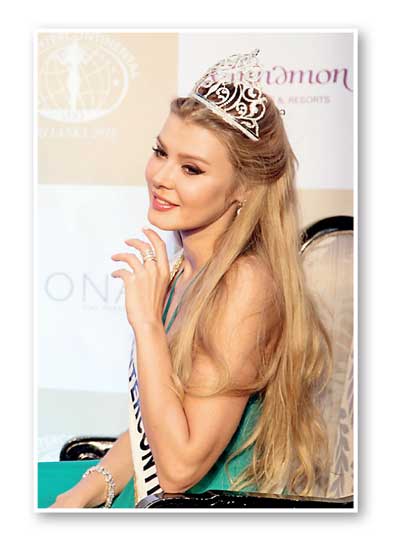 enjoyable. If I could defend my title and compete once more, I would definitely give it another try.

Q: Can you tell us about your best experience being Miss Intercontinental over this past year?

A: I got a great contract with EMMI DENT, an exporter of toothbrushes on ultrasonic basis, this was a great deal and I was a part of many commercial shoots, on their catalogue which included two MIO editions. The support of the Miss Intercontinental Organisation was comforting and it was good to know that the organisation is there for support always.

Q: What happens next? Where do you see yourself in the coming years?

A: I have many opportunities in Russia. However, I would like to open my own make up school or pursue my career as a model. However, I first need time to think about what the best option is since I will be starting a new chapter in my life after the Miss Intercontinental 2016 pageant.

Q: What do you think of the pageant being hosted in Sri Lanka this time?

A: I believe that this is a real opportunity for Sri Lanka to showcase the beauty of the country to the entire world. I know from the social media circles that I follow that people are already talking about Sri Lanka and this year's edition of Miss Intercontinental with excitement. I'm very happy to be in Sri Lanka as well.

Crown Paints by JAT presents Miss Intercontinental 2016 conceptualised by CinnamonHotels & Resorts and powered by EGB, on 16 October at Stein Studios Ratmalana, featuring 70 contestants fromaround the world and performances from a stellarlineup of international artistes including Apache Indian, Jim Beanz and Destiny, followed by an exclusive after party. Tickets priced at Rs. 3,500, Rs. 5,000 and special VIP tickets of Rs. 7,500 will be available at the Maharaja Head Office on Braybrooke Place from 5 October.
Beauty queens from around the world to visit enchanting Sri Lanka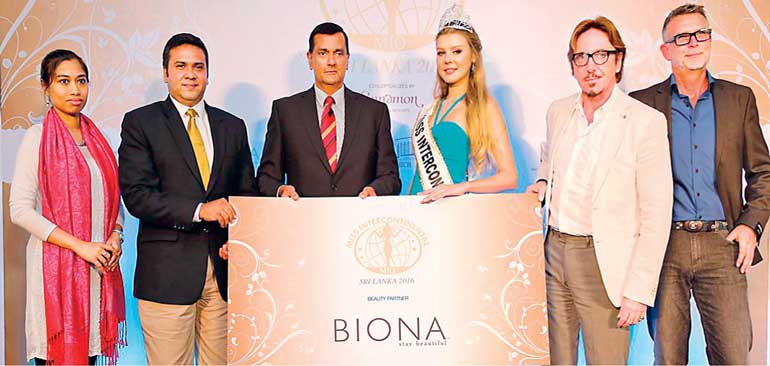 Natures Only Country Manager Romero Linden and Business Head – Consumer Brands Shameena Pallie formalising the partnership with the Organisers and Reigning Miss Intercontinental 2015 Valentina Rasulova
2016 Marks a special year for Sri Lanka as the scenic beauty and the rich heritage of Sri Lanka draws to its shores the most beautiful women from all continents, all aspiring to claim the prestigious title of 'Miss Intercontinental 2016'. This glamorous event is the first of its kind to be held in Sri Lanka, and it is also the first time in 20 years, that a South Asian country has been selected to host a pageant of international repute.

Biona, with their trusted heritage in the health & beauty category has stepped in as Beauty Partner bringing to this event their expertise in maintaining and enhancing natural beauty. They are one of the leading brands belonging to 'Natures Only', a global manufacturer of pharmaceuticals and nutria-cosmetics.

Natures Only, was founded on the principle of providing "Natures Wealth for Good Health", With the objective of inspiring trust and confidence while providing innovative solutions to address specific health concerns. With unrivalled expertise in a wide spectrum of scientific disciplines, as well as manufacturing and research & development, Natures only is committed to increasing the awareness and benefits of natural healthcare through its presence in Europe, USA, Africa, Asia and the Middle East. With several decades of experience in manufacturing and marketing nutraceuticals worldwide, the organisation is involved in the emerging nutra-cosmetics field, with its demand increasing worldwide every year.

Biona shares the vision of the pageant, which aims to inspire success through beauty and intelligence, thus empowering women from not only Sri Lanka but across the world, to unleash their potential and discover their true beauty from within. Biona endeavors to add a new dimension to beauty pageants, drawing from their experience and incorporating science and technology, to bring that which is important to every lady –the means to maintain lasting natural beauty. Through this the brand aspires to have more people rich in knowledge, beauty and confidence. The Biona 'Pearl' is a health supplement, marketed globally which helps in enhancing one's own beauty, taking special care of their skin, hair and nails.

During the pageant, Biona will also conduct a series of workshops, awareness programs and beauty camps in collaboration with beauticians, government organisations, doctors, consumers and artistes – in order to take forward its social mission of developing the nation and empowering women. The brand will continue to build confidence and develop entrepreneurship to bring more economic prosperity to the Pearl of the Indian Ocean.