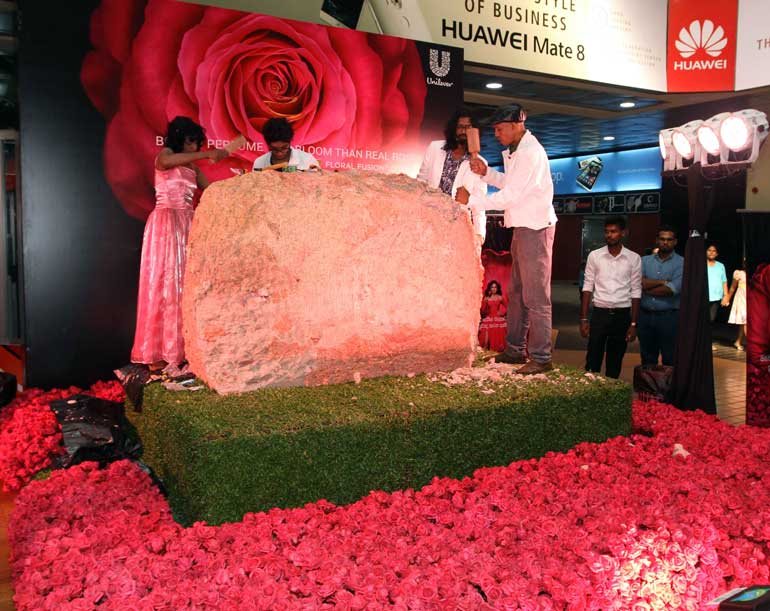 The team from Artway Gallery carving the giant cake of Lux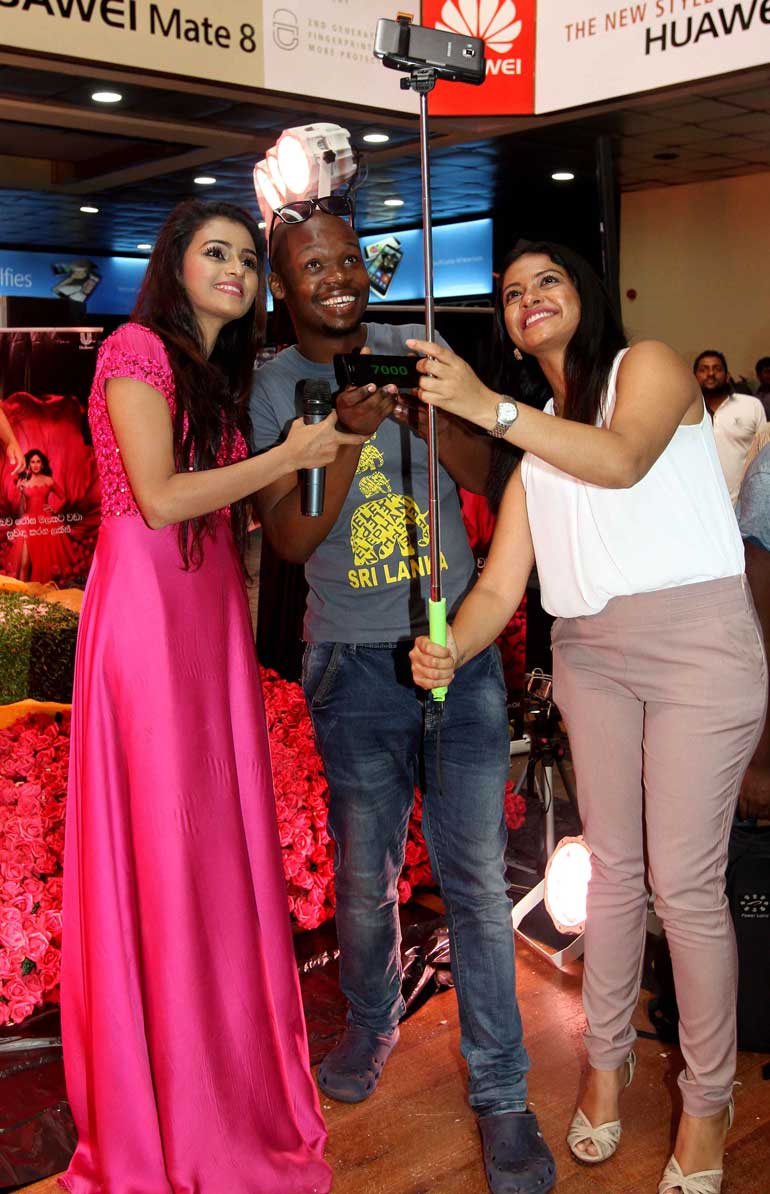 Selfie mania with Lux at Majestic City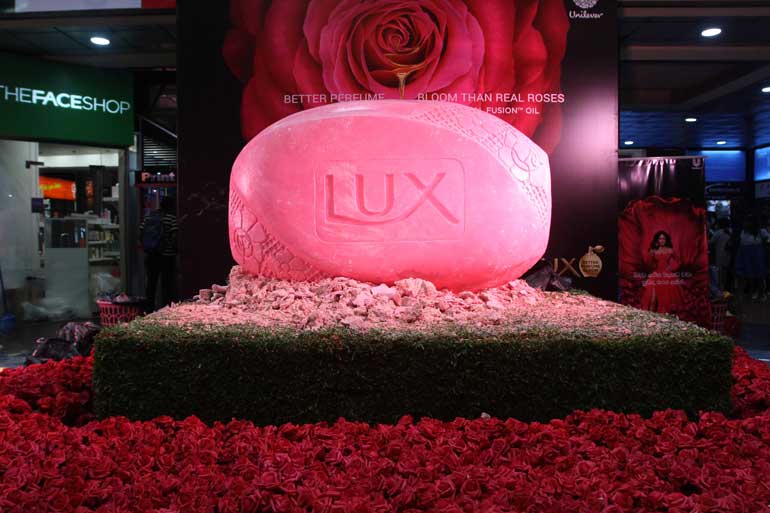 The Giant Lux bar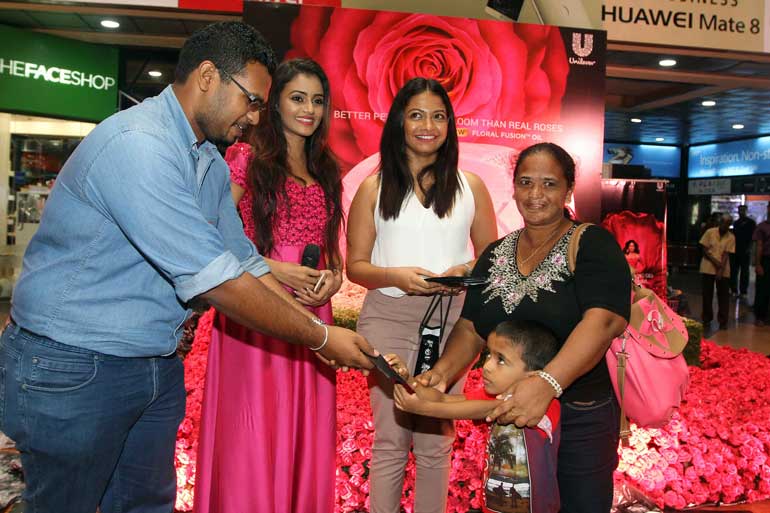 Lux Asst Brand Manager Inura Jayasuriya presenting Vijitha Edirisinghe and her son with their prize for guessing the correct number of roses in a single bar of Lux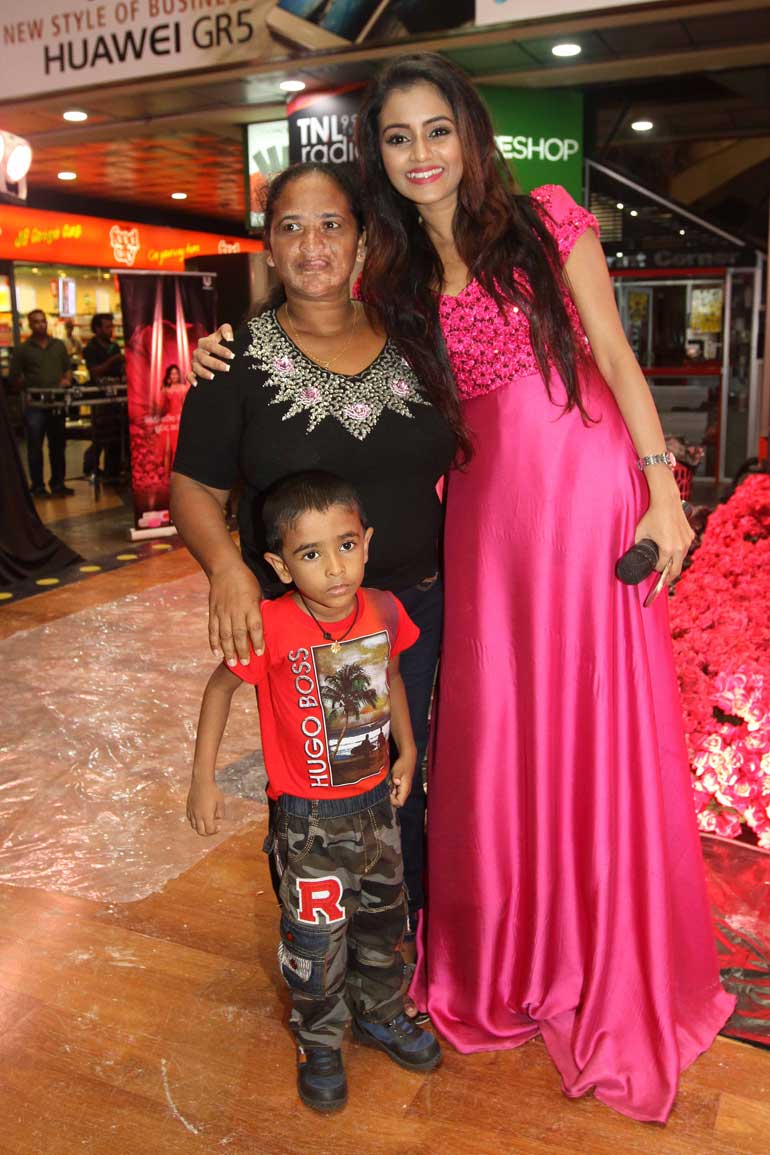 The lucky winner Vijitha, her son Madushan and Dinakshie Priyasad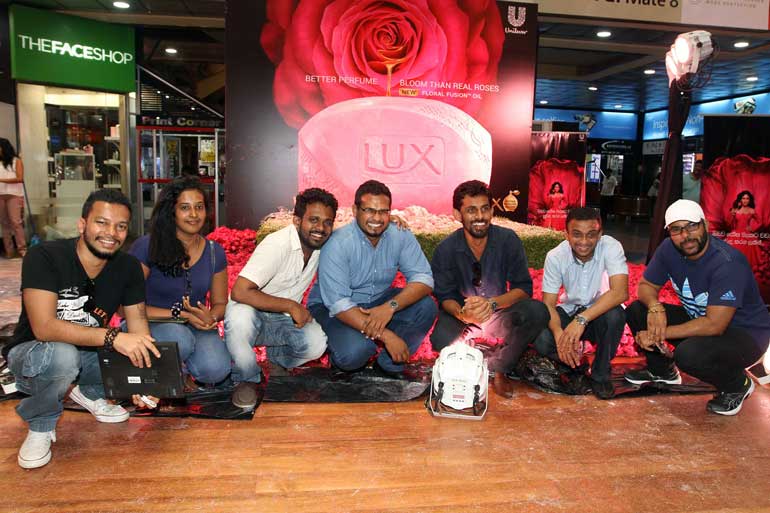 Lux Asst Brand Manager Inura Jayasuriya and his team responsible for the promotion
'Bloom better with Lux!' Of course you can, now that Lux is infused with not just one or two or three, but the fragrance of thousands of roses.

True to its promise, this iconic brand created a veritable hive of activity when they took over the lobby of Majestic City and transformed it into a Lux Rose Garden!

Visitors to Majestic City were somewhat taken aback when they saw what appeared to be a giant pink rock in the middle of a rose garden. Sudath Abeysekara of Artway Gallery was seen to be chipping away at the rock when lo and behold beautiful roses were seen to be coming out of the rock and taking their place in the Lux Rose Garden!

The crowds who had gathered to view this spectacle were amazed and wowed by what was going on and were eager to participate in the activities which included guessing the number of roses that would go into making up the fragrance of each Lux soap bar.

The compere who was popular film star Dinakshie Priyasad, whose task was to involve the spectators in the activity and get them to guess the correct number of roses had an easy task, as all those present were only too happy to involve themselves in what was indeed a unique event, while it also presented a fantastic photo opportunity, with selfies galore being uploaded. In fact Facebook was open for people to tag the Lux page and upload their guesses instantaneously.

Those who were fortunate enough to guess the correct number of roses that went into creating the fragrance of 1 Lux soap bar – a breathtaking 10,000, were Sajee, Shavini, Zarrjun, Chathurika, Vijitha Edirisinghe, Dharshika Sanjeewani and M. Sameer, all of whom happened to be visiting Majestic City at that moment and were lucky enough to make the correct guess. They were rewarded by being invited to the gala House of Lux extravaganza which will be held on 20 June at the Hilton Colombo whilst also being rewarded with exciting prizes at the venue. What's more, all the lucky winners are entitled to a free makeover for the occasion as well!

Over the years this iconic brand has evolved and remained true to its promise of making each and every woman feel beautiful throughout its lengthy history. Since 1925, Lux has been bringing the best of beauty, and the pleasure that comes with it, to every woman in the world.