World's largest floating book fair to bring international crew back once more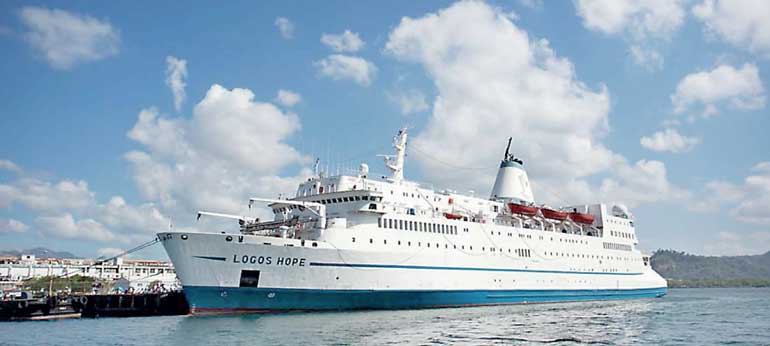 Logos Hope, the world's largest floating book fair, is returning to Colombo. As the ship heads to Africa, Colombo will be the last stop in Asia for more than five years. Crewmembers are really geared up about visiting Colombo again to close this tour of Asia.

Logos Hope will arrive in Colombo on 22 October and will be berthed at Port of Colombo till 9 November. During the previous visit, over 128,000 people visited Logos Hope in Colombo! Being the third visit, the crew and staff look forward to welcoming many friends back on board.

"This is great. I visited you as a school child when you were in Colombo in 1982. Today I am visiting you as a consultant architect ... so happy to be with you again," commented Susil Lamahewa, one of the visitors from the last visit in Colombo. As the final visit to Colombo during this tour of Asia, the crew and staff invite those who have not yet been able to visit to make the most of this opportunity.

Logos Hope's on board book fair offers an expanded selection of over 5,000 different titles at affordable prices. They cover a range of subjects including science, sports, hobbies, cookery, arts, medicine, languages and philosophy. With children's titles, academic texts, dictionaries, atlases and more, the book fair is something the whole family can enjoy. Additionally, the rest of the Visitor Experience Deck is also open for the public to explore. From the Welcome Area, which introduces the vessel through a short movie and interactive displays, to the International Café, which has ice cream, drinks and snacks for sale, there is sure to be something for everyone.

MV Logos Hope is operated by GBA Ships e.V., an international, charitable organisation registered in Germany. Since 1970, the organisation has welcomed over 44 million visitors up the gangways in over 150 countries and territories around the world.

MV Logos Hope will open to the public in Colombo from 22 October to 9 November. Opening hours are from 1 p.m.to 8 p.m. Sunday to Tuesday, and 10 a.m. to 8 p.m. Wednesday to Saturday. Ticket cost Rs. 100 per person; Senior above 65 years old and children under 12 years old enter for free, but children under 12 years old must be accompanied by an adult.