Luxury Swiss watch brand, Hublot, celebrated Official Brand Ambassador Michael Clarke's triumphant return to test cricket. Co-hosted by Hublot Chairman and LVMH Watch Division President Jean-Claude Biver, friends of Hublot assembled on-board super-yacht, the Sahana, for an afternoon of luxury on Sydney harbour.

On-board, guests were treated to a special preview of Hublot novelties, as well as news that Hublot have signed a partnership as the Official Timekeeper of the ICC World Twenty20, happening in India from 8 March to 3 April. This initiative extends on global alignments with iconic sporting events. An all-new cricket-inspired timepiece is to be revealed from the brand in coming weeks to celebrate the association.

Anchored in the present and always evolving, at the forefront of new advances in technology and fundamental research into new materials, Hublot remains committed to traditional expertise, creating timepieces which bear the mark of the most talented master watchmakers. In this way, the brand represents the art of fusion between watch making culture and cutting-edge technical developments, between the past and the future as, in the words of Hublot's Chairman Jean-Claude Biver, "We are not breaking with the past; on the contrary we are paying homage to it by connecting it to the future."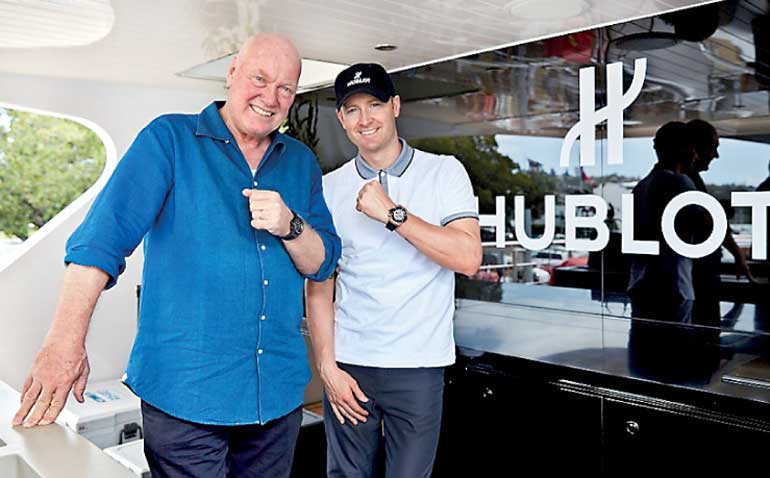 Jean-Claude Biver and Michael Clarke
Yamaha Music Centre launches Marshall Bluetooth speakers and headphones
A new dimension in high quality sound amplification has been introduced to Sri Lanka by the Yamaha Music Centre with the launch of a range of Bluetooth speakers and headphones from Marshall, the iconic British manufacturer of guitar amplifiers.

Combining the latest in high fidelity sound with the signature retro designs for which the brand is famous, the Marshall range is targeted at discerning music enthusiasts who do not wish to sacrifice sonic quality for size, the company said.

The Marshall headphone range now available at Yamaha Music Centre comprises of three models – the Marshall Major II, the Monitor and the Mode EQ – which deliver deeper base, extended detailed highs and refined mid-range sound with improved ergonomics, minimal distortion and superior noise isolation.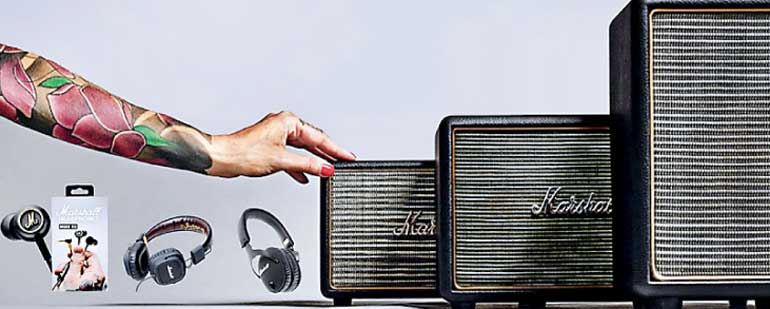 For sound enthusiasts looking for the state-of-the-art in wireless amplification is a range of active stereo speakers in the classic vintage Marshall designs that are a throwback to the golden age of rock 'n' roll, with analogue interaction knobs and the iconic script logo across the front. The Woburn, the Stanmore, the Acton, the Kilburn and the Stockwell Bluetooth speakers from Marshall deliver deep base notes that seem to defy the laws of nature for their compact sizes.

"This is one of the most exciting series of products that we have launched in recent times," Yamaha Music Centre General Manager – Sales and Marketing Shane Joachim said. "For sound enthusiasts, Marshall is a revered brand name in amplifiers but now they don't need to have a band to own one. Any discerning music lover would be proud to own a Marshall Bluetooth speaker or headphone."

The Marshall brand was founded in 1962 by drum shop owner and drummer Jim Marshall, and is now based in Bletchley, Milton Keynes. The signature Marshall sound was conceived after guitarists such as Pete Townshend visited Marshall's drum shop and complained that the guitar amplifiers then on the market did not have the right sound or enough volume. Today, Marshall's guitar amplifiers are among the most recognised in the world.

The Yamaha Music Centre is currently the only music store in the country offering customers world class musical instruments, home audio, pro audio and studio recording equipment under one roof. The Yamaha brand's legacy in Sri Lanka traces its beginnings to Michael Caderamanpulle Snr retailing Yamaha pianos in 1922 under the name 'Yamaha Music Centre.'