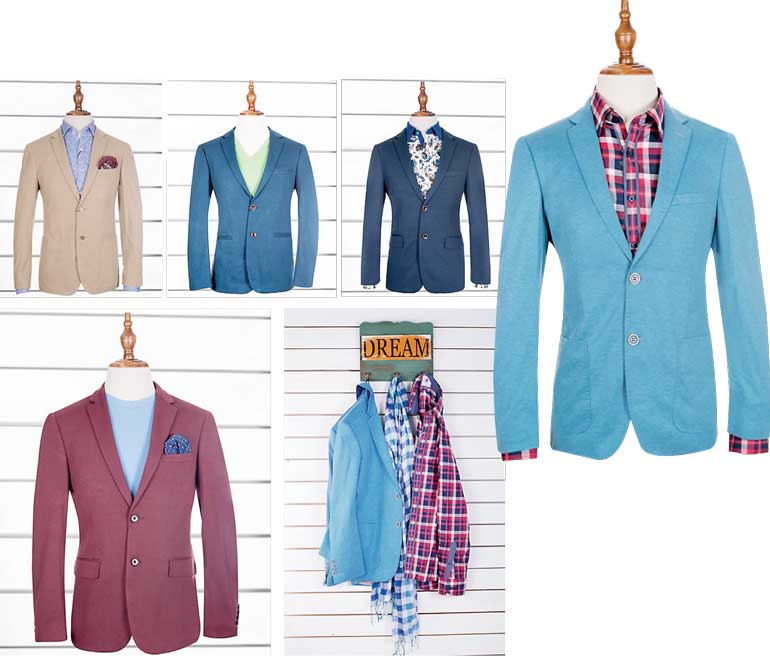 Continuously setting the benchmark in the fashion industry, Hameedia, Sri Lanka's leading menswear specialist recently introduced its latest range of fashionable knitted jackets. The knitted jacket is one step up from an unstructured casual blazer and is more flexible and extremely comfortable to wear.

The knitted jacket is made from a textured composition of poly rayon which is known for being durable, shrinkage resistant and wrinkle-free. Poly rayonis a very versatile fibre and offers the same comfort as other fibres and is soft, smooth and highly absorbent.

The material's non-insulated properties make it ideal for use in hot and humid climates. The combined composition of poly rayon keeps the wearer stylish and prim while ensuring that he stays comfortable at the same time. The jackets are available in all sizes, in five colour variants and they are designed to fit gentlemen of any build.

Hameedia's commitment to revolutionising menswear fashion has extended over six decades, driven by Fouzul Hameed. The knitted jacket range is the latest addition to Hameedia's extensive product portfolio and this innovative new item of clothing can be used as the ideal addition to any wardrobe.

The knitted jacket can be worn with a pair of jeans, a clean shirt, knit tie and classic brogues. For a fresh and youthful look, the jacket can be paired with chinos, a Polo t-shirt and suede driving shoes. The jacket is extremely versatile and gives a fashionable edge to sporty and casual outfits. The knitted jacket is also affordable and can be purchased for Rs. 8,995at all Hameedia outlets across Sri Lanka.

Commenting on Hameedia's new item of men's clothing, Fouzul Hameed, Managing Director, Hameedia stated, "The knitted jacket is fashionable, affordable and is ideal for any occasion. It can help enhance a variety of outfits and can easily be worn at special events and when travelling. Hameedia is constantly making exciting additions to its portfolio and continuously adapts to deliver innovative designs that reflect the latest fashion trends."

Hameedia was established in 1949 and has grown to become a household brand in Sri Lanka. Renowned for high quality, custom tailoring and ready-made clothes for gentlemen, the Hameedia multi-brand retail stores house a collection of quality menswear brands including Le Bond, Envoy, Signature, Raymond, Lee and adidas to name a few.

Hameedia also prides itself on offering exceptional standards of service to ensure that clients enjoy a positive and personalised experience at each store. With a network of over 30 outlets across Sri Lanka and a team of over 1,000 employees, Hameedia has a strong local presence and has also expanded globally with outlets in the Maldives and Australia.