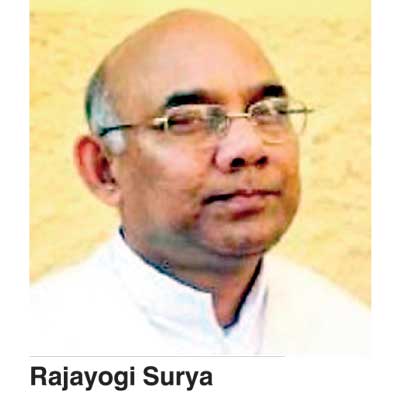 We protect peace through the lightness of mind and generosity of heart. Life will be complete and fulfilled when we have credit in all areas; there are many different areas in life, such as health, wealth, relationship, skills, intelligence etc. None of these areas should give us experience of pressure but should give experience of pleasure.

Meditation or Raja Yoga is the art of deeply reflecting on the true self and is a process of guiding our thoughts to create positive experience by connecting the self to a highest power, which will lead to lightness in the mind. This awakens our highest potential and character. Raja Yoga meditation is easy and fun, if you know how to do it. It empowers and enriches the self. Anyone can learn it; all we need is open mind and willingness to experiment with new ideas. Most respected Rajayogi Brahma Kumar Surya who is a Senior Lecturer of Spiritual Knowledge and Raja Yoga Meditation at the Academy for a Better World, Gyan Sarovar, Rajasthan, India will be in Sri Lanka from 15 to 30 December and during his stay in Colombo he will deliver a lecture to the public on the theme 'Experiencing lightness through Power of Yoga' at Saraswathy Hall, Bambalapitiya on 17 December starting at 5:30 p.m. Admission free. All are welcome. For more details call 011-2717572 or 0773013440. Rajayogi Surya has conducted extensive researches and experiments on the practical application of meditation in various walks of day-to-day life with 100% successful results. Some of the areas of his research work include the following: Curing diseases through Raja Yoga, solving small and big problems in life using thought power, mastery over mind by conquering waste and negative thoughts, ways to fill life with happiness and peace, etc. He is also a journalist and a writer.

He has travelled across the length and breadth of India, Australia, New Zealand, Fiji and Africa and rendered services.