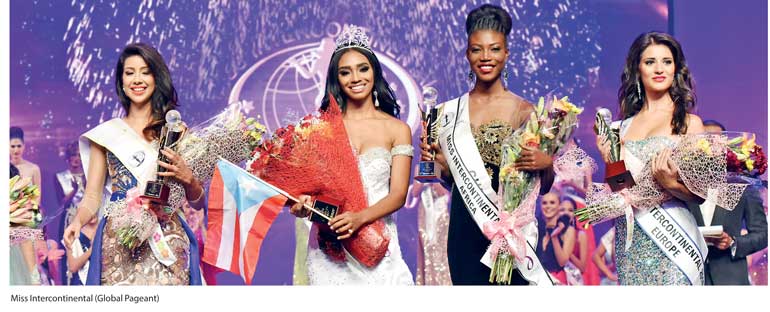 National Coronation Pageant, Crown Miss Intercontinental 2017 on 24 September at Hilton Colombo
Global pageant in November
One of the world's top three beauty pageants, Miss Intercontinental appointed Joyce James Gunawardene, Managing Director of Exceptional Entertainment, as the Global Franchise Holder and National Director to spearhead this 'International Festival of Beauty and Elegance'.

Very keen on transforming the core concept of beauty pageants being held in Sri Lanka and evolving these instead into making the participating women and the winners specifically an icon and role model for women, the Coronation Pageant due to be held at the Colombo Hilton on 24 September will showcase this difference.

The national pageant, Crown Miss Intercontinental 2017 brings in renowned corporate leader in finishing, furnishing and lifestyle concepts, JAT Holdings as Title Sponsor, whose vision lies in leading the transformation of spaces for people to live, learn, work and play.

Having impressive experience on the runway as a former model and entertainer and building her career as a businesswoman and entrepreneur, Joyce believes strongly that the perception of beauty pageants must change and Exceptional Entertainment intends to do just that.

"The genesis of Exceptional Entertainment brings to fruition my long standing desire to introduce world class events to Sri Lanka and the sub-continent. By not only holding the pageant in Sri Lanka but also producing the global event in the sub-continent, our prowess from A to Z of meeting this objective will be highlighted," she said.

Exceptional Entertainment collaborates with internationally experienced teams in the entertainment industry to achieve this objective. It works with show producers, event managers and directors, creative directors, entertainers, choreographers and PR and media teams, all of who have amassed significant experience and will add value to the ultimate production.

"The fact that we can work in any country is well evidenced by this incomparable pool of professionals," she emphasised.

Armed as she is with this enthusiasm of transforming the pageant from one judged simply on beauty to a pageant where intellect, personality, confidence and a more holistic persona become key drivers, Joyce said: "Related organisations, both public and private sector entities must realise and acknowledge the integral role that a national title holder can play in uplifting industry sectors – specifically the hospitality and leisure tourism sectors. With the general perception of beauty pageants ebbing to low levels, the massive advantages that a collective of beautiful intelligent women's contribution to the nation has been completely obscured. The objective of Exceptional Entertainment therefore is to elevate the status of the pageant and thereby its contestants, which both public and private sector entities must assist in if the country is to benefit in the long term."

The Host Hotel for the national pageant is the Hilton Colombo, Official Jewellery Partner is Tiesh and Official Photographer is Prishan Pandithage while Daily Mirror Life, Daily FT, Life Online and Sunday Times are official Print Media Partners. Electronic Media Partners are MTV 1, Yes FM and Legends and LIVING magazine is the Glossy Partner.