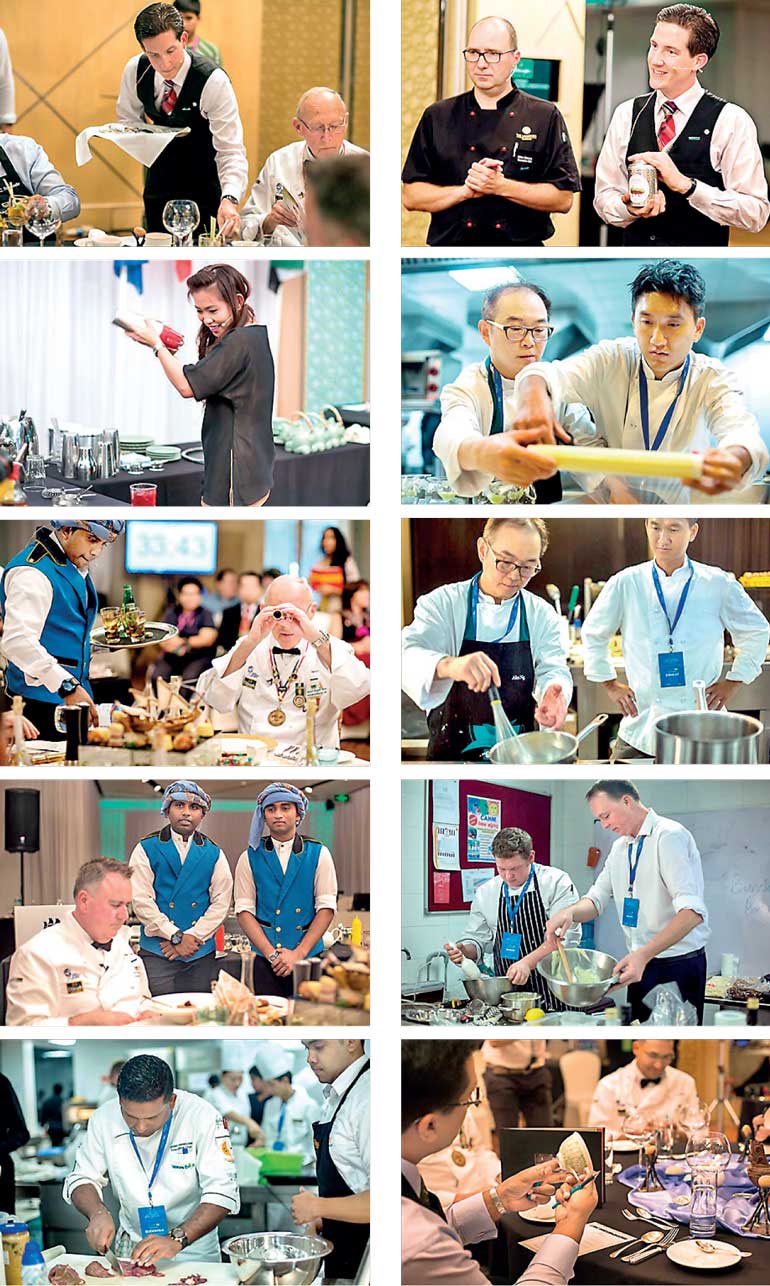 By Sarah Hannan

Things are getting pretty heated up in the Hilton Colombo Residencies Ballroom as the presentations come to an end today. The winner of the Leaf and Artisan Trophy will be announced tomorrow at the Dilmah Real High Tea Global Challenge awards ceremony to be held at Waters Edge.

This week 21 teams were in Colombo out of which 16 teams have presented their tea inspired menus. Today's schedule will see five presentations and leave the judges to make that tough call of selecting the global champion.

Two days into the competition and the teams have managed to keep the judges and the audience entrapped displaying their mastery in all things tea. I have seen tea being used in many ways not only as a beverage but also as an ingredient in desserts, savoury items, injected to meats to marinate among the few. It was absolutely entertaining to see a chef and a mixologist work together to serve delicatessens along with perfect concoctions of hot and cold teas.

Impressive culinary knowledge

Judges were blown away by their culinary knowledge in pairing the ingredients to tantalise the taste buds and at the same time bring out the characteristics of tea variants. While some of the teams kept their themes in table décor simple focusing mainly on the tea that was served, elaborate centre pieces and décor were exhibited by some teams.

The tradition has lost its prestige and the appreciation for tea has lost. When we walk in to high tea events in town; we are served up with a buffet with no person guiding us through the pairing of teas with the corresponding food item. However, with Dilmah Real High Tea Challenge taking place in 14 countries there is hope for the tea aficionados to yet again join the tea revolution.

The journey to create a 21 century real high tea began in 2007 and during their voyage had sailed to South America, Europe, the Middle East, Asia, Australia and New Zealand. The competition saw 710 contestants forming 355 teams from 14 countries offering 88 Gold medals.

The trophy – what it symbolises

The hand symbolises the fundamental importance of the artisanal method of manufacturing tea. From the handpicking of the leaf – a demanding method which is nevertheless critical to the quality in tea as mechanisation can come only with compromise on leaf standard – the traditional method of manufacture known as the orthodox method – retains the principles of making the fresh shoots of the Camellia Sinensis plant into tea that were crystallised by physicians in ancient China. The technique focuses on natural enzymatic oxidation that is achieved through the natural elements present in the leaf.