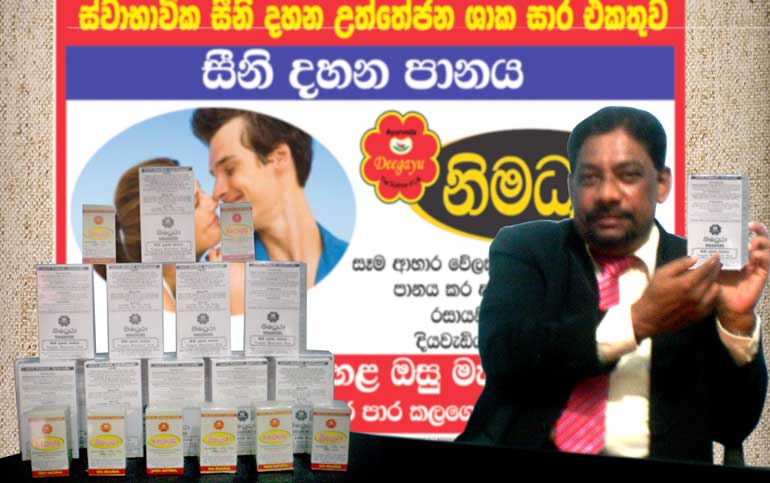 Products launch by Deegayu Ayurvedic and Botanical Products Managing Director Sarath Jayakody
Deegayu Ayurvedic and Botanical Products Ltd., one of Sri Lanka's leading manufacturers and marketers of Ayurveda pharmaceuticals and Ayurveda concept based herbal healthcare products, recently launched its latest invention, 'Nimadhura Sugar Burner Tea' recently.

Deegayu Nimadhura is a 100% natural, Ayurveda product, formulated by blending standardised extracts of natural herbs, in compliance with authentic Ayurveda principals, and guidelines issued by the WHO. These highly efficacious Ayurveda botanicals are capable of metabolising carbohydrate and food sugars while stimulating the pancreas and other organs in the digestive tract, resulting in maintaining the blood sugar levels at healthy range.

The World Diabetes Association admits the fact, that the traditional western system of medicine has no solution for diabetes other than prescribing chemical and hormonal drugs for temporarily controlling the disease. Prolonged use of these chemical drugs lead to malfunctioning of kidney and various other organs, hence the safest option is to control diabetes by stimulating the metabolic process with the help of natural food supplements such as Deegayu Nimadhura.

In addition to the form of infusion, Deggayu Nimadhura is also presented in hard gelatin capsules and tablets. Anyone with higher blood sugar levels are recommended to use two capsules or tablets, one hour prior to the meals followed by one cup of the sugar burner tea.

Seeking to reintroduce the goodness of natural herbs into the Sri Lankan society, Deegayu Nimadhura ushers a new hope for people with high sugar levels, as it helps metabolise sugar allowing them to minimise the intake of chemical and hormonal drugs and thereby safe guard the vital organs such as kidneys and liver facilitating to lead a healthier lifestyle.

Deegayu Ayurvedic and Botanical Products Ltd., continuously seeks to produce Ayurveda pharmaceuticals and Ayurveda concept based herbal health care products that are full of natural nutrients. All 'Deegayu' products have been certified by the Formulary Committee of the Ayurveda Department.

Deegayu Nimadhura Sugar Burner Tea is now available at all pharmacies and leading supermarkets.