If anyone visits only one particular destination for the 55th time, and stays for the 50th time at the same hotel, then it's something worth being interested, and something really remarkable.

Kaj Jessen of Denmark has established himself that honour by creating a record breaking number of visits to Sri Lanka, and nowhere else. He was given a warm welcome by the Sri Lanka Tourism Promotion Bureau officials, and he also met SLTPB Chairman Paddy Withana, having an amiable discussion about his experiences of visiting Sri Lanka. He received a token of appreciation from the SLTPB Chairman. His love for Sri Lanka first began in 1978 when he first came to the country with one of the biggest Danish Charter operators, Tjaeraborg, who was promoting Sri Lanka and had regular flights from Copenhagen.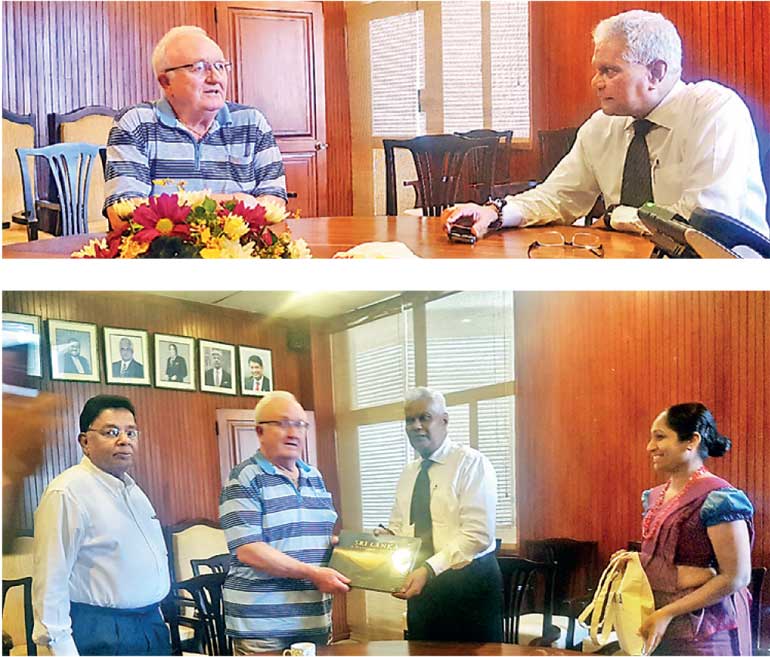 He reflected on the changes Sri Lanka has undergone since then. He visited Sri Lanka even during the war times, and even though it was a difficult time, it did not make a big difference to him. His love for the paradise island remained intact. Jessen said that Sri Lanka is his second home where he finds the people friendly and kind, and also very helpful. He says he has got a lot of friends in Sri Lanka. He has an unusual love for the Coral Sands Hotel, and has visited there 50 times since 1983. He refers to Coral Sands as his second home. Having stayed at a hotel the first year, he had thereafter stayed with a Sri Lankan family in Bentota, during the next four years. He visited Hikkaduwa during this time and was impressed with the Hikkaduwa Resort. He enjoys going to the beach, and doing some sunbathing in the hot sun. Jessen is a retired accountant from Bredebro, Denmark, who loves to travel, but the most amazing fact is, for all these years, he has never travelled to any other country except Sri Lanka. Since he comes from the South side of Denmark, near the German border, he travels by car to Germany sometimes.

He always stays in Sri Lanka for a minimum period of three to four weeks. He expects his brother and family to visit Sri Lanka in early February with whom he is planning to do a tour and visit Jaffna for the first time.