An infant support pillow that provides support to nursing mothers to feed their new-born babies was launched by Comfy KAY's in Colombo recently. The contoured nursing pillow is designed to fit around the mother's waist easily, while eliminating the stress on the mother's back, neck and shoulders.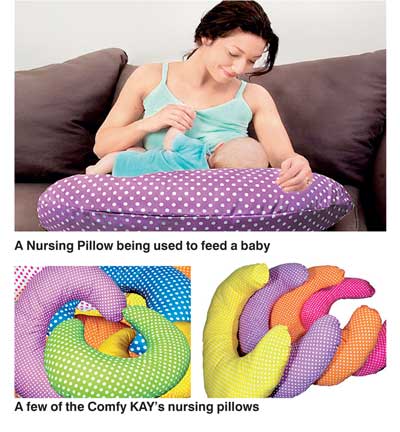 "This nursing pillow is soft and comfortable yet firm enough to lift baby up to the required level for easier latching and relaxed feeding," said Maheshi Gunawardena of Comfy KAY's. "The unique ergonomic design ensures correct feeding position by naturally rolling the baby towards the mother. When the baby gets older, the pillow functions as a prop to support and sit the baby up," she said.

These feeding pillows come with an attractive zippable slipcover which can be removed and either hand washed or machine washed on a delicate cycle. The inner cushion which has a soft and non-toxic fibre-fill can also be machine washed in cold water on a delicate cycle by itself.

Mothers who have used this pillow following natural birth and caesarean section vouch for its effectiveness and ease of use when feeding their new-borns, Gunawardena said. "Many mothers who have started using this pillow have told us that feeding has never been so easy."

The comfy KAY's feeding pillow is currently available at Cool Planet outlets and selected baby product stores. The pillow which would be an ideal gift for infants is produced locally adhering to strict quality standards.