Reuters: The rare and flawless "Blue Moon Diamond" sold for 48.6 million Swiss francs ($48.4 million) to a Hong Kong buyer on Wednesday, setting a world record for a gemstone at auction, Sotheby's said.

The cushion-shaped diamond, mounted on a ring, has the top grading of fancy vivid blue and weighs 12.03 carats. It had a pre-sale estimate of $35 million to $55 million.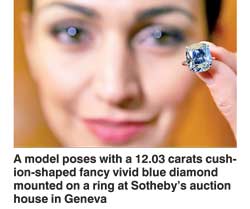 "It is a new record price for any gemstone and per carat," David Bennett, worldwide chairman of Sotheby's international jewellery division, told a packed showroom in Geneva that erupted into applause.

The Hong Kong buyer promptly renamed it "The Blue Moon of Josephine", Bennett told reporters, noting that it had also set a world record for any jewel at more than $4 million per carat.

At rival Christie's on Tuesday, a large diamond of a rare pink hue fetched 28.725 million Swiss francs ($28.55 million).

Christie's said that the stone, named "The Sweet Josephine" by the Hong Kong-based Chinese client who bought it, set a world record for any pink diamond ever offered at auction.

The same buyer was believed to have bought both star lots at the semi-annual sales in the Swiss city.

"Magical stone"

"For me the Blue Moon was always the blue diamond of my career. I've never seen a more beautiful stone – its shape, colour and purity. It's a magical stone," Bennett said.

The previous record was held by the Graff Pink of 24.78 carats, sold by Sotheby's for $46.2 million in Nov. 2010.

The blue diamond stone was found in South Africa's famed Cullinan mine in January 2014. The seller was New York-based jeweller Cora International, according to Sotheby's.

The distinctive blue colour in diamonds is attributed to trace amounts of the element boron in the crystal structure.

Royal jewels, coloured gemstones, and designer pieces by Van Cleef & Arpels, Cartier, and Harry Winston were among 410 lots that found new owners, bringing $139 million.

A fancy vivid purple-pink, pear-shaped diamond ring sold for 13.9 million francs, the second-highest lot of the night.

A 8.48 carat Burmese ruby and diamond ring that belonged to the late Maria-Jose, the last Queen of Italy, was stranded at 5.2 million francs, drawing gasps as it failed to meet its reserve price set by the seller.

A Cartier diamond and pearl tiara that survived Germany's sinking of the Lusitania cruise liner 100 years ago, along with its Canadian owner Marguerite Lady Allan, whose two daughters perished, went for $800,000 in heated bidding, doubling the low end of its estimate.

A 15.20 carat fancy orange-pink diamond pendant owned by former James Bond actor Sean Connery fetched more than four million francs, tripling its estimate.

"Overall, it was an extraordinary evening," Bennett said.