As a new school year begins in January, a question that often nags mothers is what to put into the child's snack box, especially since most kids are fussy about food. AIA Insurance, a company that strongly believes in the importance of healthy living set about doing a quick dip stick survey on what goes into the school snack box.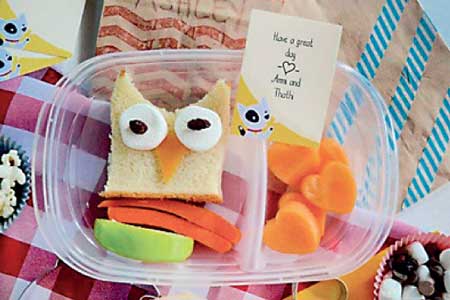 While in the rural areas, the diet was invariably a rice, string hoppers or 'kade pan' topped with pol sambol and parippu (dhal), in the city and suburbs in contrast, the snack consisted of the perennial sandwich with cheese or chicken being the popular choice of filling. While some mothers took the easy way out when the morning rush was too hectic and served a range of biscuits, others would pack a box of pulses such as green gram, 'kadale' or the red bean 'kaupi' – to ensure protein intake for the week, albeit it was said to be unpopular with the kids.

This got us thinking. How do you pack the ideal snack box – especially if the child is going to the primary school for the first time? It is an important milestone for the little one. The school snack should be nutritious, appetising, affordable and convenient. It should consist of an adequate amount of the nutrients, including carbohydrates (bread, rice or pasta) for energy, proteins (fish, meats, pulses) for muscle development and plenty of fruits and vegetables.

But whatever you decide to pack, here is the important tip; make it as creative as possible! By taking a few extra minutes for the presentation, your kids can be pleasantly surprised when they open their snacks box, thereby encouraging them to eat it all! It will also inspire creativity in them while giving them something exciting to show their friends!

You don't have to take too much time or trouble. Adding a little colour to the presentation can go along way – so make sure to mix in some greens with some orange carrots and yellow potatoes. Also, smiley faces are always a big hit with kids, and you can draw it on just about anything, such as bread or eggs. Another easy solution is to cut the food in shapes, be it a flower, star or even animal shapes. This can even be cut in layers with a garnish of a piece of fish, chicken or cheese. Rest assured, even a poor eater will enjoy a creative snack! You can maybe add a 'Have a great day' note – if you feel this would make your kid happy.