Expo Freight (EFL) has partnered with Arugam Bay Beachwear (ABB), Sri Lanka's finest swim and beachwear label, and Takas, Sri Lanka's leading e-tailer, to offer e-commerce solutions.

This landmark partnership between three of Sri Lanka's top companies will be launched with a special, week-long promotion of ABB on the Takas portal (www.takas.lk). The special offers will include free same-day delivery within Colombo and free standard islandwide delivery.

"We are very aware of the impact that e-commerce is having on retail around the world and the seismic shift that it would create for our business. We want to be a part of that supply chain, and what better way to do that than to tie up with the two foremost brands in their categories?" says Hanif Yusoof, Founder and President of EFL.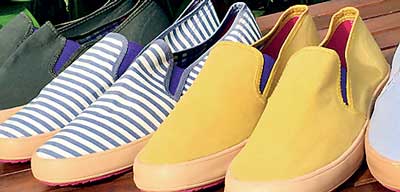 "Arugam Bay Beachwear is entering a new era where we will leverage our brand to reach a much wider audience both through traditional and online retail. The brand has already established itself and now, with the support of EFL, we will streamline our supply chain. Takas will help us gain loyal customers not only in Colombo but also throughout the island. Our association with EFL will also help us reach out beyond Sri Lanka," says Ajai Vir Singh, Chief Executive Officer of Arugam Bay Beachwear.

"Takas is very keen on building its offerings in the fashion vertical and Sri Lanka is a great market for that. We are very proud to be associated with EFL and ABB, and working with Hanif and Ajai, who have shown faith in both our technology and operational capability. This is further proof that Takas is at the edge of innovation for e-commerce in Sri Lanka," says Murtaza Moosajee, Co-Founder of Takas.

Arugam Bay Beachwear draws inspiration from the spirit and colours of the east of Sri Lanka and its surfing subculture to create collections of beach, swim and resort wear that blends bright hues, bold patterns and glamorous and sporty silhouettes. With its collections now available to purchase online through Takas and be shipped locally and internationally through EFL, Arugam Bay Beachwear is able to build and cater to a broader clientele with a faster and simpler sales process.

Expo Freight (EFL) is a leading provider of freight forwarding and supply chain management solutions across the globe. Having started in Sri Lanka, EFL has grown to become one of the largest logistics companies in the Indian Sub-Continent. With over three decades of experience in forwarding and warehousing, EFL is well recognised for offering flexible and personalised solutions at the best rate and using optimised routes. EFL now covers over 20 countries and is backed by a diverse team of over 2000 employees who are well verse in aspects of cargo management.