In its third edition, Swim Week Colombo will launch with Art Connect on 27 June, hosted at Trace Expert City.

Art Connect will return for its second season and features six of Sri Lanka's most acclaimed artists.

Swim Week Colombo, with its title partner Olu Tropical Water, hosts this curated event that is highly anticipated by many a fashion personality and is an initiative that explores meaningful interaction between art and fashion.

REVIVE looks at expressing the ideas of Green Conscious and Earth Sensitive through the stream of art. Six important artists join together to bring their sensibility to stir up green consciousness with unique perspectives. Collaboration of creative industries towards a common cause strengthens it.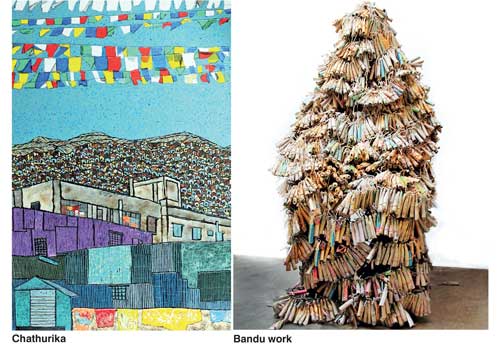 "Art and Fashion have a deep relationship. The expressive nature of these two creative streams is encompassed in Art Connect. This edition of Art Connect is the interpretation of the Green Conscious position of Swim Week through the eyes of six important artists," said Ajai V. Singh

The artists collaborating with Swim Week Colombo for the exhibition are Anoma Wijewardene, Mahen Perera, Bandu Manamperi, Vajira Gunawardena, Chathurika Jayani and Ajith Susantha. These six acclaimed artists will exhibit their expressions of the theme REVIVE.


The artists

Anoma Wijewardene is an alumnus of Central St. Martin's College, University of the Arts, London. She was also a visiting lecturer there. She is known for creating images that depict man's existential anxieties, contemporary concerns about the human condition and internal tussle with his nature and his fellow man.

Anoma's work has been displayed at the V&A Museum and the House of Commons in London and she has also exhibited at Sotheby's Gallery, Hong Kong. Her clients have included Yves St Laurent, Pierre Cardin, Calvin Klein and Ralph Lauren, and her work has been featured in several international publications including the cover of Vogue Magazine in the UK. She was also one of the painters selected by India for the SAARC Art Exhibition which toured the seven capitals of the SAARC region. The multimedia trilingual exhibitions on Climate Change, Sustainability, Inclusivity and Reconciliation are themes Anoma continues to push the boundaries on for Art Connect.

Mahen Perera is an artist who works mainly with objects and material detritus that are often ignored, and seeks to analyse and challenge the conventional language used to discuss issues of identity and representation. Trained in multidisciplinary design at the National Design Centre in Colombo, he went on to pursue his BA in Fine Arts from the Lasalle College of the Arts, Singapore in affiliation with the Open University, UK. As a recipient of the prestigious Winston Oh travel award in 2007, Mahen undertook a month-long residency in Prague. He intends to exhibit his style of art to build up narratives referencing history, sexuality, memory and time.

Bandu Manamperi is a leading figure in recent social art projects carried out under the aegis of Theertha, including 'Let's Take a Walk' and 'Ape Gama'. He holds a Bachelor of Fine Arts in Sculpture and is a core member of Colombo's Theertha Artists' Collective, Sri Lanka.

Bandu was one of the first performance artists in Sri Lanka, creating highly personal art experiences based on the transformation of his own body, but he doesn't limit himself to any one genre and his art practice also encompasses sculpture, drawing and painting as well as installation art. He also lectures and consults widely on a range of topics including contemporary art, museology and local craft traditions. At Art Connect, Bandu will be exhibiting under two themes. 'Dirty Cloths', where he will take an old piece of his clothing and various other textiles and surfaces which are both personal and possess historical value to him and make screen or relief prints on them. He intends to engage in disciplined methods of printmaking for novel, contemporary expressions. The theme '6 months off a diary' uses recycled paper from a personal journal with a combination of old newspapers where he makes collages.

Vajira Gunawardena questions reality and the representations of realty in a bargaining world. Hence he concentrates on subjects such as politics, metaphysic, culture, history, consumerism, myths and ethics.

The internal body of his work is interested in using the figurative forms, assemblage and stencil techniques. Each motif is a specific archetype that uses line, colour and space to form a cognitive-based narrative that explores inhuman space in daily lives. He hopes that each image he uses will become more powerful, more important and more communicable. Vajira works as a visiting lecturer at the University of the Visual and Performing Arts – Sri Lanka. He is a Fine Arts graduate of the Institute of Aesthetic Studies, University of Kelaniya and his work has been featured extensively in Sri Lanka and Internationally.

Chathurika Jayani is a young gifted artist who establishes a story that is defined by both dimension and texture. The use of mixed media creating a layered three dimensional visual on her canvas is effective in illustrating this aesthetic. She completed her Bachelor of Fine Arts at the University of Visual and Performing Arts in Colombo and has participated in numerous group exhibitions both locally and abroad.

In addition to this, she is the winner of multiple awards. Under the theme of 'Escape', she intends to exhibit a series of works for Art Connect. In this series of paintings, her attempt was to capture bolts of freedom in the lives of people living in the slums of Colombo using recycled corrugated sheets and burnt wood as a base. Chathurika's work is prominent due to her attention to intricate details and the creative methodology in which her work is presented which is expected to cater to those in attendance.

Ajith Susantha is a dynamic experimentalist who is forever coming up with innovative design ideas in acrylics, mixed media and 3D sculpture of various types. Ajith holds a Bachelor of Fine Arts from the Institute of Aesthetic Studies, from the University of Kelaniya and ever since graduating has exhibited his works in England and Norway as well as at Colombo galleries. For Art Connect he will showcase abstract and untitled installation art which are created using recycled mixed media.


Strategic partners

This is the second season that Fashion Week has brought on board Chamika De Alwis to give form to their vision through the role of exhibition curator. Chamika is a Chartered Architect by profession, but is passionate about art. Swim Week Colombo benefits from its collaboration with strategic partners who have understood its vision and have rendered much support in pursuing its present goals in achieving a higher standing in the global fashion scene, as well as its new position in being environmentally and socially more responsible.

Olu Tropical Water is the Title Partner, Linea Aqua is the Main Partner, Hilton is the Hospitality Partner, Wine World is the Official Lifestyle Beverage Partner and Spa Ceylon, Ramani Fernando, Leo Burnett Sri Lanka and MSL Group Sri Lanka and Emerging Media all share and extend their support towards the vision and aspirations of pursuing an ecosystem approach to environmentally responsible fashion.

These artistic interpretations shared at Art Connect will stimulate thoughts and inspire new ideas among designers and manufacturers, as with last year's edition. Through these unconventional yet related means it is expected that a new wave in Sri Lanka's fashion realm will be initiated.

For further information please visit www.swimweekcolombo.com or follow Swim Week Colombo on Facebook (https://www.facebook.com/swimweekcolombo/) or Instagram @swimweekcolombo.