The excitement of shopping will extend well beyond the festive season this year for customers of the Arpico retail chain, thanks to the return of the customary year-end promotion that offers overseas holidays to 50 lucky families.

200 air tickets and 50 tour packages with visas, hotel accommodation, meals and spending money can be won at this sensational promotion titled 'Win an Exciting Christmas' by shoppers whose purchases exceed the minimum value specified, and include at least three nominated brands.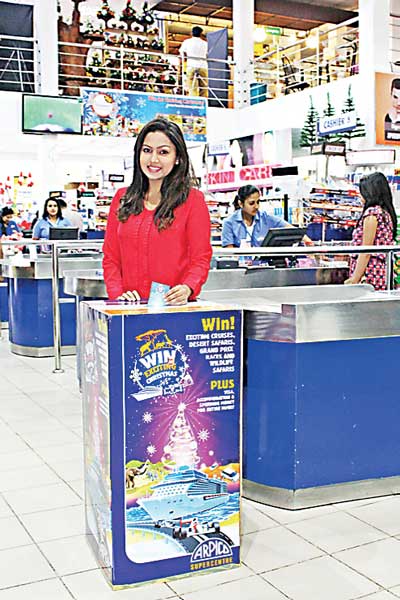 On offer this year are exciting experiences such as African wildlife safaris, ocean cruises, Formula I racing and desert safaris.

"Our customers have come to expect something extraordinary each festive season and this year's Christmas promotion will not disappoint," said Richard Peiris Distributors Head of Marketing Minodh de Sylva. "The prizes are the stuff that dreams are made of, and all they have to do is shop and ensure they pick up some of the nominated brands to qualify for the draw."

Families that shop for Rs. 3,000 to Rs.7,500 with three nominated brands will receive a white coupon making them eligible to enter the draw to experience desert safaris or Grand Prix races.

Families that shop for Rs. 7,500 to Rs. 15,000 with three nominated brands will receive an orange coupon and stand a chance to win an ocean cruise.

Higher spenders who shop for Rs. 15,000 or more with three nominated brands will receive a blue coupon making them eligible for the draw to choose the families that will win a wildlife safari in Africa.

The promotion encompasses all Arpico Supercentres, Superstores, Arpico 'Daily' Supermarkets and Showrooms in Sri Lanka, and will be valid for purchases made till 7 January 2017.

This year's 'Win an Exciting Christmas' promotion is structured to increase the chances of winning as the number of nominated brands in the shopping cart increases. For example, purchases with six nominated brands will win the shopper two additional coupons. Similarly, nine nominated brands will equal four additional coupons, 12 nominated brands – six additional coupons, 15 nominated brands – eight additional coupons and 18 or more nominated brands – 10 additional coupons.

The nominated brands for the promotion are Signal, Lifebuoy, Comfort, Diva, Acnas, Harpic, Khomba, Horlicks, Marina, Coca cola, Pfanner, Mars, Heinz, Norfolk, Lanka soy, Nutriline, Cinthol (Deo spray), Velvet, Little Princess, Munchee, Tiara, Ritzbury, MD, Todlo and St. Clair's.

This season, the retail colossus has announced special offers on more than 700 products with discounts of up to 25% on daily essentials, electronics, household items and furniture with Arpico Privilege cardholders being offered discounts up to 35% on their seasonal favourites. Attractive discounts will also be on offer for Standard Chartered Credit Cards and Commercial Bank Credit and Debitcards on a range of fresh produce.

Offering the widest range of products, the Arpico retail chain comprises of 20 Arpico Supercentres and Superstores, 18 showrooms and 24 Arpico Daily supermarkets. The Arpico Supercentres are the company's flagship outlets, offering extensive parking, bill payments, banking facilities, lifestyle needs and the widest range of products with the promise to shoppers that they are the most convenient shopping destinations in the country.