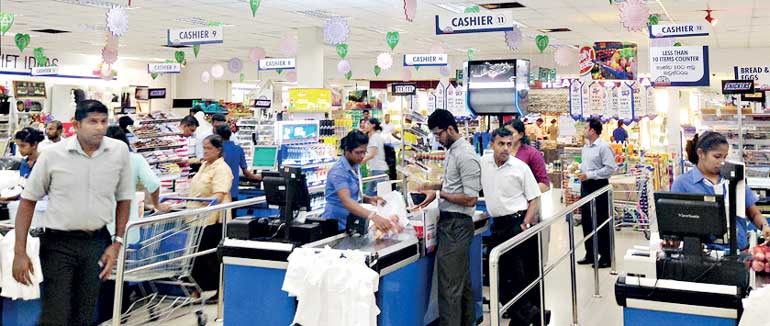 The Arpico retail chain has announced plans to reward shoppers this Avurudu season with millions of rupees in shopping vouchers as the final countdown begins to the Sinhala and Tamil New Year.

A 'lucky dip' at all Arpico Supercentres, Superstores, Showrooms and 'Daily' outlets will have a total of 30,000 vouchers in denominations of up to Rs. 1,000 for qualifying shoppers to draw, the retail giant said.

Families that shop for Rs. 3,000 to Rs. 5,000 with five nominated brands will receive one chance at the lucky dip, while a bill of Rs. 5,000 to Rs. 10,000 with five nominated brands will entitle the holder to two dips. Purchases of Rs. 10,000 or more with five nominated brandswill earn the shopper three tries at the dip, for the chance of winning a maximum of Rs. 3,000 per visit.

"As always, it is our intention to reward as many shoppers as possible, hence the high number of vouchers," said Richard Peiris Distributors Ltd. Head of Marketing Minodh de Sylva. "This time our shoppers will receive instant winnings that they can utilise when they next visit the supermarkets."

The 25 nominated brands partnering with Arpico for this season are Prima Treats, Prima Stella, Munchee, Revello, Tiara, Lankasoy, Sera, Lifebuoy, Vim, Comfort, Milo, Colour Me, Impulse, Todlo Baby, Sensodyne, Harpic, Anchor, Newdale, Anlene, Stella, Aer, Marina, Flora Tissues, Dew and St. Clair's Tea.

All Arpico Supercentres will be transformed for the Avurudu season with colourful entrance pandals, traditional huts with sweet meats and décor using clay pots, stoves and specific decorative symbols such as the sun and betel leaves. Seasonal activities such as Kawum preparation and playing the traditional Raban will provide the Avurudu ambience, and children will receive free informative booklets about the Avurudu season.

Over 800 unconditional product offers and discounts of up to 25% on selected daily essentials and electronics, up to 30% on selected furniture and up to 40% on household items will be available at Arpico retail outlets during the season, the company said.

Additionally, American Express cardholders will receive a discount of 25% on fresh meat every Friday to Sunday till 30 April, and credit cardholders of Standard Chartered Bank will have the chance of winning bill wipe-outs during the season.

The Arpico retail chain comprises of 19 Arpico Supercentres and Superstores, 18 showrooms and 23 Arpico Daily mini supermarkets. The Arpico Supercentres are the company's flagship outlets, offering extensive parking, bill payments, banking facilities, lifestyle needs and the widest range of products with the promise to shoppers that they are the most convenient shopping destinations in the country.

The retail chain broke new ground in value addition earlier this year with the deployment of its own dedicated taxi service exclusively for shoppers, a first for a supermarket chain in Sri Lanka.