Anantaya Resorts & Spa, Chilaw, part of LAUGFS Leisure, kicked off the festive season in style with the traditional Christmas cake mixing ceremony, amidst much enthusiasm and merriment.

In the true spirit of Christmas, all guests, chefs and staff armed with aprons and chefs' hats joined in the action, under the watchful eye of the Executive Chef. The age old ceremony of cake mixing commences well before Christmas and is said to usher in good tidings of joy and happiness.

"This ceremony is a great opportunity to share delightful memories with both guests and staff alike. For our staff, the hotel is a home away from home and it is important that the sense of family and togetherness is shared, especially in the festive season. For our guests too these simple moments are memories they would cherish on their stay with us," LAUGFS Leisure CEO Roshan R. Perera remarked.



Led by the Resident Manager Dev George, the guests and staff gathered at the resort restaurant where heaps of chopped and dried fruits, nuts and spices were laid out. Dozens of eager hands joined in as ingredients including cherries, plums, sweet ginger, orange peel, and cashews were mixed along with brandy, red wine and rum. The delicious aromas were a potent promise of the celebrations to come. The fruit was set aside in casks to mature before being used for the 200 kilos of cakes, puddings and other scrumptious delicacies to be made for the season.

Anantaya Resort and Spa, Chilaw is the first of a chain of resorts under LAUGFS Leisure, a subsidiary of LAUGFS Holdings. The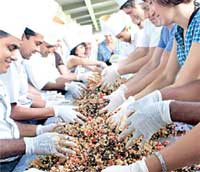 hotel offers 'infinite' luxury and tranquillity coupled with breathtaking views of the lagoon and sea, making Anantaya the ideal getaway during the festive season. Having commenced operations in 2014, the hotel has already been recognised internationally with various awards and accolades including the TripAdvisor Travellers' Choice of Top 25 Luxury Hotels in Sri Lanka and the Booking.com 2014 Award of Excellence.

LAUGFS is one of the largest diversified business conglomerates and a trusted name in Sri Lanka. Founded in 1995, LAUGFS today has expanded across 20 industries, establishing a strong presence as a leader and pioneer in the power and energy, retail, industrial, services, leisure and the real estate sectors in the country. With over 4,000 employees and an annual turnover exceeding Rs. 28 billion, LAUGFS continues to expand, touching the lives of millions as a trusted Sri Lankan brand.