Adidas brand sales strong in N. America, west Europe, China

Golf sales down 1%; less than 6% of group revenue
Reuters: Adidas said it would aim to sell its loss-making golf business to focus on shoes and clothing, after its core Adidas brand reported strong quarterly sales, particularly in the United States.

The German sportswear firm, which launched a review of its golf unit last August, said it had decided to focus on selling golf shoes and clothing under its main Adidas brand and enter into talks to sell the TaylorMade, Adams and Ashworth golf brands.

"We decided that now is the time to focus even more on our core strength in the athletic footwear and apparel market," said Chief Executive Herbert Hainer.

Adidas made the announcement as it reported strong first-quarter figures for its core brand, particularly in North America, where sales jumped 31% as a hike in marketing spend helping it to gain ground on arch rival Nike.

Adidas shares, which soared to an all-time high last week when it released strong headline quarterly figures and raised its 2016 outlook, were up 0.9% at 0724 GMT, compared with a slightly weaker German blue-chip index.

After slipping last year into third place in the US market behind Nike and fast-growing Under Armour, Adidas has made a big push in North American sports, agreeing a partnership with the National Hockey League (NHL) and sponsorship deals with top NHL and National Football League (NFL) players.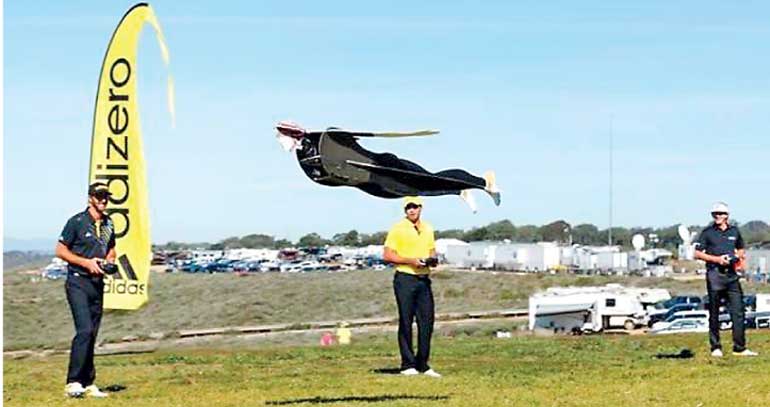 Adidas Golf introduces a new light weight golf shoe by having golfer Brandt Snedeker fly a light weight, life size remote control model of himself past golfers Jason Day (C) and Dustin Johnson (L) during a news conference in San Diego, California 22 January, 2013 – REUTERS


Total Adidas brand sales rose 26%, far outperforming the 6% of its Reebok fitness brand, which some investors hope might also be put up for sale after Hainer is replaced as CEO by former Henkel boss Kasper Rorsted in October.

Adidas brand sales were also strong in greater China and western Europe, rising 30% and 26% respectively.

Sales at its golf business fell 1% after stripping out currency effects, with growth at TaylorMade and Adidas golf failing to make up for falls at Ashworth and Adams. In 2015, golf unit sales fell a currency-neutral 13% to 902 million euros ($ 1.04 billion) – about 5.3% of group sales.

After peaking around 2000 when Tiger Woods was in his prime, the number of people playing golf in the United States, which accounts for about half the global golf market, has fallen to an estimated 23 million from nearly 30 million in 2000.

Adidas bought the TaylorMade brand in 1997 along with Salomon, developing it into the world's biggest golf supplier. It acquired Ashworth in 2008 and Adams four years later.

Other companies in the golf market include Nike, Kering's Puma and Callaway Golf.
Adidas to close Neo stores in Europe
BERLIN (Reuters): German sportswear company Adidas will close 16 stores in Europe for its teen brand Neo, focusing instead on offering its products through wholesale partners in the region, Chief Executive Herbert Hainer said.

While its own Neo stores have helped Adidas test new ways of engaging with young consumers, it has been more successful at selling Neo products through wholesale channels, Hainer told a conference call for journalists.

Hainer said the decision would not affect the some 2,000 Neo stores its franchise partners operates in China, adding that Neo sales, which reached 1 billion euros ($ 1.15 billion) in 2015, jumped another 60% in the first quarter.