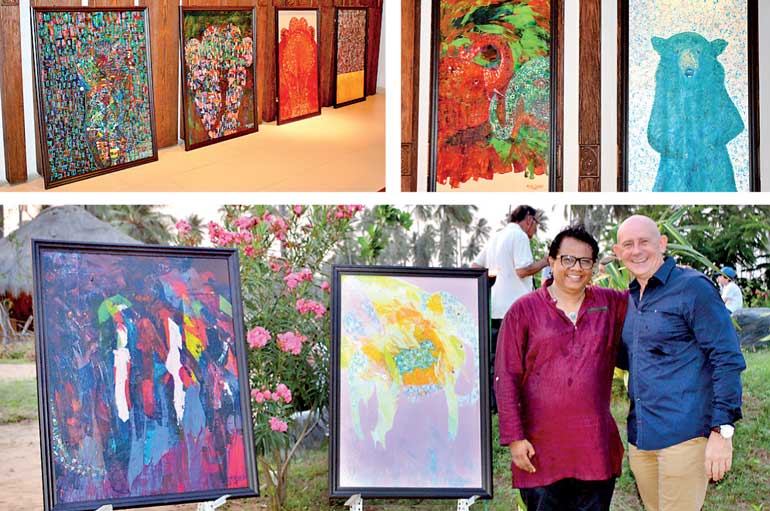 Mueen Saheed, a contemporary abstract artist from Colombo, had his recent works on display at a special viewing held at Shangri-La's Resort & Spa in Hambantota on 5 April. The artist showcased over 22 warm-hued canvases – most of them figurative in nature.

The viewing unveiled the artist's commissioned works for Shangri-La's Hambantota Resort & Spa. The inaugural commemorative prints conveyed the aura of the surrounding landscape and wildlife in Hambantota. Unlike most depictions that rely purely on representation, the artist claimed that his works were meant to be viewed as narratives.

Speaking about the endeavour Saheed said, "This is a special event and I'm grateful to Shangri-La's Hambantota Resort & Spa for this opportunity. What you see today reflects an abstract medium of art which is non-verbal and expresses only emotion. Feelings like laughter, fragrance, beauty, deep contemplation, moods, thoughts, heartbeats and my inner soul."

The artist's work will be on display at the resort in the lobby, the Bojunhala restaurant and in a select number of premium rooms.

"We are so glad to showcase the talented work of a Sri Lankan artist at Shangri-La's Hambantota Resort & Spa. Mueen is dedicated to his craft and has truly captured the spirit of Hambantota in these paintings. We are confident that our guests will derive as much pleasure from viewing these special pieces as Mueen did creating them," said a spokesperson.

Saheed is a self-described traveller and has toured most parts of the world. He exhibits at art galleries throughout the world. Last year, the artist presented President Maithripala Sirisena a painting to mark the completion of the President's first year in office and the 100-day program.

Overlooking the southern coast of Sri Lanka, Shangri-La's Hambantota Resort & Spa is located along the ancient Spice Route in a city steeped in history. Known for its natural beauty and wildlife, it is indeed a source of inspiration for the artistic mind.