Our homes make up an essential component of our daily lives, providing not only shelter, but a living space where we can spend precious time with family and enjoy relaxing periods of solitude. By compromising on comfort and safety, and emphasising on style, we may choose furniture that emits noxious gases into our home, thereby, impairing the health of the individuals who live with us. If we choose to do the opposite, we may end up with furniture that does not reflect our style preferences.

The furniture sets that we place in our home have the power to inspire either chaos or tranquility within our living environment. Hence, we need to choose furniture that meets all of the following values: safety, style, and comfort.

With Abans Sofa sets, you can finally remake your home into the epitome of elegance, relaxation, and security. Solely composed of non-toxic natural materials and high-quality upholstery, ABANS Sofa sets provide you with the ultimate comfort, durability, and safety, whilst featuring a diverse variety of designs that truly make a powerful statement.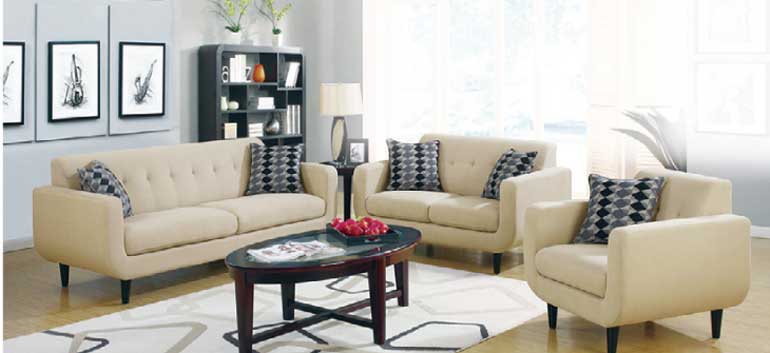 The recently introduced European Style Sofa Collection 2017, featuring 3 + 2 + 1 seater sets and sofa beds, presents a new approach to achieving a chic, refined living room. Possessing exclusive, modern, and trendy designs solely from Abans, these sofa sets utilise premium upholstery material that exude an overall luxurious feel. You can also choose from a vast variety of high-quality fabric colours and PVC materials to complement your living room.

To further enhance comfort, durability, and resiliency, this collection is outfitted with ergonomically designed polystyrene foam that keeps the couch cushions firm and elevated while providing strong support for your back and legs. Also, the advanced tempered steel spring technology and polyester multilayer Dacron wrap allows for higher seating quality.

Unlike other sofa sets that lose their shape after a few months due to their frames, Abans sofa sets are constructed with solid treated wood which makes them highly resistant to damage from insects, mold, and marine corrosion, and retains the shape of the sofa set. Plus, these sofa sets are developed with non-toxic glues and materials, releasing absolutely no hazardous gases into your home. Hence, with Abans sofa sets, you can enjoy high-quality furniture for years without spending extra money on replacements, as well as ensure that your home remains a healthy and safe living environment.

Additionally, if you are looking for living room sets that can also take up less space in your living room and double up as accommodation for guests, choose from Abans' innovative range of sofa beds that can just turn into a bed at the simple click of a button. Featuring sleek, beautiful designs while providing that extra convenience, comfort, and ease, Abans sofa beds are perfect for individuals who especially have either small homes, apartments, or limited space, and enjoy frequent visits from extended family and friends.

Abans offers you the opportunity to obtain stylish, comfortable, and durable furniture at prices that do not put any strain on your budget with interest free payment installment schemes and 0% interest credit card installments. You will also receive fast delivery and installation for your sofa sets, meaning that you do not have wait weeks to obtain your unit. So, choose to make your home not just stylish, but comfortable, safe, and durable by walking into any Abans or Abans Elite Showroom and purchasing a sofa set today.