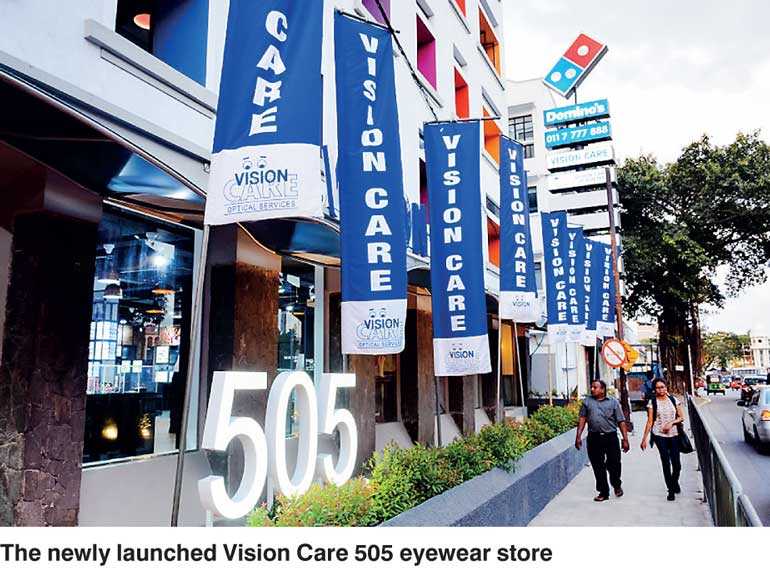 505 features a special Kids Eye Clinic with specialised technologies and staff
Vision Care Optical Services Ltd., home to many international fashion labels for over 25 years, proudly announces the launch of its exclusive Luxottica-branded 505 Store for the first time in Sri Lanka. Luxottica Group is a leader in the design, manufacture and distribution of fashion, luxury, sports, and performance eyewear. The Luxottica label features top international designer brands such as Ray Ban, Vogue, Oakley, Dolce & Gabbana, Prada, Michael Kors, DKNY, Giorgio Armani, Emporio Armani, Burberry, and Versace. In over 50 years of history, Luxottica has built up a unique wealth of expertise, craftsmanship, wisdom, and innovation. The exclusive designer store will feature a Kids Clinic on the first floor, a pioneering initiative of its kind in Sri Lanka. The Kids Clinic offers specialised technological instruments, which will enable eye specialists at the designer store to examine children's eyes amid playful and attractive surroundings, to make it a pleasant experience for them. Specially trained staff will be on hand to handle new technology and put into play their special skills in treating children's eye problems.

Vision Care Optical Services Ltd. General Manager (Sales) Srimantha Wewalwala said: "Vision Care Optical Services is delighted to open the first branded eye store - 505 - in Sri Lanka, in partnership with the reputed Luxottica Group, which counts the most popular designer eyewear brands in its portfolio. Vision Care is pleased to bring the first branded luxury eyewear store to Sri Lanka, which will sell all the high-end brands. In keeping with the 505 designer store experience, staff are trained and made to deliver the best experience to customers. Discerning customers will be delighted with the modernistic experience. The difference between style and fashion is quality, and that difference is exactly what we would like customers to experience as we have a match of both needs and desires."

Vision Care is extremely enthused about the Kids Eye Clinic at the store, which provides a spacious and vibrant atmosphere in which to offer special care for children. It is important to respond to complaints from children about any eye and vision problems, because eyes are treasures that need to be maintained and nurtured for the future. There is a growing trend of children reporting eye problems, and Vision Care saw the need for a specialised unit to offer proper screening and care for kids.