Global Desi, an Indian fashion brand known for its vibrant prints, colours and all things fun is now in Sri Lanka, ready to be worn on a bright sunny day. Walk into UrbanTrendz in Colpetty to find the brand's Summer '19 Collection, #SunKissedSummer, that takes its inspiration from the renowned Indian poet, A.K Ramanujan's short story 'A Flowering tree' – a tale of sisterhood between women and nature. The collection brings to life all of nature's beautiful bounty, albeit with a modern twist.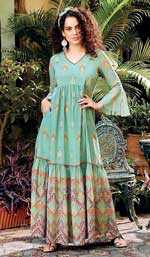 Comfortable and breezy silhouettes in light-weight fabrics in the form of easy-breezy kurtas, flowy dresses, better-together coordinates etc., are some of the key silhouettes of the collection. The colour palette, sticking to the aesthetic of the brand, is fresh and vibrant, reminiscent of the gorgeous shades of nature itself; from subtle pastels to brighter hues of red, yellow, green and blue. A mix of floral prints, bird motifs and abstract art take centre stage, adding an eclectic touch to the ensembles.

Global Desi is an India-inspired young, colourful, boho-chic brand with global appeal. Any woman wherever in the world she may be – who loves, lives and breathes the vibrancy of Indian prints and influences will find a bit of herself in this label. The design language of the brand is predominantly India-inspired and delves deep into its rich heritage of colours, textures and prints and combines them to create international appeal. Launched in 2007, the brand is currently available at 135 exclusive brand outlets and 402 multi-brand stores across India and in Sri Lanka at UrbanTrendz, Colombo 3.