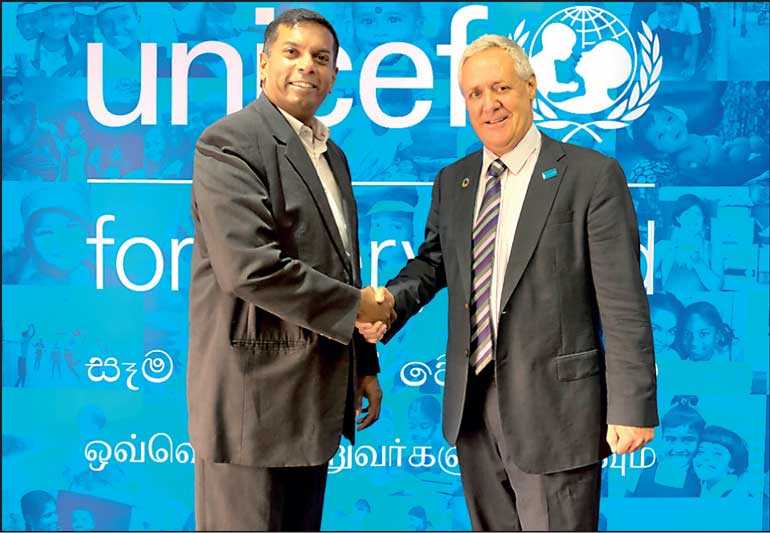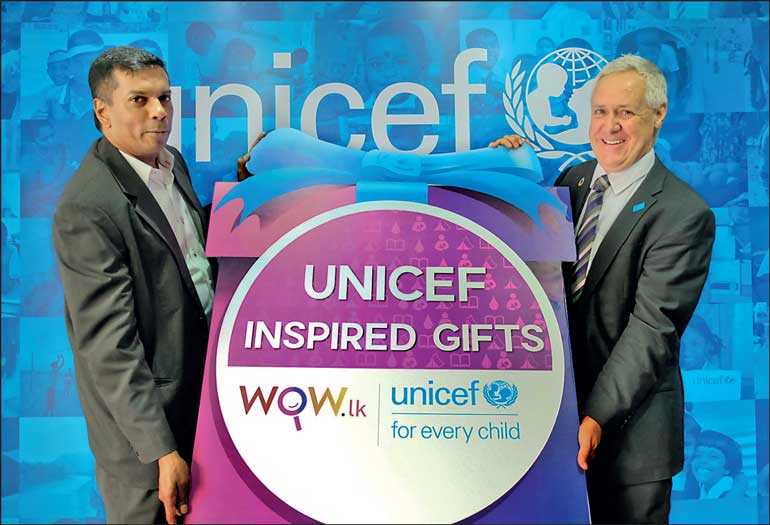 wOw.lk Chief Executive Officer Dr. Nushad Perera (left) and UNICEF Sri Lanka Representative Tim Sutton (right) officially launch UNICEF Inspired Gifts on wOw.lk
---
Marking its 72nd anniversary, UNICEF partners with wOw.lk to offer Sri Lanka's first line of 'Inspired Gifts' this Christmas
The United Nations Children's Fund (UNICEF) and leading online retail destination wOw.lk have partnered to launch Sri Lanka's first line of 'Inspired Gifts', essential supply items that when purchased online support and improve the lives of children and communities.

Launching today, the 72nd anniversary of the founding of world's leading children's organisation, for the first-time shoppers in Sri Lanka can purchase one of 12 individual life-saving, life-changing supply items that UNICEF will directly deliver to communities around the world including Sri Lanka.

Shoppers can choose from a range of prices in four categories of support; gifts that provide essential nutrition and health services to children, gifts that support children's education, gifts that provide safe water and good sanitation to communities, or gifts that support UNICEF's emergency response for children and families.

The process of purchase is simple. Firstly, shoppers visits www.wow.lk/unicef and select the gift they want to purchase from the twelve available. Secondly, they personalise their print-at-home card with a dedicated message to the friend or loved-one who will receive the gift. Thirdly, they receive confirmation of their purchase via email, and finally UNICEF then delivers the chosen gift to children and communities in the greatest need.

Exclusive to wOw.lk in Sri Lanka, some examples of the Inspired Gifts available are:


Five story books for schools, children's centres and families who are in need, priced at Rs. 2,870
Iron supplements (2,000), helping to treat iron and folic acid deficiency in pregnant mothers, priced at Rs. 4,130
A hand water pump to help provide clean, safe drinking water for a village, school or a community, priced at Rs. 72,730
A large, versatile tent that can be used as a temporary school or health centre after a natural disaster, priced at Rs. 268,500


UNICEF Sri Lanka Representative Tim Sutton said: "UNICEF is excited to be partnering with wOw.lk to offer Inspired Gifts in Sri Lanka for the first time. We know Sri Lankans are generous, and want to make a positive difference to the most vulnerable during the Christmas giving season and beyond. Now, through Inspired Gifts shoppers can easily give a meaningful present to loved ones, confident that they are also supporting the neediest. Inspired Gifts are not 'virtual'. They are tangible, life-saving items that provide critical support to children."

wOw.lk CEO Dr. Nushad Perera stated: "This is an unique opportunity for Sri Lankans all over the world to give a gift to children in need. Simply go online and make your donation, wOw will take care of the rest with UNICEF."

Supporting the launch, UNICEF and wOw.lk will unveil a social media campaign that highlights the transformative power of Inspired Gifts.

The price of each gift includes the full cost of the item itself, along with personalised acknowledgments to the gift receiver and all associated transaction fees. The total transaction cost for each gift will not exceed 5% meaning that for every Rs. 100 spent, Rs. 95 will directly purchase the gift.