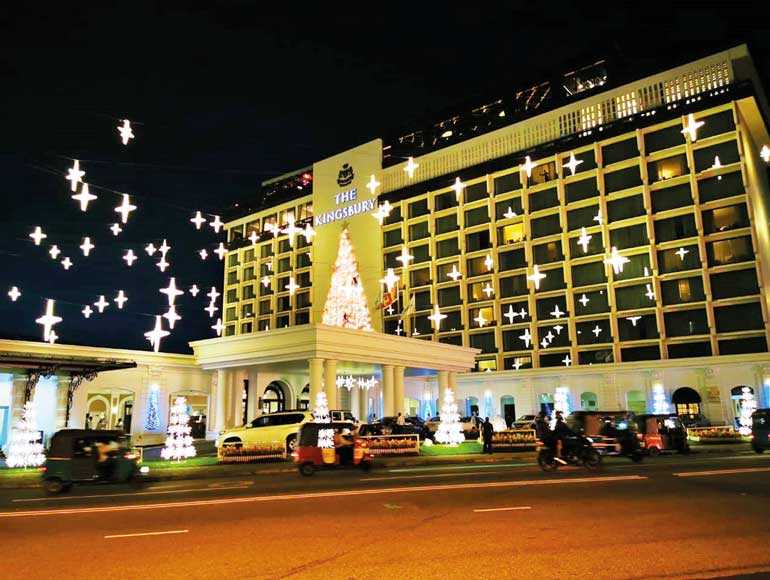 For a truly marvellous Christmas celebration, the newly refurbished Kingsbury is Colombo's seasonal destination. Guests can explore the beautifully designed stylish spaces and enjoy an array of food never seen before in Colombo. The hotel has lined up some extravagant Christmas and New Year's Eve events to suit all discerning preferences.
Christmas celebrations at the Harbour Court with its global cuisine will offer guests some spectacular Christmas fare. An exclusive Christmas Eve Dinner at Rs. 7,500 net per person will provide families the most wholesome Christmas delicacies to warm their hearts. Christmas Lunch and Dinner is to be a lavish affair with the most generous spread in the city. Christmas delights from all over the world will ensure the festive celebration that one's heart desires.

Visitors can choose to celebrate Christmas Eve, Lunch or Dinner at The Kingsbury's brand new restaurants – The Ocean, Kings SteakBar and Honey Beach Club, or CÉ LA VI and Yue Chuan. A wide and exciting range of cuisine can be selected from the meticulously crafted à la carte menus.

New Year›s Eve at the Harbour Court, priced at Rs. 8000 net per person, will take New Year's Eve revellers on a global gastronomic journey amidst an elegant setting.

The Ocean offers limitless seafood at Rs. 8,500 net per person, offering all the freshest and succulent seafood.

CÉ LA VI'S NYE Party at the lounge is the destination for those looking for a chic and trendy celebration with bubbly on arrival and mouth-watering tapas and exhilarating DJ music from 8.00 p.m at Rs. 10,000 net per person. CÉ LA VI Restaurant will have an exclusive NYE menu from 7.00 p.m at Rs. 7,000 net per person

Honey Beach Club's NYE Party by the pool will abound with action stations, amazing bottle deals and music by DJ Kapila and DJ Kosala from 7.00 p.m at Rs.6,000 net per person

For those with a penchant for oriental cuisine, Yue Chuan will have an Unlimited Special À La Carte Menu at Rs. 5,000 nett per person. Kings SteakBar's à la carte menu with its prime grade steaks sourced from the US, Australia and New Zealand with its own inimitable signature marinades, will provide the perfect ending to 2019 and the dawn of 2020. The recently unveiled Kingsbury is now a desired destination for Colombo's discerning clientele, changing the perception of true luxury with exquisite dining experiences, stylish ambiences and peerless service excellence. With the series of new restaurants having opened their doors, food connoisseurs and pleasure seekers will have something to look forward to this season and beyond.