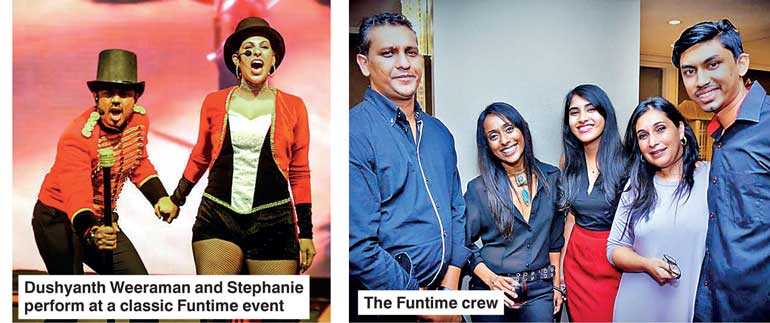 Imran Saibo, the legend of Sri Lanka's entertainment industry walks into the space that is Funtime, accompanied of course by his trusty steed Sir Jeeves. We refer to Sir Jeeves as a trusty steed as he resembles that in size. He is in fact a British mastiff. Within the Funtime walls is a team of master-creators; hand-picked and trained by the maestro himself. The creativity of this team is unsurpassed. They operate within the realm of entertainment with agility, speed and an unrelenting eye for detail and perfection. There is no place here for second best.

When asked about what he thinks about being called a legend, Imran, in his usual shy manner will smile and brush it off and begin his sentence with, "you see". He does what he does because he loves what he does. That perfection equation does exist and that is the core of Funtime. The name itself resonates this ethos; where the team never goes to work – they go to have fun. Asked what he thinks would be the driving force behind a successful production he smiles, "At the risk of sounding repetitive, I have said this over and over it's just one word – 'passion'; in this industry if you look at what you do as a job or as a business then it will always remain that, but if you love it and it is what drives you then coupled with hard work it's bound to reflect in your work."



While being a very public face in event management and the standard the competition strives desperately to match, Imran is a very shy and private person. Imran is always conceptualising and creating the next epic show. He sees it, he huddles his team, he scribbles his ideas on a piece of paper, the team hones in on his vibe and begins to bring these ideas to life. And then, there is magic.

Imran has always believed in nurturing talent. He disciplines artistes and encourages them to take the leap of faith into the infinite possibilities that are entwined in the world of entertainment. But his watchful eye and protective nature is always close at hand. The popular band Misty appeared as a two-piece lobby band on their return from the Maldives and played at the Trans Asia lobby (now the Cinnamon Lake) during the time when the hotel's entertainment was looked after by Funtime. Swiftly realising their potential, Imran convinced Rajitha the leader of Misty to move away from the keyboards and extend his line up to a full band and the rest, as they say, is history. The start of "Wildfire" in Colombo was when Imran discovered the band at the Jaic Hilton Pub. A single outdoor concert spring-boarded Wildfire to become Colombo's most sought after band. Imran is a person who never holds back when it comes to helping talent grow. He recounts coaching the singing duo Bathiya & Santush on the streets of London just before sending them off to a BBC interview while touring with Funtime. In recent times he has been busy bringing out fresh new talent including Sharmaine Willis, Tehani Imara and a host of others to the forefront of corporate entertainment. He has recently been bringing the multi-talented duo Stephanie Siriwardhana and Dushyanth Weeraman on to his stages. He has pushed the frontier and introduced operatic performances to the Sri Lankan platform; a territory no one else dared to venture into. He believes that mimicry is the ultimate form of flattery and he says that with his trademark mischievous smirk. Unlike most others, being copied does not seem to fetter Imran in the slightest; why? Because he never repeats.

"Sri Lanka has an abundant pool of talent, it's just knowing where and how to showcase it that matters. I have worked with three generations of Sinhawansas; first Ayesha and Tony, then with Umaria; an absolutely fantastic voice that in my humble opinion is of international standard. Umaria reminded me recently that she used to come and watch her sister sing at Funtime events dressed in her school uniform. The Marians Anniversary Concert, Randhir Witana, another amazingly talented artist who never fails to deliver and Ashanthi De Alwis all come to Imran for a production that is different!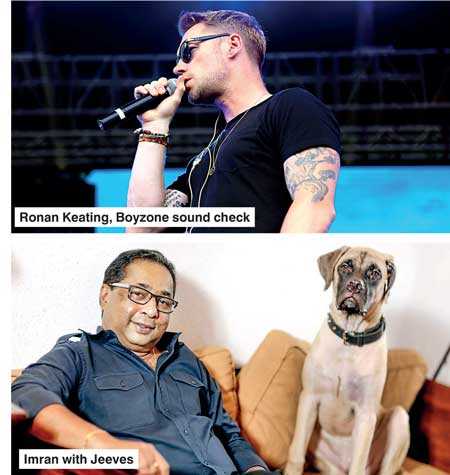 2018 has seen a resurgence in what he calls his old style of doing things; "I always liked designing my own sets or coming up with my own concepts; with the talented creative team I have around me it becomes easier and leaves me the freedom to move from one project to another knowing that each idea born is in safe hands and will see the light of the day without dilution." This year saw Funtime handling the local production for Boyzone, one of Colombo's biggest ever concerts in terms of star power adding to the number of A list international artists they have handled in the world of entertainment.

Asked which events he had particularly liked putting together in the recent past he unhesitatingly replied, "This year's awards night and dance for a very prestigious bank would get my vote, based on the theme of the Greatest Show on Earth, I enjoyed putting it together, and went back to my formula of creating theatrical sets with moving parts and designed with the audience profile in mind. It was made all the easier with understanding clients who had complete faith in our abilities; the end result was a happy client and a satisfied production team." The most recent was Threads of Time a presentation by Anita Dorai with Singaporean designer Kavita Thulasidas a fashion presentation with a decided difference.

Funtime forged a strategic partnership in 2016 with the Expolanka Group and its travel and leisure arm. Funtime operates under the Classic brand and thus is now branded as Classic Funtime, which in fact resonates what the company delivers to its clients, every single time.

When asked what he thought of the new technology that is now almost standard in any event with its screens, projectors and other innovations he said, "Technology is all well and good, but once you have bombarded your audience with imagery, have you touched their emotional chords that is the test, have you had them applauding, or laughing or had them listen and watch with intense concentration, amongst all the tech we need to maintain that bond with the audience, I have seen LED screens with bright lights and distracting visuals actually take away from performers and distract rather than enhance." Words of wisdom from the King of Showtime.