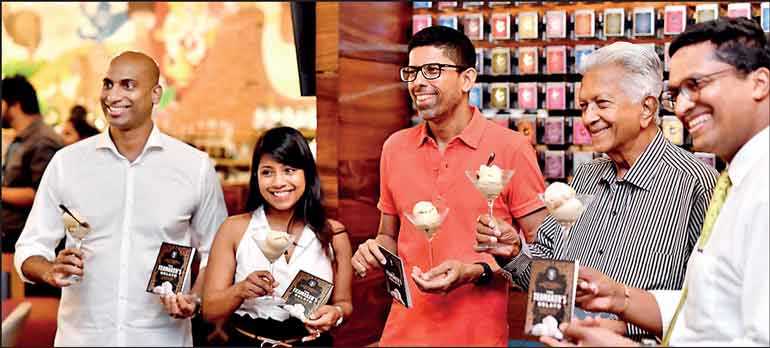 Shalini Fernando and Suranjan Perera of Isle of Gelato with Malik, Merrill and Dilhan Fernando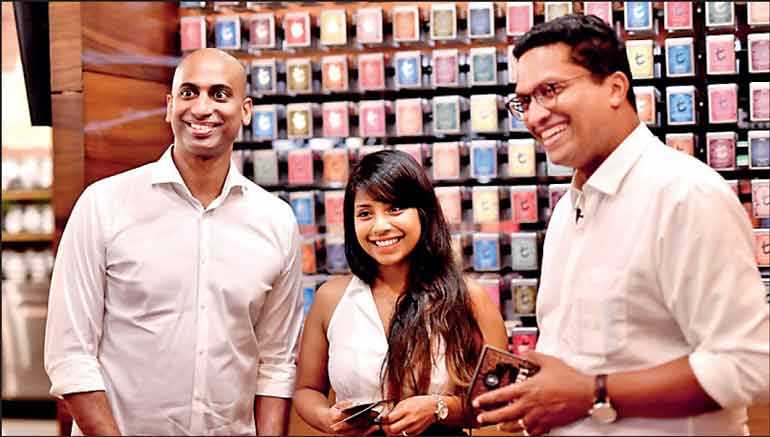 ---
If there's one thing that brings joy into our day, it is tea. Then there's also gelato ... but now there is a doubly joyful, truly delicious union of the two. The Teamaker's Gelato is made from the Dilmah Earl Grey Tea, infused with ginger, and a touch of orange and brown sugar caramel. A tribute to the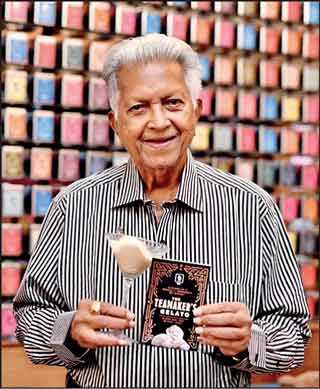 Dilmah Founder Merrill

J Fernando with The

Teamaker's Gelato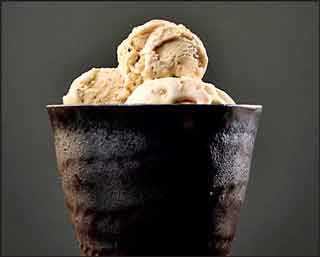 Founders of Isle of Gelato with Dilmah CEO Dilhan C Fernando
Teamaker on his 90th birthday, and his 70th year in tea, it is lovingly crafted by artisans of gelato, Shalini Fernando and Suranjan Perera of Isle of Gelato.

Launched by Merrill J. Fernando – the Teamaker himself – and his sons Dilhan and Malik, Shalini and Suranjan founders of Isle of Gelato, at the t-Lounge & Bar by Dilmah, at One Galle Face Mall on 26 August, it is sublime in taste and texture. It is also perfectly paired with our Galle District OP1 or Dilmah Ceylon Tea with Vanilla. The Teamaker's Gelato will be available as a limited edition at t-Lounges by Dilmah in Sri Lanka.

The idea of tea inspired gelato came from the enterprising couple – Shalini & Suranjan – whose passion for gelato evolved into the artisanal Isle of Gelato. Explaining the challenging evolution of the idea, Dilhan commented: "In every combination of ingredients, it is harmony that defines perfection. As we tasted our way from first to final version of the Teamaker's Gelato, we worked around Dilmah Earl Grey Tea, a woody, full bodied tea from our Kahawatte Tea Gardens around Ratnapura, with the fragrant, citrus sweetness of Bergamot, and progressively balanced the ingredients that Shalini worked with. The tea is present in texture, flavour and mildly also in aroma, while the silky texture of the gelato, the caramel, ginger and orange come together in delicious harmony."

The Teamaker's Gelato was designed in tribute to Dilmah Founder Merrill J. Fernando, whose uncompromising commitment to Taste, Goodness and ethical Purpose, inspired and encouraged Shalini and Suranjan. This is more than a tribute to a Teamaker and his 70 years in tea though, for it has its own story, demonstrating that where passion and dedication meet, there is always a very special outcome. Shalini & Suranjan were on their honeymoon when Shalini's dream of making real gelato was ignited. She pursued that dream in Bologna, Italy and formed her own business.

Seventy years ago, Merrill J. Fernando had his own dream – and it led to a paradigm shift. That makes the Teamaker's Gelato especially significant – a tribute by two budding entrepreneurs, to a Teamaker who ranks as Sri Lanka's first global entrepreneur.