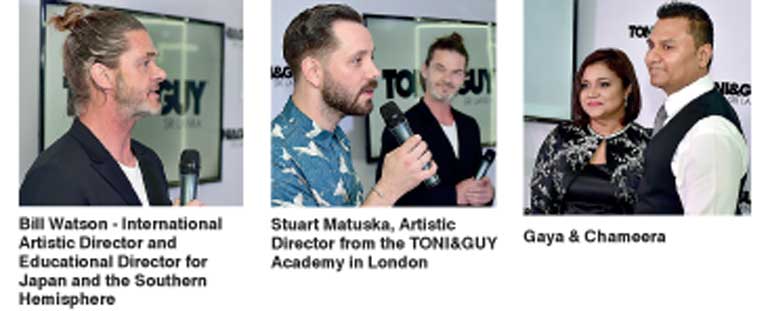 The official launch of the celebrated brand TONI&GUY, the world-renowned multi award winning hairdressing super brand in Colombo took place on 1 August with the participation of Bill Watson – International Artistic Director and Educational Director for Japan and the Southern Hemisphere and Stuart Matuska, Artistic Director from the TONI&GUY Academy in London.

TONI&GUY has spread its fashion influence throughout the world with over 500 salons established in 50 countries across the globe. The brand employs over 7,000 trained and highly skilled stylists and technicians to create a mammoth impact in the world of fashion by closing the gap between high fashion and high street on a global level. With a total of 18 hairdressing academies globally, teaching TONI&GUY's unique brand of hairdressing, it is a world leader in hairdressing education.

"The opening ceremony was a gala occasion and it was an honour to have Bill Watson and Stuart Matuska with us to celebrate the occasion," commented TONI&GUY Sri Lanka Director Gaya Weerabahu.

Bill is a TONI&GUY International Artistic and Educational Director for Japan and the Southern Hemisphere. As Education Director he oversees educational development and standards within the region. Based in the TONI&GUY Academy Beijing he travels extensively, joining the International Artistic Team on stage for London Fashion week and other major fashion shows, shoots and seminars.

A dynamic and talented member of the TONI&GUY artistic team, Stuart Matuska joined TONI&GUY at just 16 years old and remains a valued and a fully integrated and a vital member of the artistic team.

"TONI&GUY opening in Colombo means a higher level of standard for the local hairdressing and fashion industry along with exposure to modern international hairdressing techniques, international level education and a chance to become a part of a global team," commented Bill Watson.

With the opening of this international award-winning brand in Colombo, Sri Lankan clients can now be a part of this international brand experience. The pricing points of services and products are very competitive and on par with the industry prices thereby making TONI&GUY affordable fashion to any discerning fashionista.

TONI&GUY Sri Lanka differentiates itself from the crowd by adhering to the same high values TONI&GUY is known for internationally. The legacy and the quality of service is the key differentiator and the entire experience, which sets the brand apart from competition.

TONI&GUY salon caters to the discerning customer who appreciates a high standard of service.

TONI&GUY Colombo staff comprise internationally experienced and qualified Style Directors, Senior Stylists and Colour Technicians. Sri Lankan stylists at TONI&GUY Colombo are trained at the TONI&GUY Academies overseas including the main Academy in London. The extensive training or "vadering" is of two months or more to ensure uncompromising quality of services. The brand's philosophy is education through innovation and the team members receive constant training on latest trends and techniques regardless of their prior experience. The Senior Stylists at TONI&GUY Colombo are experts with over 15 years of experience, fully trained and certified on all TONI&GUY standards on cutting and colouring (technical).

Label.m is the official haircare product of the London Fashion Week and it's an award-winning fashion-inspired range developed by professional stylists under the creative eye of a dynamic International Artistic Team led by Toni Mascolo & Sacha Mascolo-Tarbuck. Label.m is crafted with health and beauty at its core, combining naturally sourced ingredients and essential oils with exclusive technologies. Many of the over 81 products in the current collection are Paraben, Chloride and Sodium Chloride free, for the best in natural enhancement. Created by hairdressers for hairdressers, the award-winning collection can be categorised into a simple 4C system: Cleanse, Condition, Create and Complete. Customers of Toni & Guy Colombo have the opportunity to indulge in treatments and services using the select Label.m, Therapy Rejuvenating, Organic, Thickening and Brightening Blonde collections, as well as Lab Remedy – the in-salon only professional treatment range. These products are exclusively available at Toni & Guy salons and now available in Sri Lanka as well.

Toni & Guy has all the services under one roof, which includes hair, hair spa, skin treatments, nails, waxing, make up and bridal dressing and much more.