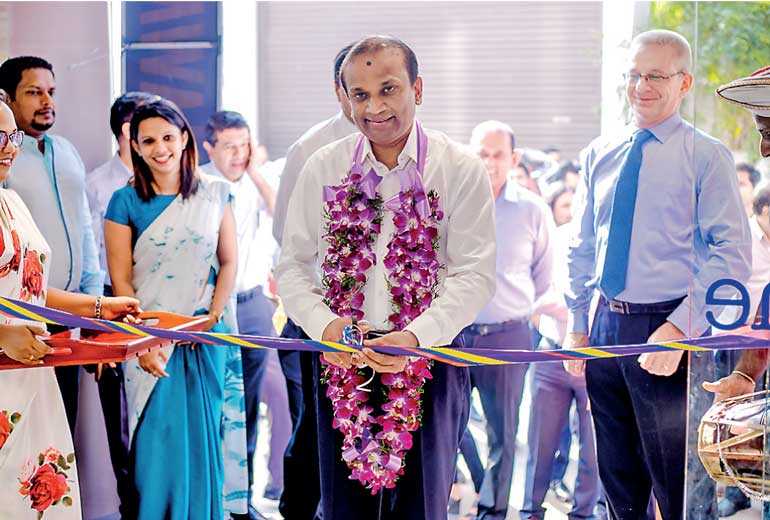 Softlogic Holdings Chairman Ashok Pathirage cutting the ribbon to unveil the seventh branch of Softlogic GLOMARK at Nawala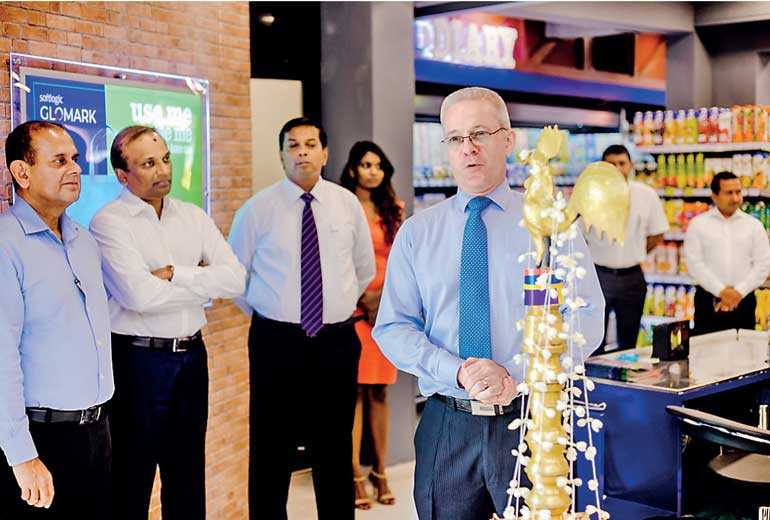 CEO Andrew Dalby delivering his speech
---
After just over a year in the market, Softlogic GLOMARK stretches its presence further in the Sri Lankan modern trade sphere spreading inspiration amongst Sri Lankans all over, with the launch of their seventh outlet in the heart of Nawala, adjoining Senanayake Mawatha at No. 268 Nawala Rd, Nawala, on 17 January.

This comes as an astute strategy to have the big format Softlogic GLOMARK along with the new mini format GLOMARK Essentials as part of Softlogic's plans for rapid expansion and growth of the GLOMARK brand. GLOMARK was launched by Softlogic Supermarkets Ltd., a subsidiary of Softlogic Retail Ltd., under the ultimate parent group, Softlogic Holdings PLC. As a consumer-focused business, it has over 100 international brands marketed through one of the country's strongest distribution channels.

Softlogic GLOMARK at Nawala is located conveniently having facings towards the Nawala – Rajagiriya road and the Senanayaka Mawatha with ample parking to provide its global variety to the local citizens by inspiring them through a global supermarket experience. Softlogic believes this will give a different flavour to Nawala that will allow its customers to fulfil all their daily essentials' requirement, along with the exposure to numerous global brands.

Commenting at the launch, Softlogic Holdings Chairman Ashok Pathirage said: "Our new GLOMARK outlet at Nawala will serve a large influential consumer base who seeks the best in all aspects to diverse needs in daily essentials and other groceries. Our offering further extends to all at Nawala with an extended bakery experience that includes a large range of coffees, sweets and savouries to suit individual tastes.

"GLOMARK has raised the bar in Sri Lanka's modern trade industry, so that customers genuinely enjoy their shopping experience. Our loyal customer base can expect many more exciting initiatives from the GLOMARK brand. We will be opening a series of large outlets, including our flagship store at CR&FC – Colombo-7, along with outlets in Mount Lavinia, Negombo, Rajagiriya and Malabe."

GLOMARK harnesses the widest selection of items and the best of technology for a superlative consumer experience. The modern trade venture by Softlogic, stocks the widest selection, sourced from around the world, delivering freshness and high quality for a one-of-a-kind experience. Customers can also access the retail services via www.glomark.lk with free delivery within four hours across Colombo and key suburbs.

Softlogic has already established its pioneering leadership as a retail giant, leading the consumer electronics and apparel segments and innovating in the restaurant and food business, through partnering with global brands. Softlogic Holdings PLC is one of Sri Lanka's largest diversified conglomerates with leading market positions in growing economic sectors in retail, healthcare, financial services, leisure and automobiles. Softlogic holds Authorised Distributorships for key global brands and today, employs over 10,000 people in its offices located in Sri Lanka and Australia.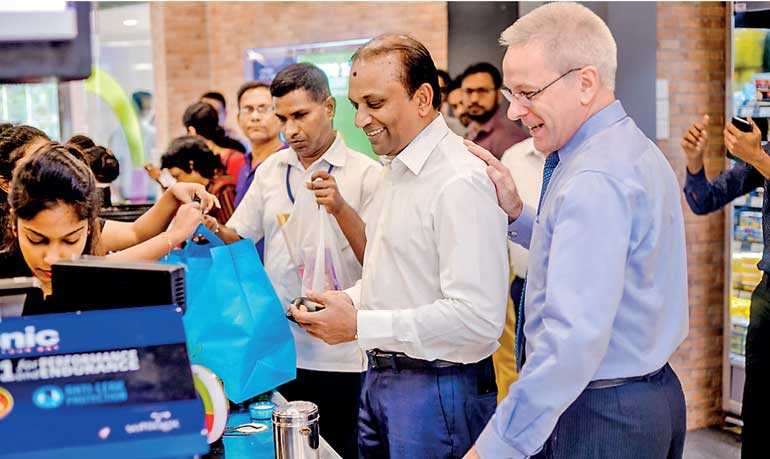 Softlogic Holdings Chairman Ashok Pathirage making the first purchase at Softlogic GLOMARK Nawala while CEO Andrew Dalby looks on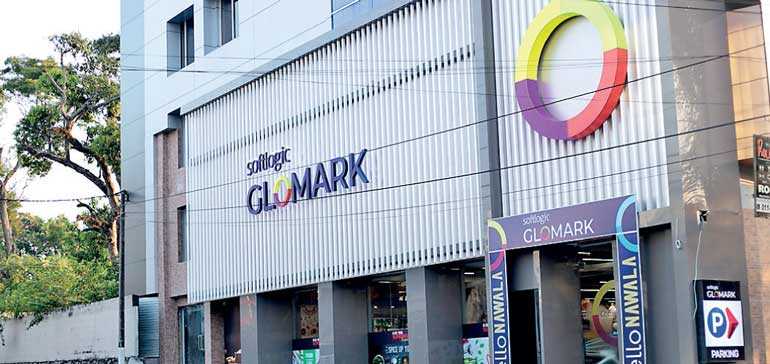 Front view of Softlogic GLOMARK at Nawala
---