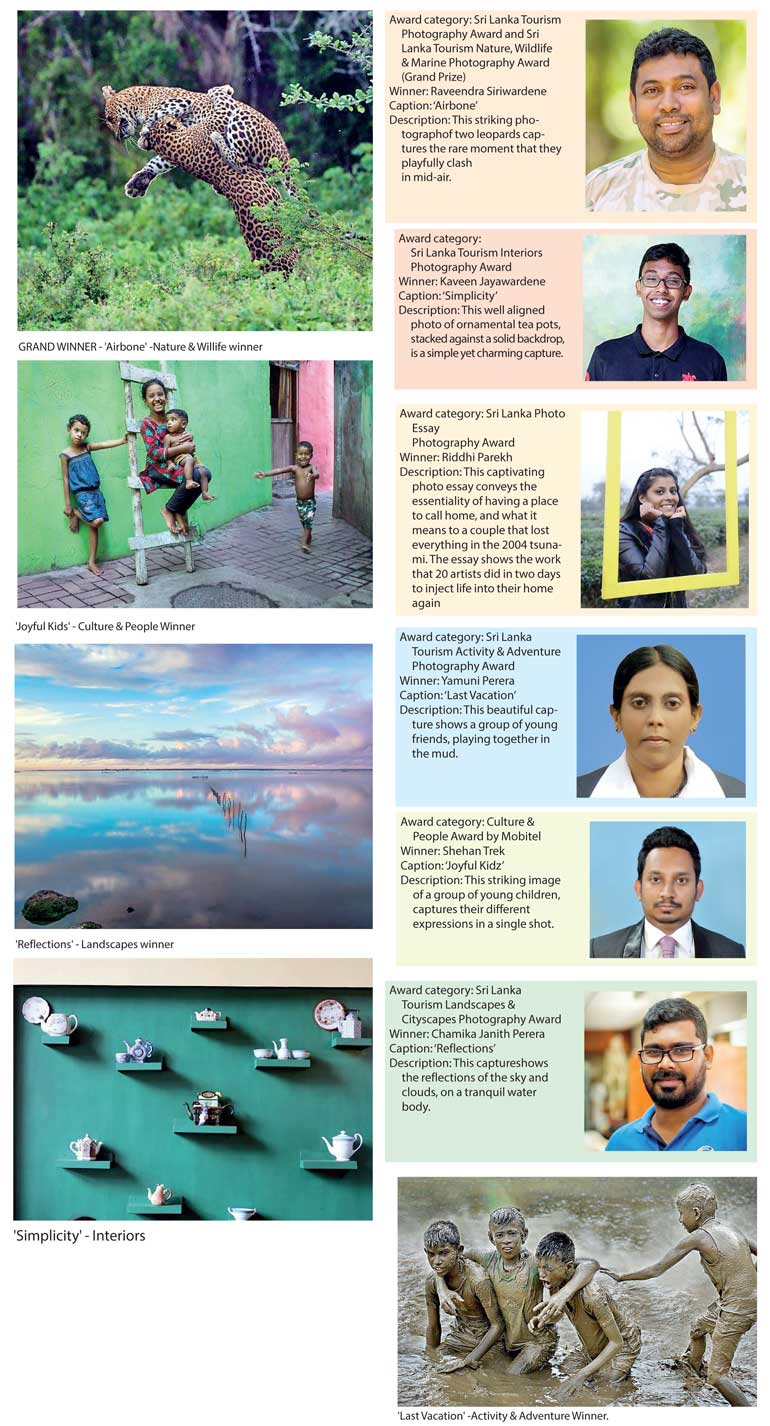 Cinnamon Hotels & Resorts announced the winners of the 'Cinnamon Sri Lanka Photo Contest 2017', a signature event that was held to celebrate the best photography and videography captured in Sri Lanka. A total of six winners out of 1,280 participants, who submitted nearly 5,780 entries, were selected from a cross-section of categories as part of the annual online competition.

Raveendra Siriwardene, won the overall grand prize and the 'Sri Lanka Tourism Photography' award, and he emerged victorious in the 'Sri Lanka Tourism Nature, Wildlife & Marine Photography' category. The 'Sri Lanka Tourism Landscapes & Cityscapes Photography' award was won by Chamika Janith Perera and the 'Sri Lanka Tourism Interiors Photography' award was bagged by Kaveen Jayawardena.

The 'Culture & People Award by Mobitel' was won by Shehan Trek, whilst the awards for categories such as 'Sri Lanka Tourism Activity and Adventure' and the 'Photo-Essay' were won by Yamuni Perera and Riddhi Parekh, respectively. As the winner of the grand prize, Raveendra will also receive the title of 'Cinnamon Photographer of the Year' along with a cash prize of $ 5,000, international media exposure, a six-page spread in the Cinnamon Magazine and an all-expense paid curated photography tour around Sri Lanka. Cash prizes of $ 500 will be given to the winners of each individual category.

The shortlisted entries for the 'Cinnamon Sri Lanka Photo Contest 2017' were judged by an esteemed panel that included National Geographic photographer Ami Vitale, award winning wildlife photographer and Head of Cinnamon Nature Trails Chitral Jayatilake, winner of the 'Wanderlust' Photographer of the Year award – Paul Goldstein and wildlife enthusiast and author; Gehan De S. Wijeyaratne, among other acclaimed photography experts.

Commenting on the contest, Dileep Mudadeniya, Head of Brand Marketing – Cinnamon Hotels & Resorts said, "We are immensely pleased by the high quality of entries that were submitted this year from local and international contestants alike. The Cinnamon Sri Lanka Photo Contest is another groundbreaking initiative that helps to promote Sri Lanka as a vibrant and diverse travel destination. This competition acknowledges the power of visual storytelling and showcases how iconic travel imagery can help to portray a destination from a fresh new perspective. We have always made considerable efforts to remain an industry trendsetter, and creative initiatives of this nature play a crucial role in positioning and promoting Sri Lanka as a truly captivating holiday hotspot, that offers something for everyone."

The competition was facilitated by Cinnamon Hotels & Resorts along with Sri Lanka Tourism and Powered by – Mobitel as the main sponsors. The contest was also supported by Sri Lankan Airlines, eMarketingEye, Walker's Tours, the National Tour Guides' Association, Cinnamon Air, Department of Wildlife Conservation and Emerging Media.