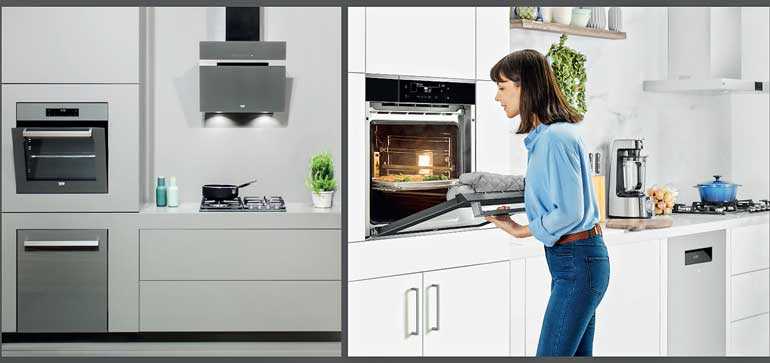 Today we are living in a quick-changing advanced lifestyle. We tend to add valuable and appropriate things to our lives. As we gradually move towards a luxurious, modern lifestyle, the ordinary Sri Lankan kitchen has also been timely influenced by international trends and changed to include all equipment nicely in a limited space.

To upgrade the standard of the Sri Lankan ordinary kitchen the built-in concept has become very popular when designing modern houses. Accompanying all equipment in a small space has become the theme of an 'all-inclusive' modern kitchen. Singer Sri Lanka has come forward to match the request of interior designers by introducing total built-in kitchen appliances range with not only their popular Singer brand but also internationally reputed brands such as Beko, Indesit and Haffele to give their customer a high quality experience.

Built-in ovens, built-in microwaves, built-in hobs and hoods, refrigerators and dishwashers are manufactured to meet the modern luxurious kitchen needs. The built-in range of all kitchen appliances come in easy installation mechanism to pantry cupboards. Especially in a compact house, a kitchen could turn into a dirty and unsafe place if it is not fixed with a built-in hood to absorb the oil spray and smoke. Having everything needed at arms-length will save the housewife's time and toil while maintaining cleanliness and hygiene.

As modern architects are more concerned about open area designs many houses are built with the 'pantry open to living' concept. This drives house owners to make the pantry as the most attractive part of the house. Singer Sri Lanka offers the best built-in kitchen appliance range with world renowned brands to fulfil Sri Lankans' imagination of having a luxurious pantry.

Now you can design and build a modern luxurious kitchen using Singer, Beko, Indesit and Haffele Built-In appliances range by any Singer Plus, Singer Homes and Singer Mega showrooms and you will get attractive concessions and monthly instalment facilities through credit cards.

Singer Sri Lanka Ltd. owns the biggest branch network with island-wide incomparable quality after-sales service that has won the hearts of Sri Lankans.

The company continuously won the Most Popular Brand Name and Consumer Brand Name awards at the SLIM-Neilson awards in the past 13 years.