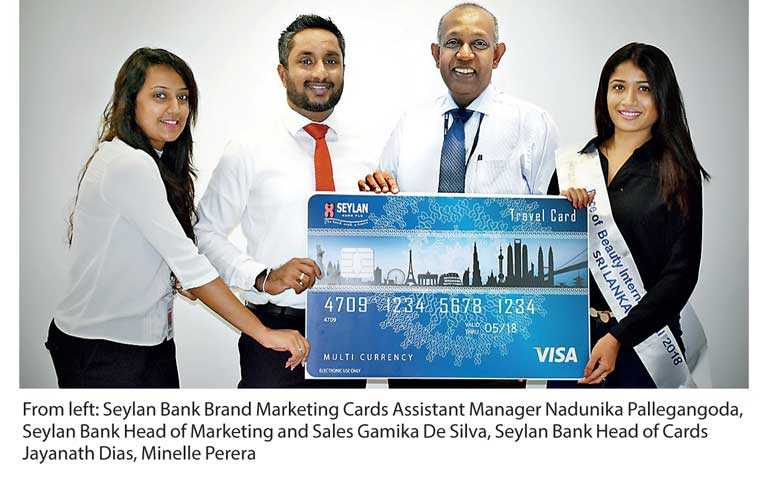 Reiterating its value as the bank that acknowledges the efforts made by people who strive to succeed in life, Seylan Travel Card has come on board as a partner to empower Minelle Perera, the 2017 Siyatha Miss World, who is expected to compete in the Face of Beauty competition 2018.

The Face of Beauty 2018 aims to develop young female leaders from around the world with the goal to empower contestants to find beauty and to become that beauty. The event is scheduled to be held in Delhi, India, where Minelle Perera representing Sri Lanka, will compete against 50 other participants from across the world.

Commenting on this partnership, Seylan Bank Head of Marketing and Sales Gamika De Silva said, "We are happy to come on board as a banking partner to support Minelle Perea's passion. As the Bank with a heart, we have provided Minelle the best travel card in the market, to offer her the liberty to explore her interests at her comfort in a hassle free manner. We wish Minelle the best of luck and hope that she will bring pride to Sri Lanka."

In addition, Seylan Travel Card enables customers to carry out hassle free transactions by offering the choice of preloading and accessing five international currencies (USD/GBP/EUR/SAR/AUD) in one card at any given time. Furthermore, the Travel Card also offers value added offerings such as worldwide acceptance, automatic destination currency conversion to avoid any foreign exchange conversion fee, non-exposure to currency fluctuations, load up to $15,000 and free medical insurance of $50,000 as well.

Having set many trends in the travel category for the past 30 years, Seylan Bank with its 30-year monumental milestone is relooking at further enhancing its product and value propositions to add more value its customers.