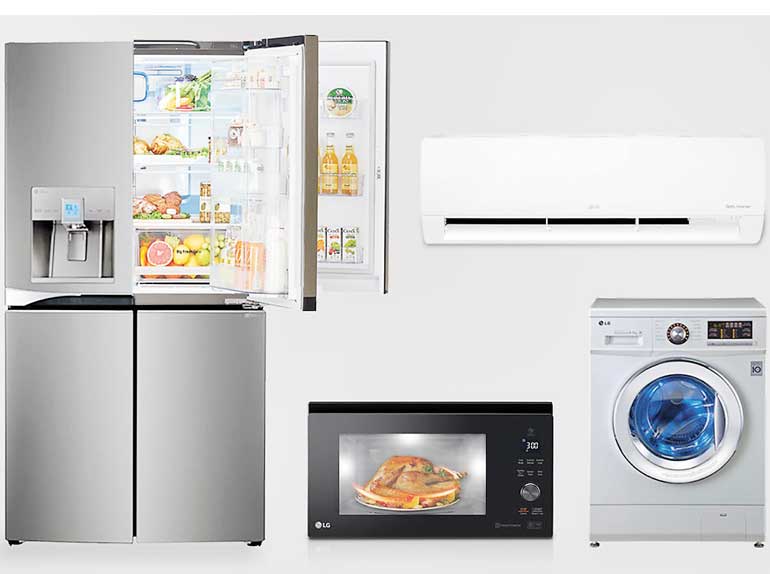 Aided by the most advanced technology, LG Electronics is undoubtedly a leader in the home appliance industry, predominantly focusing on providing consumers innovative solutions that cannot be found in any other appliance. Abans, the sole agents for LG in Sri Lanka, recognises the changing trend in consumer preferences for electronics and progressively introduces new innovative products into the market. With varying requirements in electronics selecting the best appliance for your home can often be a perplexing task, which is why Abans houses an array of choices that best suit the market requirements with limitless benefits.

LG Smart Inverter Technology has taken LG electronics to new heights in energy efficient and durable home appliances that facilitate savings from day one. The Smart Inverter Compressor Technology has proven to be a ground breaking solution with exceptional performance attributes specially designed for the modern consumer. LG has proven its ingenuity in the electronics industry by using this technological advancement in a number of clever ways that broaden their product spectrum.

The Inverter Direct Drive Motor equipped in LG's washing machines uses a variety of motions that deliver optimal washing results for a wide range of fabrics by automatically adjusting its yield to suit the task at hand. This Inverter Direct Drive greatly increases the motor's efficiency by cutting back on energy consumption from day one. The Turbo Drum feature removes tough stains by releasing a strong water stream in the rotating drum complied with a pulsator that moves the force in opposite directions, giving you a wash so perfect that it surpasses any other appliance. Added benefits such as low noise levels and the delay-start function provide the option to do your laundry when it is convenient for you. The flexibility and adaptability of the Inverter Direct Drive makes it an ideal choice for washing machines that functions with an optimum performance for a wide range of fabrics.

The Inverter Linear Compressor used in LG refrigerators are carefully engineered to maintain a consistent temperature within that stimulates overall energy efficiency. Very often the variables that hinder the temperature levels are: An increase in the quantity of food stored, opening the door at frequent intervals or even when the door is not opened for a long time. Thus, maintaining a consistent temperature helps to keep the food fresher for longer periods and reduces the frequency of consuming more energy to reach the set temperature each time. The highly reliable inverter refrigerator is available in various models including the Door-in-Door and Side-by-Side refrigerators expertly designed to give new levels of convenience with unrivalled performance and outstanding savings.

LG Inverter Air Conditioners provide a reduction of up to 60% energy consumption setting a new benchmark in the market. The new Dual Cool air conditioner is rapidly gaining widespread popularity with its ability to generate faster cooling while simultaneously reducing electricity bills encouraging savings from day one. These air conditioners are carefully designed to provide maximum user comfort by automatically adjusting the speed of the dual inverter compressor to maintain the temperature with minimal fluctuations. This negates extreme changes in temperature levels and delivers comfort at all times.

The benefits of the LG Dual Cool air conditioner go a step further with the addition of a comprehensive air filtration system that traps dust particles producing better air quality to safeguard the health of your loved ones. Furthermore, a 10-year compressor warranty andthe anti-corrosive copper condensers provide unmatched longevity for the product ensuring it functions to its most efficient capacity for years.

The LG Neo Chef microwave oven is identified as the future of tech-enhanced cooking that has been designed to produce faster, efficient cooking while saving time and conserving energy. Equipped with the new EasyClean anti-bacterial coating, it is able to resist stains and buildup making it harder for dangerous contaminants to take root. An all rounder to your cooking needs, this microwave oven prepares food in a simple, fast and efficient way with modern designs that are aesthetically pleasing to the eye and blends in with the décor of any kitchen.

While consumers around the world prioritise a wide variety of different features when choosing appliances for their home, energy efficiency is notably a growing demand. The LG Inverter Technology is an effective approach established to curb this global concern. Abans continuously works towards innovatively building their product range to suit the growing requirements of consumers with outstanding performance capabilities. A market leader in the home appliance industry, Abans consistently provides convenience-enhancing appliances that reduce overall energy consumption. Visit your nearest Abans and Abans Elite showrooms islandwide and take a step forward towards a greener and safer tomorrow.