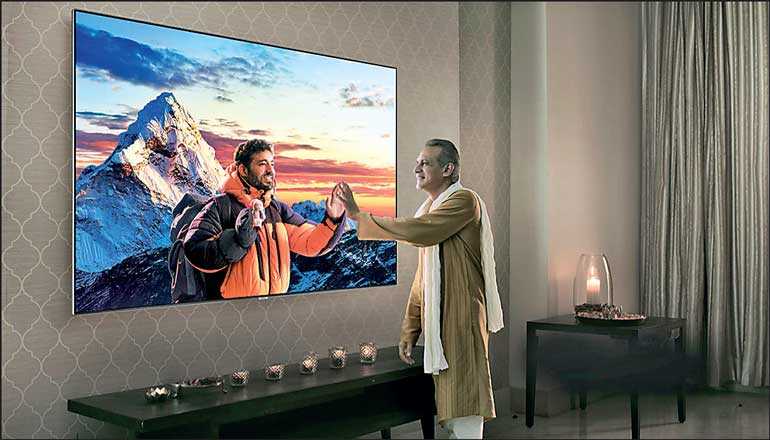 ---
The world's leading electronics company and Sri Lanka's preferred electronics brand, Samsung, had a mini second launch of its QLED TV at the Singer Lifestyle Exhibition, held from 23 to 25 November.

The Samsung stall, which featured the entire range of Samsung's electronics, attracted high number of footfalls as crowds thronged to witness the performance of the QLED TV for a sensory extravaganza.

Some of the top features of this TV are enhanced picture quality, sleek design, connectivity and superlative intelligence, which make it a real asset in your home. The premium metal body coupled with a nearly bezel-less display, places QLED TVs in a class of its own. Samsung offered easy payment schemes to customers for purchase of its latest QLED TV, making it instantly affordable and a real energy saver.

There are many reasons why QLED TV is revolutionizing the viewing experience for customers. For starters, Q-Color, a new criterion for picture quality, can measure minute colour changes, three-dimensionally, according to varying degrees of brightness. QLED TV comes with the latest HDR 10+ technology where it can accurately represent detailed colours that can be hidden from dark or bright images.

By using metal quantum dot technology, which is three to four times that of conventional TV's, there is a more vivid look to scenes such as sunlight reflecting texture and white snowy landscapes. Indeed, this latest Samsung QLED TV achieves the highest level of contrast ratio by improving the quality of blacks on-screen while maintaining brightness.

Commenting on the QLED TV, Samsung Sri Lanka Managing Director Hanbae Park said: "Samsung is the No.1 TV seller in the world for a span of 12 consecutive years and we dominate a large segment of the TV market in Sri Lanka due to a growing demand for large screen TVs. I believe the Samsung QLED TV delivers a wonderful large screen experience to customers, elevating their viewing experience to an unprecedented level. In response to increasing customer appetite for large screen TV's, Samsung is committed to introducing new large screen TVs in the near future. ''

Elaborating further, Head – Consumer Electronics Sabry Ansar said: "Samsung TVs are extremely popular in Sri Lanka and we were delighted to have carried out the second wave launch at the Singer Lifestyle Fair in order to offer our customers a captivating viewing experience. More and more people aspire to have large screen TV's to better enjoy sports, music and films, and this is exactly what the QLED TV delivers. Its revolutionary technology and intelligent features make this TV the clear choice for an unforgettable viewing experience."

The Ambient Mode available in the QLED TV transforms a black screen into a meaningful lifestyle screen. This TV blends in harmoniously with the surroundings even when the TV is on standby mode. This ultimately led the design team to develop QLED TV's new Ambient Mode, which makes it seem as if the TV is projecting the wall behind it. This design element creates a sense of spatial consistency by enabling the TV screen to seamlessly blend in with the wall.

The SmartThings app features an array of built-in images to suit a wide range of living spaces, and also allows users to take a picture of their own wall to set as their Ambient Mode image. When activated, the screen brightness is automatically adjusted according to the viewing environment to minimize power consumption.

Samsung's QLED technology is guaranteed to be burn-in free, where the users can enjoy the feature without worry. Furthermore, Samsung also offers a 10-year warranty against screen burn-in. What's more, Samsung QLED TV's are composed of inorganic materials to provide consistent, bright, vivid image quality for years.

The One Invisible Connection is a clean-cut design because it gets rid of convoluted cables which are distracting. The One Invisible Connection combines the AV and power lines, along with the cables of peripheral devices (via the One Connect Box) into a single, transparent cable that eliminates visual distractions and keeps the area around the TV tidy. This first-of-its-kind innovation can also be extended up to five meters. So, users may freely position their TV without worrying about its proximity to a power source.

The latest QLED TVs can be purchased from Singer, Softlogic, Singhagiri and Damro showrooms and dealers island-wide.