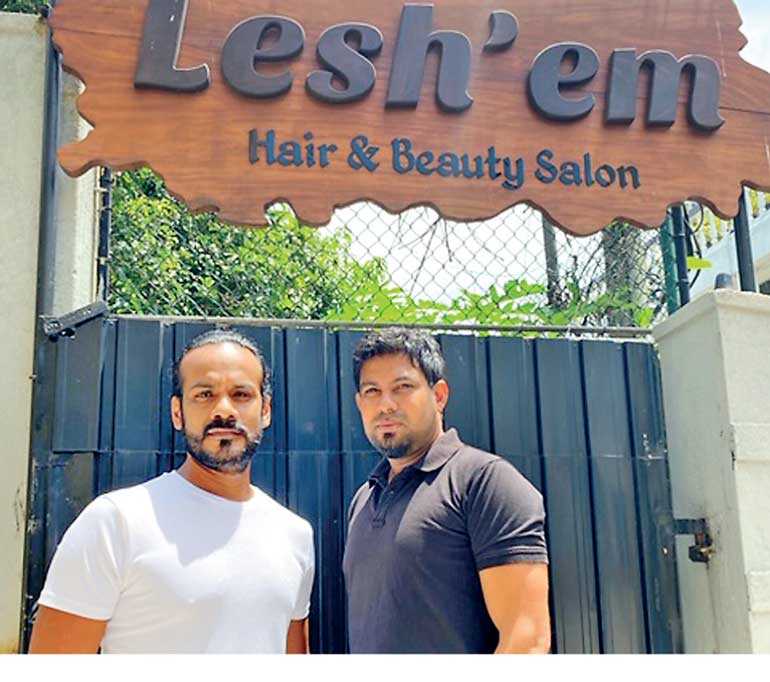 Rukman Senaratne and Dinesh Anderson from Lesh'em
---
Most people place a great level of trust on their hairdresser. Dinesh Anderson and Rukman Senaratne from Lesh'em are testimony to this statement.

Having begun their careers in hairdressing, almost by accident over a decade ago, the pair come from similar backgrounds in hospitality.

"From childhood, art played a very important role in my life. Having dabbled a bit in hospitality after my secondary education, a family friend suggested that I join a salon. Initially, it took me a while to ease into it but once I crossed that boundary there was no going back. I had found a way to bring my love for art into the work I do," said Senaratne. He is also a very talented nail artist and has won many national and international awards for his nail artistry as well.

For Anderson, the approach was more straightforward. Despite his short stint in hospitality, Anderson was always amazed at the transformation hair can do to different people. He first began his career at The Cutting Station, and Senaratne began his journey at Salon Nayana. Both of them met in 2004 when the latter joined The Cutting Station and worked together until 2015 when Anderson left to start Lesh'em.

"Having been working in the industry for so long, I have been truly amazed at what a change in hairstyle, colour or cut can do to an individual. Since the first time I was introduced into it, I knew there was no going back for me. I have always wanted to make a change in people's lives and I realised that this was my gateway into it and there was no looking back from there," said Anderson.
What makes Lesh'em different from others?
Currently, in its fourth year of operation, the duo began working together at the salon since 2019. Despite not having done any advertising or promotions since their shift to Thimbirigasyaya, as there hasn't been enough time, the salon is always busy on all days except Tuesday (their day off). Anderson and Senaratne both remark on how a majority of their clients are those who have been with them for at least five years.

"We have been taking care of their hair for so long that they place their complete trust in us. If a client wants to do something that might have serious damage to the hair, we would warn them against it and even hesitate to go ahead with it unless they insist. The work we do is something we tremendously enjoy and we don't want to lose focus of it and simultaneously want to ensure the wellbeing of our clients," they said. At present, the salon has a total of seven staff including three part-timers that take care of all appointments. Lesh'em currently offers all services and has future plans of expansion.

"When hiring we are really mindful about who we hire and the training we provide. We want to ensure that those joining Lesh'em are passionate about what they do and are keen on transformation as much as we are," said Anderson.

He also explained how the salon is very particular in delivering the right quality of the services offered in the salon as well as the products they purchase.

"Our business model is built on client retention and the quality of everything that happens in the salon is of utmost importance."

To make an appointment at Salon Lesh'em call 0777625500, 0770512000 or 0729531533 or visit the salon at 288A Thimbirigasyaya Road, Colombo 5.