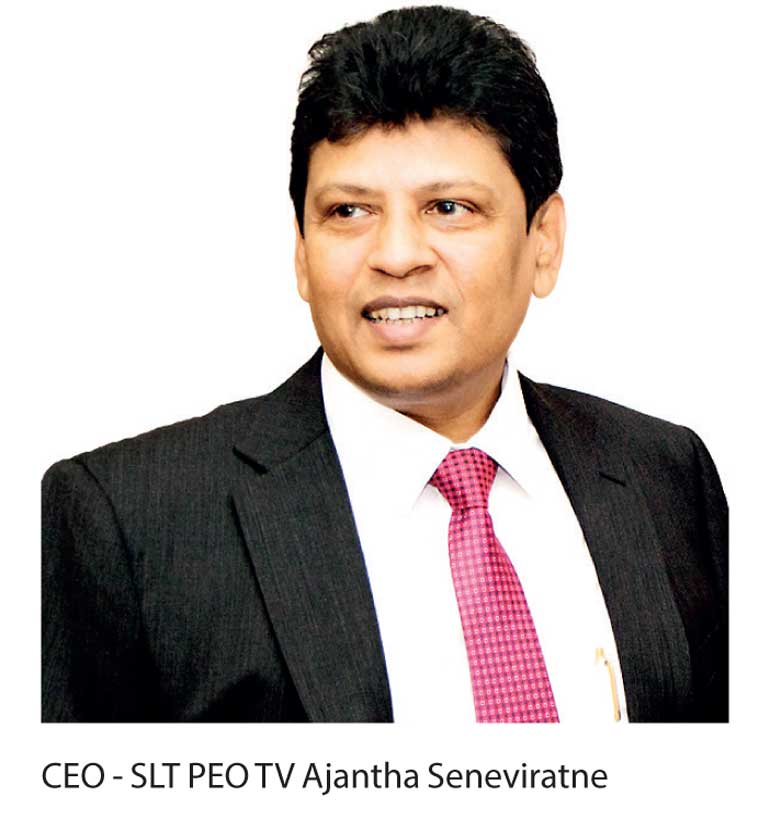 SLT PEO (Personalized Entertainment Option) TV, the pioneering Internet Protocol television service provider in the country, has disrupted the traditional method of watching television.

Many years ago, watching your favourite television program was not an easy task, as it was never in our control. Watching news at 8.00 p.m. was a must to know the updates and facts in detail and if you missed the news telecast you would never be able to watch it again. Now, with PEO TV, total control is given to you to watch what you want, whenever you want.

The following are excerpts from an interview with SLT PEO TV CEO Ajantha Seneviratne.
Q: How does SLT PEO TV help me stay up-to-date with my favourite TV programs whilst managing a busy schedule?
A: SLT PEO TV, the first ever feature rich Pay TV service launched in the country, has managed to touch the hearts of Sri Lankans by introducing the most attractive feature, Rewind TV, to catch up on missed TV programs and set up your personalised TV schedule. Rewind TV has offered so much convenience and control to watch TV at your own free time.
Q: But what if I want to watch a specific movie?
A: Video on Demand, another first from PEO TV, offers a whole lot of movies in Sinhala, Tamil, English and Hindi ranging from classics and comedies to a larger variety of content. Movies on Video on Demand have given the opportunity to customers to watch their favourite movies in the comfort of their living room with just the click of a button.
Q: What about when I can't choose between two channels?
A: Picture in Picture lets the viewer watch two channels at once on the same screen. This can be used to enable watching two channels simultaneously, ideal for an instance when you cannot miss the last few overs of a match while your favourite tele-series is on.
Q: Can I listen to music on SLT PEO TV?
A: Music on Demand is another attractive feature offered with a wide array of songs of very famous artistes that will make your living space filled with the music you love at any time you want.
Q: I am very picky about what I watch. Is there a solution?
A: Subscription Video on Demand gives packs of content ranging from Sinhala, English and Tamil movies and many other kids entertainment content.
Q: Can I control the content my child watches on PEO TV?
A: Apart from all the interactive features offered, PEO TV facilitates parental control that enables adults to manage the content to suit the needs of their children and youngsters. PEO TV is now enriched with many learning and educational channels that are very useful to young learners and even adults.
Q: Will I be able to watch quality content with high image resolution?
A: SLT PEO TV brings the entire universe to your doorstep with a superior line-up of international channels coming from all over the world and the most wanted local channels. Now the channel line-up has been further enhanced with an exciting bouquet of HD channels to deliver the best in picture quality.
Q: Can I live stream public events on PEO TV?
A: Going beyond its current offerings, PEO TV is further facilitated in offering live telecasts through Event TV from premiere events to graduations, award ceremonies, exhibitions, sports and action, fashion shows, product launches and many other events that grab the attention of the general public and require publicity.
Q: What about private events?
A: PEO TV is also set to deliver live training via television, connecting all your required target audiences spread across the island via SLT PEO TV network. Live training, seminars and workshops can be hosted on a closed channel that will be delivered to pre-designated locations as per your training needs and objectives through PEO TV and closed channel will help organisations to connect with their regional offices, branches and all required parties at any given point of time.
Q: How can my business benefit from SLT PEO TV?
A: SLT PEO TV has also been able to revolutionise some of the guest services offered in the hospitality sector by introducing unmatched and personalised corporate solutions to benchmark their services in an outstanding manner.

Ever since PEO TV was launched, it has helped to transform the traditional way of watching television and wow the TV experience of a large number of Sri Lankans that keeps growing day by day.