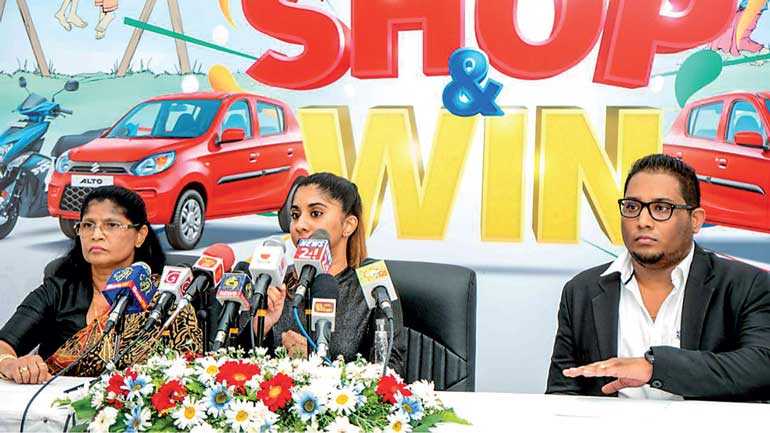 From left: Rich Look Fashion Mansion Directors M.K.I. Jayasekara, Iroshi Kanchana and Lahiru Chamikara during a press conference in which the detailed of the Shop and Win Raffle Draw were unveiled
---
Rich Look, the trendsetter in latest fashions in Sri Lanka, is gearing up for its 14th Anniversary celebrations with a multimillion rupee surprise for its loyal customers.
The one-stop fashion mansion which has spread its wings over four cities, is offering a large number of prizes, including a brand new Suzuki Alto car for a lucky shopper as part of the Shop and Win promotion.
During the promotional period from 31 January to 30 April, shoppers at any of the Rich Look Fashion Mansions will receive an entry coupon for every purchase of items worth over Rs. 5,000. To get themselves entitled for the raffle draw, they have to fill up the coupon and put into the raffle boxes placed at any of the Rich Look Fashion Mansions.
The winners of the Shop and Win promotion will be announced following the raffle draw in May.
The top prize of a brand new Suzuki Alto will be on offer for the lucky winner. The second prize will be a Yamaha Ray RZ Drum Scooter and the third prize will be an Innovex Refrigerator.
In addition, a number of consolation prizes including LED TVs, smartphones, gas stoves, speaker systems, stand fans, rice cookers, power banks, sandwich makers, steam irons, electric kettles and many more will also be on offer.
Rich Look Fashion Mansion branches are located in Maharagama (53, Old Maharagama Road), Negombo (74, Greens Road), Kalutara (312, Galle Road, South Kalutara) and Ratnapura (No. 90/2, Pothgul Vihara Mawatha).