Raja Jewellers, the monarch of the gold world, recently unveiled yet another wonderful bridal jewellery collection with new designs especially made for this wedding season.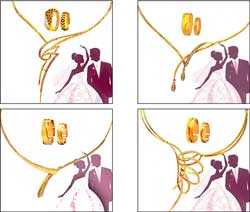 In order to dress you elegantly for the most joyous day of your life, Raja Jewellers offers spectacular designs of wedding jewellery including but not limited to finely crafted wedding bands, earrings, necklaces and bangles. All jewellery is designed with the finest craftsmanship with attractive prices of wedding necklaces starting at Rs. 63,000 onwards and wedding packages starting from Rs. 126,000 onwards. Manufacturing gem and diamond studded quality jewellery of 22 carats gold on par with international trends and attractions, Raja Jewellers is well prepared to decorate Sri Lankan brides with a lifetime guarantee for all their products. Reputed for the best after sales service in the jewellery sector, Raja Jewellers saves 25% of your total jewellery budget. Zero interest easy payments are available with credit cards for up to 60 months. What is so special with Raja jewellers is their capacity of manufacturing jewellery of finer designs far beyond customers' requirement with over 400 experienced craftsmen.

History of Raja Jewellers dates back to1928, when the late E.A. Fernando established E.A. Fernando Jewellers in Chattem Street. In 1962, following his father's footsteps, Raja Fernando who inherited not only the craftsmanship but also the entrepreneurship elevated the business to next level and rebranded it as Raja Jewellers.

Taking over from him in 1985 for the third generation, Ashoka Eliyapura and Athula Eliyapura, sons of Raja Fernando, registered the business as Limited Liability Company under the name of Raja Jewellers Ltd.

The company has earned a remarkable reputation for its excellent craftsmanship and creativity among its customers both locally and internationally.

Over 400 local staff members are well qualified to design and manufacture jewellery that exceeds the consumers need without compromising the quality. The brand's continual excellence was recognised at the prestigious 'Presidential Awards- 2018', organised by Gem and Jewellery Authority of Sri Lanka, as it bagged the coveted 'Best Gold Jewellery Manufacturer' award, outshining all other gold jewellers and taking home three other major awards in the Gold Category as well, including 'Best Jewellery Item, 'The Highest Hallmarked Jeweller' and 'Senior Most Contributor - Gem Cutting'.