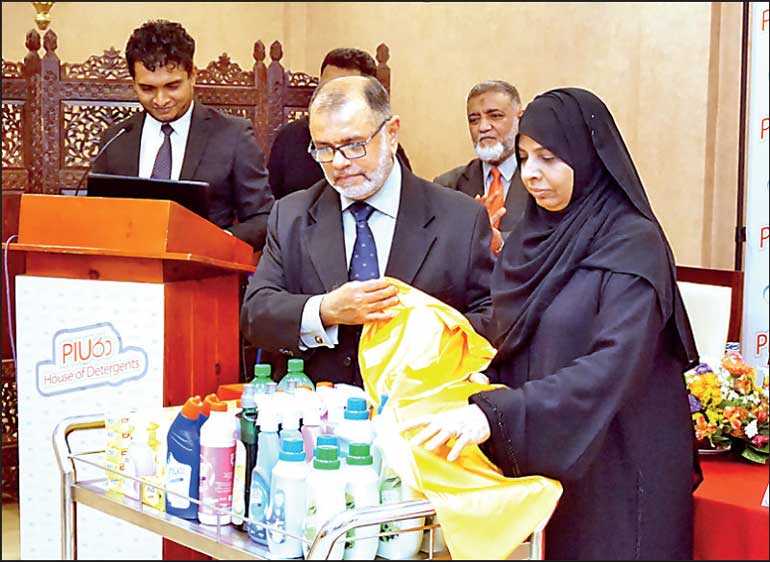 Oxy Holdings Managing Director Iqbal Valimohamed, together with his spouse, unveiling the expansive range of products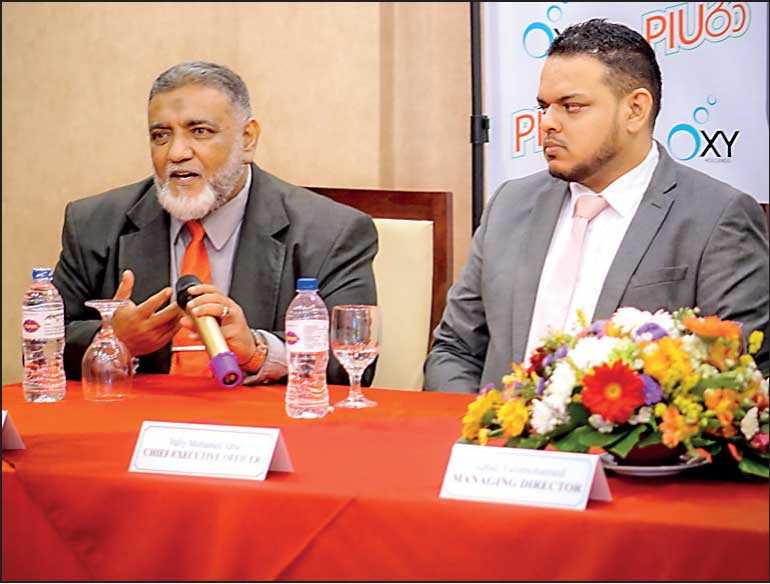 Oxy Holdings General Manager Naufal Noordeen, flanked by Chief Executive Officer Vally Mohamed Iqbal, responding to queries

From left: Oxy Holdings General Manager Naufal Noordeen, Chief Executive Officer Vally Mohamed Iqbal, Managing Director Iqbal Valimohamed, Chief Operating Officer Adnaan Iqbal and Chief Financial Officer Ikram Faiz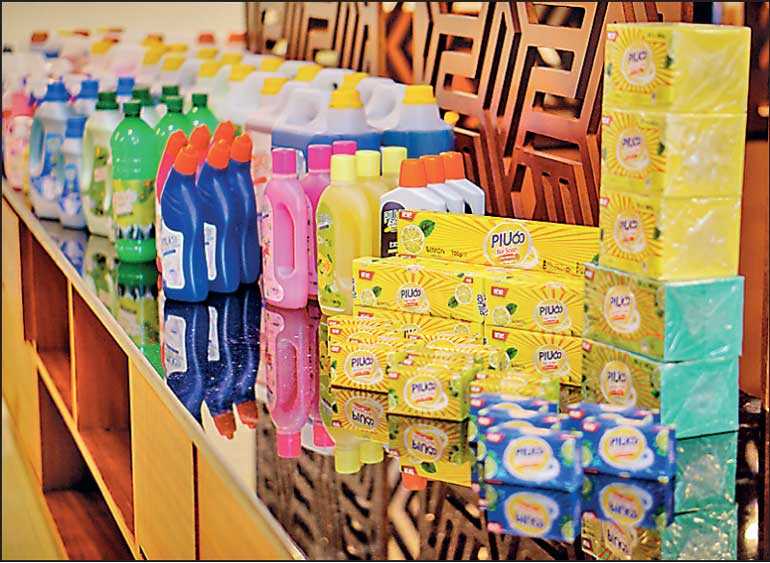 Display of products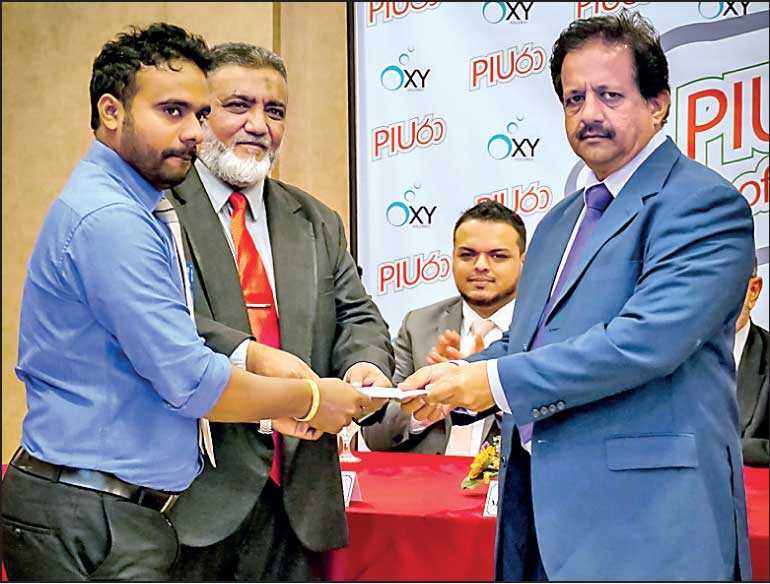 Oxy Holdings Chief Financial Officer Ikram Faiz and General Manager Naufal Noordeen presenting a voucher to the winner of the raffle draw held during the launch
---
A robust entrant to Sri Lanka's vying detergent market, 'Piura', an innovative brainchild of diversified family-owned business consortium Oxy Holdings Limited – an independent entity of Standard Holdings Group – resonated its professional acumen and industrial prowess with a gala launch on 28 October at deluxe North Indian restaurant Chana's in Colombo 06.

The head-table comprised Oxy Holdings Managing Director Iqbal Valimohamed, Chief Executive Officer Vally Mohamed Iqbal, Chief Operating Officer Adnaan Iqbal, Chief Financial Officer Ikram Faiz, and General Manager Naufal Noordeen. The occasion was also graced by veteran marketer Nuwan Wimalana, Vinco International Limited Managing Directress Roshani Perera, distinguished guests, media personnel and other invitees.

Treading along thriving corporate footprints of the group of companies, Oxy Holdings has expanded its portfolio into detergents, whilst retaining presence in a multitude of sectors spanning from wallpaper, home décor, to interior accessories. A veritable force to reckon with in the contemporary world, the company today stands tall as a stellar conglomerate for its zest to lead the country through the deliverance of integrated, customer-centric, time-tested solutions and benchmarking sustainable strategies anchoring the commercial landscape.

Elaborating its branding and operational aspects, Oxy Holdings CEO Vally Mohamed Iqbal opined, "We derived the profound and overarching tagline 'House of Detergents' owing to our expansive product line-up ranging from laundry soap, detergent powder, hand wash to fabric conditioner, manufactured at state-of-the-art facility in Mulleriyawa South, neighbouring all local amenities. Prior to embarking on the detergent market, we conducted an inclusive feasibility study to analyse and evaluate local market potential and interestingly, the comprehensive report found 75% of the market to be dominated by multinational companies (MNCs); albeit a handful of national and regional brands at the helm, we identified the need for a vibrant contender to join the fray. Hence, with as many as 48 Stock Keeping Units (SKUs) and the towering strength of a professional team to steer operations into triumph, we are confident of positioning 'Piura' at any marketplace thus registering a paradigm shift."

With a holistic perspective and lateral thought process on the newly-embarked venture, Oxy Holdings General Manager Naufal Noordeen – who brags over three decades of corporate erudition with proven multi-sectoral excellence – underscored the managerial facet and national distribution strategy to take on an escapade of transforming challenges into exploration and risk into reward.

"Piura is a unique brand designed to meet the needs of the masses with a predominant focus on unprecedented quality. Our vision is to become the most trusted and 'top-of-mind-recall' detergent manufacturer in Sri Lanka and we aspire to engage in cross-border operations in a bid to usher in friendly rivalry by designing products that cater to dynamic market needs and ensure customer satisfaction. 'Piura' will be made available countrywide through our strong distributor network. We will tap all markets from the channels of general trade (retail), modern trade (supermarkets and hypermarkets) to 'Horeca' (hotels, restaurants and cafes). Moreover, a pilot project is underway to determine the possibility of gaining a foothold in the personal care sector. A forgotten household baby care range will be relaunched within the next few months," he said.

In the very essence of corporate social responsibility, equality and cohesion, Oxy Holdings envisages granting employment opportunities to the differently-abled, as has been the earnest wish of Managing Director Iqbal Valimohamed. As such, the blue chip company is geared to enforcing neutrality in the workplace by ensuring unbiased and impartial job postings, disregarding ethnic backgrounds and sexual orientations.